Trust Us, Hot Sauce And Celery Are A Match Made In The Kitchen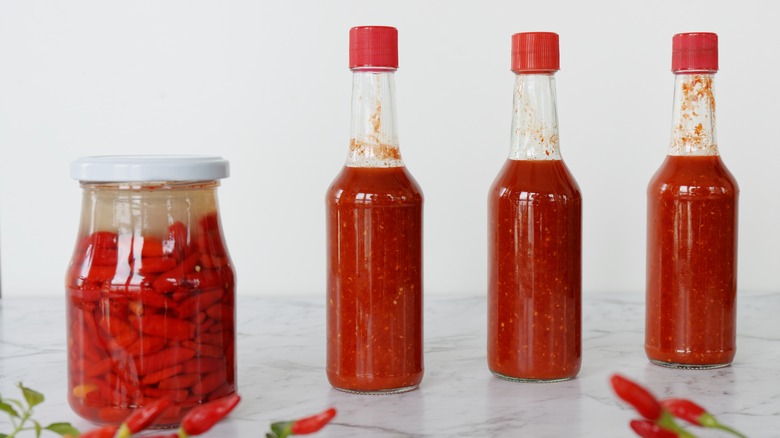 Fotema/Shutterstock
What would you put hot sauce on? Maybe chicken wings or an egg and cheese breakfast sandwich come to mind first. Chef Kevan Vetter likes to put Frank's RedHot Sauce in his hummus and Ree Drummond swears by Cholula, using it in everything from her enchiladas to her spicy chicken sandwiches.
You can try adding hot sauce to feta brine for the ultimate meat marinade. There's a hot sauce made to go in your morning cup of coffee, and you can even pair hot sauce with chocolate.
The truth is, there are probably as many uses for hot sauces as there are hot sauces in the world, which according to one estimate is close to 600 actual brands. Factor in the range of homemade hot sauces from cuisines around the world and it would be fair to call hot sauce the most popular condiment on the planet.
You may think that you've already explored all the ways to spice up your food, but there's one particular pairing you might not have heard of. It's got a satisfying crunch and the perfect amount of freshness to tame the heat of a hot sauce. Plus, it's chock full of vitamins and minerals with a low glycemic index to boot. That's right, the snack you never knew you should be putting hot sauce on is none other than celery.
A crunchy, spicy combo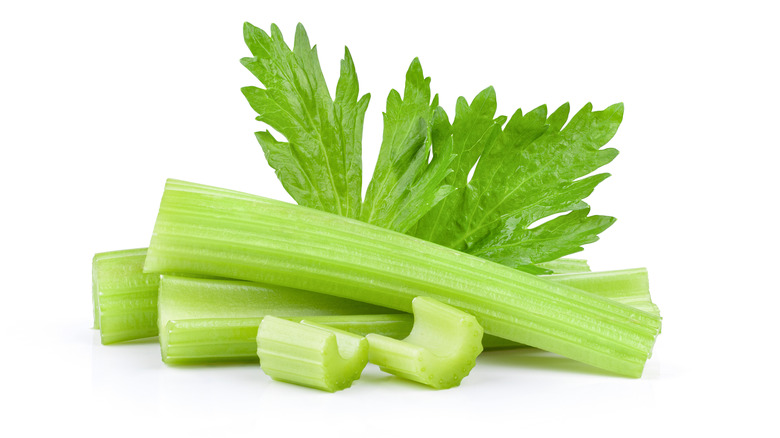 pukao/Shutterstock
Celery and hot sauce truly are a match made in kitchen heaven. Gourmet hot sauce brand Truff says that while it might not seem like the most obvious flavor combination, those who try it get right away why it's so delicious. Think about it: So many of us often crave crunchy foods. This desire has been recognized to be a natural response to stress, frustration, and anger, which makes sense, as the act of crunching down on something can be quite cathartic.
Reaching for celery instead of a bag of chips provides that craveable crunchy moment with far healthier results. Celery on its own can be quite bland, though, so the addition of hot sauce provides a needed flavor boost and an invigorating hit of heat to keep you going.
You can just drizzle the hot sauce directly onto a stalk of celery, or perhaps try adding a few shakes of Old Bay, Lowry's Seasoning Salt, or Cavender's Greek Seasoning. Truff suggests mixing your hot sauce with ranch and dipping your celery in that. However you decide to put the two together, it seems that celery and hot sauce deserve a prime spot on your regular snack rotation.