Ways You Didn't Think To Use Frank's Red Hot Sauce - Exclusive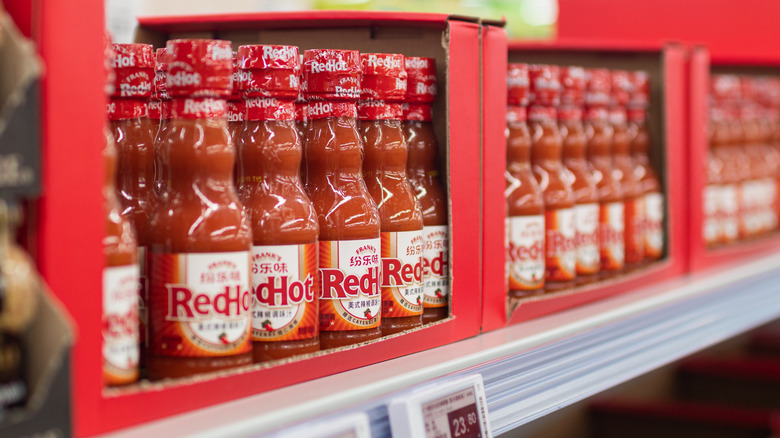 Shan_shan/Shutterstock
We may receive a commission on purchases made from links.
There are virtually limitless ways to elevate your Super Bowl spread with a range of spicy, savory, cheesy, and dippable game day snacks you can buy ready or prepare yourself. From barbecue to burgers, pigs in a blanket to pizza, dip spreads to stacked nachos – and, of course, lots of wings — the lineup for the big game day is full of delicious possibilities. And there are few snacks that aren't made better with some Frank's RedHot Sauce, at least if you ask McCormick chef Kevan Vetter. 
He's the resident expert in all things Frank's, as well as the go-to guide for the best ways to use the tangy, spicy, and oh-so-beloved sauce — we're talking way beyond buffalo wings. If you're looking to get more creative than classic chicken wings this year, he's got you covered. In an exclusive interview with Mashed, chef Vetter shared some of his favorite Super Bowl recipes, revealing some clever ways you may have never thought to use a bottle of Frank's.
A McCormick chef shares his favorite Frank's RedHot recipes
If you ask McCormick chef Kevan Vetter what else you can do with Frank's RedHot sauce besides tossing it with chicken wings, he has a ton of ideas. "Some of the ones I love [include] Frank's nachos. We've done tachos, in that same family, but using tater tots and building out this mega awesome dish that's super shareable," he told Mashed. Vetter also mentioned buffalo sliders, buffalo quesadillas for a cheesier snack idea, and buffalo chicken lettuce wraps as a low-carb option.
Another unique idea is buffalo hummus. "You can make a simple hummus just using chickpeas, a little oil, a little lemon, a little garlic, and then as much Frank's RedHot as you want," suggested Vetter. "Or you can actually just buy a container of hummus and then just mix it with Frank's RedHot. And then it really just gives you just a nice twist on a healthy [dip], serve it with lots of veggies. You know you're going to have all the good stuff, but that's [always] not as good for you, so having some [other] things are a nice option."
Of course, there's always buffalo chicken dip to please a crowd. "That's a classic," said Vetter, but added that you can easily jazz this recipe up as well with a simple hack. "We just launched the Nashville hot sauce, so you can do something with wings, and you can twist up the buffalo chicken dip." He added, "The OG is with cream cheese and ranch, and diced or pulled chicken, Frank's RedHot, and blue cheese if you're a blue cheese fan. Sub in the Nashville hot sauce and come up with a Nashville hot chicken dip." And for the non-meat eaters out there, Vetter told Mashed, "One of our recipe developers made a vegan buffalo chicken dip using cauliflower rice ... I was blown away."
A Frank's RedHot recipe to satisfy your sweet tooth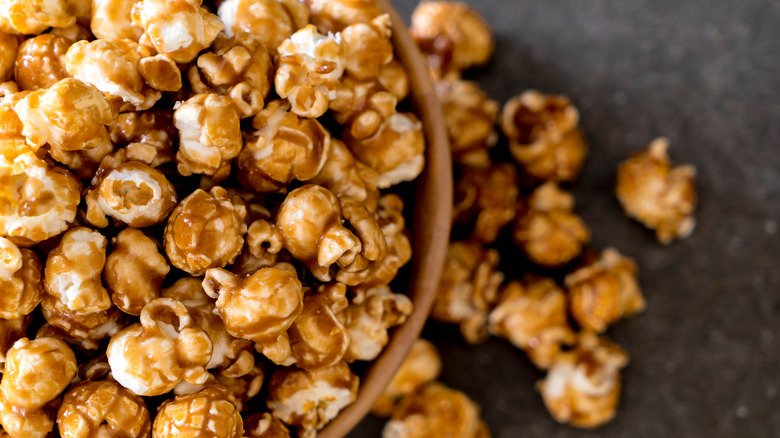 gowithstock/Shutterstock
If you never thought to reach for Frank's RedHot Sauce for dessert, it's time to think again. For those that love a little spice, but still want something sweet, "try kicked up caramel popcorn," McCormick Chef Kevan Vetter told Mashed. "It is absolutely amazing. It's just sweet and caramel-y, and then the Frank's kicks in. It's really, really good." 
And it's super simple to whip up right at home. Vetter said, "You can buy popcorn or you can pop your own popcorn. You're making kind of a caramel in a pan, so you're converting the sugar you're adding in ... there's a little bit of cream in there. And then you hit it with the Franks, and then you just toss it [together]." And don't be afraid to get even more creative with the snack, said Vetter. "You can throw in nuts if you want to ... it's even better than Cracker Jack ... because it's got that Frank's heat to it, but it's not too much. But when you think of eating it, it's all about sweet, salty, savory, spicy." It truly is perfect for an after dinner treat, an afternoon snack, or something delicious to furiously chow down on while watching the Super Bowl.
For information about Frank's RedHot's Super Bowl campaign, featuring an edible NFT, visit bonecoin.com. Plus check out game day recipes and more at McCormick.com.