Guy Fieri's Go-To Egg Substitute For Binding Burgers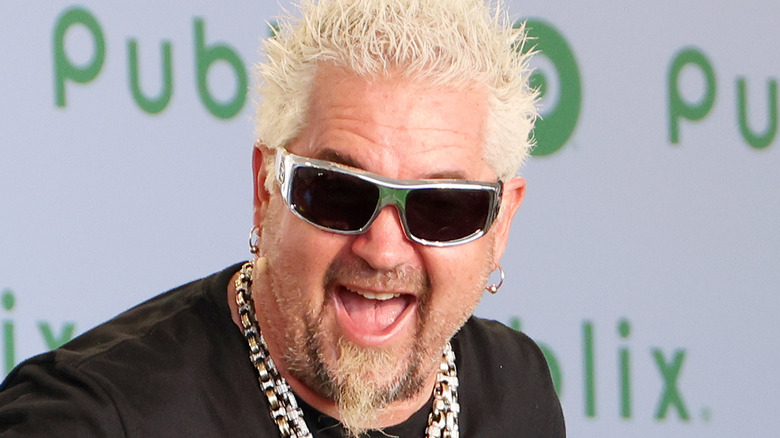 Alexander Tamargo/Getty Images
Burgers and eggs are the unlikely pairing that's actually a match made in heaven. A perfectly fried egg can indeed be a bit messy, but the drippy, yellow yolk running down the side of a rich and fatty burger patty can be a work of art. Not only does the egg look and taste good, but it also adds richness and extra umami flavor. While eggs atop burgers are pretty commonplace, there are also often eggs hidden inside a well-crafted burger. Similar to how meatloaf is made, burgers sometimes have raw eggs mixed in with the meat prior to cooking. The egg acts as a binder to make it easier for the patties to stay together.
For those who like eggs, this isn't an issue, but if you're one of those people who hate eggs like Guy Fieri, this can pose a major problem. When Fieri visits some of his favorite joints on "Diners, Drive-Ins, and Dives," he refuses to eat eggs on or off camera. While he isn't big on breakfast food in general, he isn't opposed to using ingredients like mayo, which include eggs. Unsurprisingly, Fieri has several burger recipes made with everything from beef to pork. And when it comes to binding burgers, he has a unique substitute for his dreaded egg.
Use a superfood ingredient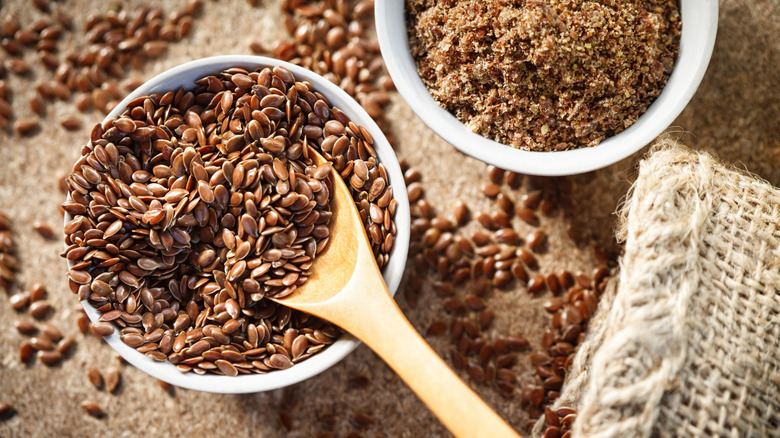 Panco971/Getty Images
Guy Fieri knows a thing or two about burgers. His restaurant chain Guy's Burger Joint has several locations in the U.S., internationally, and on Carnival cruise ships. He serves classic burgers with ground beef and even one made entirely from bacon. (Fieri's trick to the perfect cheeseburger includes steaming the beef patty with a lid once that cheese is placed on the meat.) Even though Fieri loves a meaty burger, he isn't afraid to make and enjoy vegan cheeseburgers. During his appearance at the Aspen Food & Wine Classic, Fieri stunned audiences with his vegan "cheese" burger.
Since vegans don't eat eggs and Fieri hates eggs, he came up with what he calls "the greatest hack to not using eggs — use flaxseed." This is actually a well-known vegan hack, known as a flax egg. When flax seeds are combined with water, they turn into a gel-like substance that works perfectly as a binder. For those worried about the taste, the flax is flavorless in the final product. Flax seeds work in both vegan patties and beef patties, and can also be used in baked goods like muffins and quickbreads.