Are We Really Ready For A Blazing Hot Canned Ready-To-Drink Bloody Mary?
Canned cocktails have exploded in popularity in recent years. While it's nice to take the time to gather ingredients and hand-craft your favorite drink, it's even better to pop open a can and get to sipping your favorite cold beverage right away. Unlike mixers, which only provide non-alcoholic juices or flavors, canned cocktails add in liquor, making it a complete ready-to-drink beverage.
When it comes to choosing a ready-to-drink cocktail, the options are almost as endless as ordering from a bar. Tequila fans have their choice of canned cocktails from classic lime margaritas to Palomas. Rum giant Captain Morgan offers canned piña coladas and mojitos that will transport you to a beach vacation without ever having to leave your house. Zing Zang, the top-selling Bloody Mary mix company in the U.S. has entered the playing field with its line of canned cocktails, including two flavors of margaritas and a bourbon whiskey sour. The company had previously released ready-to-drink (RTD) versions of a classic Bloody Mary but is now taking the spice factor to the next level with an all-new mix.
Zing Zang's Blazing Bloody Mary canned cocktail uses a spicier version of its classic mix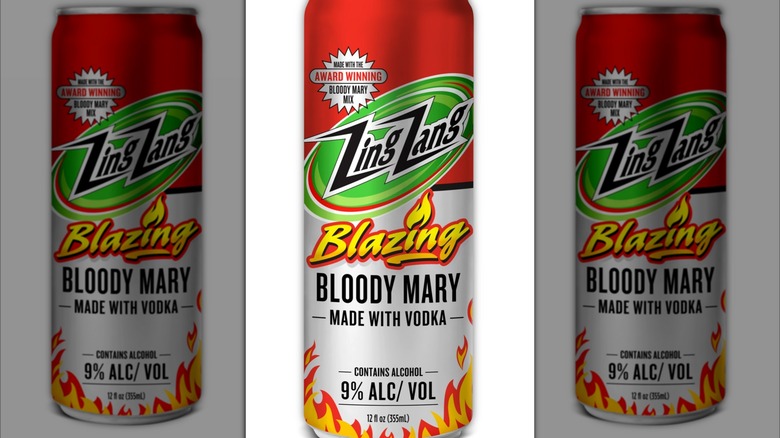 Zing Zang, LLC
This red alcoholic beverage has been associated with brunch due to the filling nature of the drink and the distinctive tomato or vegetable juice taste. A classic Bloody Mary recipe is made with tomato juice, spices, Worcestershire, and a heavy dose of vodka. It's an umami flavor bomb and those that love the drink often want it to pack a spicy punch. Zing Zang offers customers a range of vegetable juices, seasonings, and hot sauce. Now, it's upping the heat and adding six-times distilled vodka for its new RTD offering.
Zing Zang's Blazing Bloody Mary is made with extra hot sauce, ensuring that customers who like to turn up the heat won't be reaching for the hot sauce bottle. Each 12-oz can contains 9% ABV, which is enough for two drinks. Even though the beverage is served in a can, customers can feel free to add in their favorite garnishes, like celery stalks, lemons, or bacon slices. The company is also offering the Blazing Bloody Mary as a bottled non-alcoholic mix, so if canned cocktails are your style you can still opt to mix the flavor into your own drinks and concoctions.