Van Leeuwen's Latest Hidden Valley Ranch Ice Cream Flavor Isn't For The Faint Of Heart
Ice cream brand Van Leeuwen is no stranger to big flavors. From classic taste profiles like Vanilla Bean, Sicilian Pistachio, Honeycomb, and Choc Chip Cookie Dough to a wide selection of vegan-friendly options, it's no wonder the company has expanded from its simple food truck days in 2008 on the streets of New York City. Now, these frozen treats are being stocked in local grocery stores and can even be shipped to your doorstep. However, it is the ridiculous, niche, and freaky limited edition flavors that are surely turning dessert fans' heads.
Over the years, Van Leeuwen Ice Cream has released strange eccentric flavor combinations such as Idaho Malted Milkshake & Fries, Champagne French Ice Cream, Grey Poupon ice cream, and yes, even Kraft Macaroni & Cheese ice cream. However, are these out-of-this-world flavors actually good, or are they simply a fun foodie fodder marketing strategy? Well, the brand's latest partnership with Hidden Valley incorporates a particular salad dressing favorite that will either have you drooling in your bowl or running away from it.
What people are saying about Van Leeuwen's new Ranch ice cream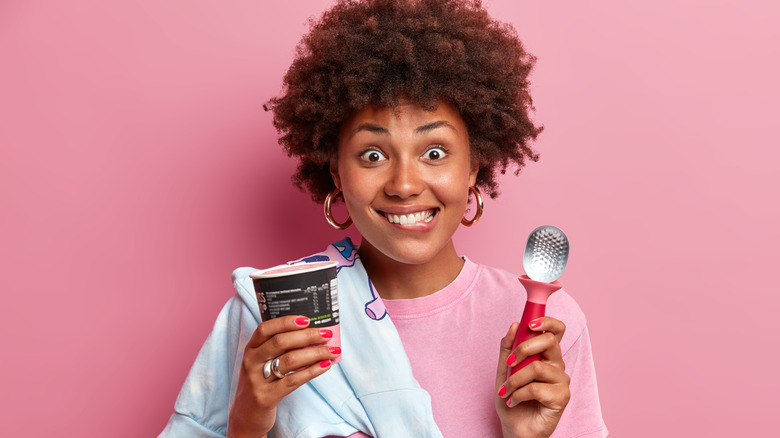 Cast Of Thousands/Shutterstock
In celebration of National Ranch Day, Van Leeuwen Ice Cream and Hidden Valley have teamed up to create a limited-time Ranch Ice Cream that is slated to hit Walmart shelves on March 20. The special edition salad dressing flavor was announced via Van Leeuwen's Instagram with a caption reading "You're going to need to make some freezer space for this one." But is combining America's obsession with the creamy salad dressing and ice cream a great idea or a horrible experiment gone wrong? Some Instagram reactions had people wondering if the release was a pre-April Fool's gag. "I am horrified, yet completely intrigued all at the same time," one commenter said, while another proclaimed "This one is going strictly to the ice cream grave yard."
Editors at Food & Wine had the opportunity to dig in and dish as they were privy to an early taste test of the questionable flavor, and their reactions certainly run the spectrum. Commentary on the herbaceous buttermilk dessert offering ranged from "It's very garlic powder forward" and "I only wish I had french fries to pair it with," to simply "no." But, for those who can't live without their ranch dressing and have always longed for the day it could be consumed in dessert form, then it looks like your dreams may be coming true.