One Chick-Fil-A Secret Menu Sandwich Is Similar To In-N-Out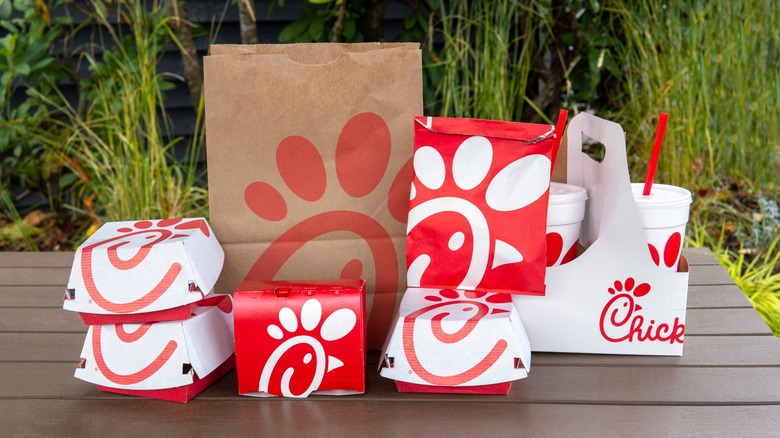 Summer_Wind/Shutterstock
When it comes to chicken, Chick-fil-A has you covered. From their iconic chicken sandwich to nuggets, chicken biscuits, and tortilla soup, the popular chain is one of America's favorite fried chicken joints. And while you can't go wrong with any of their classics (number one with extra pickles, please!), many customers don't realize that Chick-fil-A has an unofficial secret menu that puts a tasty spin on the chain's original offerings. The secret menu is fueled by creative customers dedicated to elevating Chick-fil-A's best sellers. Since Chick-fil-A employees are well-known for their stellar customer service, they're happy to abide by any innovative customization requests.
From buffalo chicken sandwiches to mini ice cream sundaes and root beer floats, the secret menu is truly endless — as long as you have some imagination. Wouldn't it be awesome if you could order an In-N-Out Double Double with waffle fries and Chick-fil-A sauce? Well, guess what? You can — sort of!
Order the double decker at Chick-fil-A for a sandwich with double chicken
Unfortunately, Chick-fil-A doesn't sell beef burgers — that would be a crude offense to their beloved, sign-holding mascot. In addition, while you can't actually order a Double Double from Chick-fil-A, you can order a "double-decker." The double-stacked sandwich employs the same assembly method as the In-N-Out favorite by giving customers double meat — only instead of beef, it's peanut-oil fried chicken (and pickles, of course). If you want to take it up a notch, order two slices of cheese for the ultimate chicken sandwich symmetry.
Since it's not a formal menu item, Chick-fil-A's double-decker is just the same as ordering a second fried or grilled chicken filet and adding it to the sandwich of your choice. Semantics aside, you can't go wrong with double anything at Chick-fil-A — just don't forget to ask for extra sauce to match!