The Chick-Fil-A Mascot You Never Heard About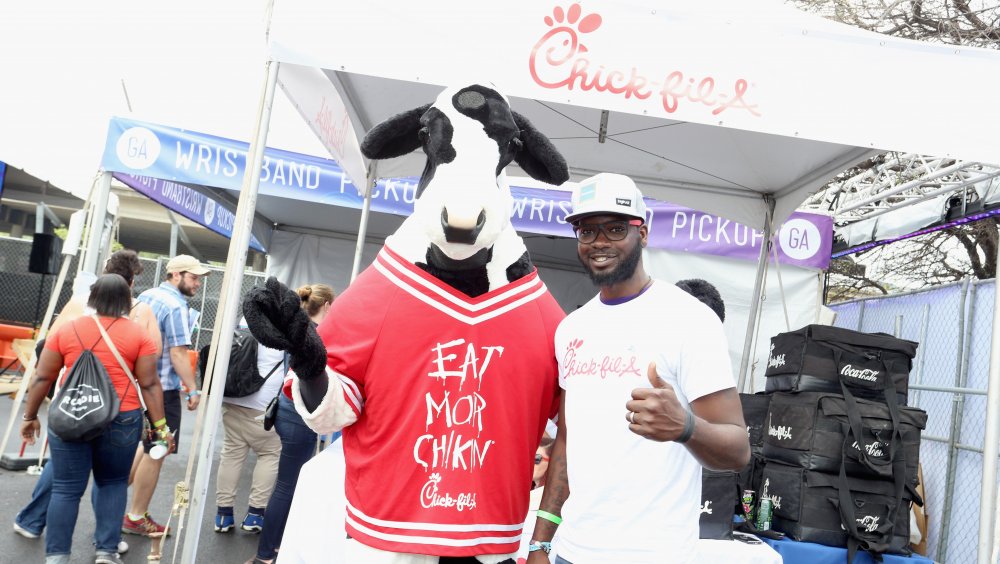 Rachel Murray/Getty Images
Chick-fil-A is a much beloved quick service chicken sandwich restaurant. Claiming the coveted title of the top fast food restaurant in the United States for four years in a row (via USA Today), Chick-fil-A has come a long way since its humble beginnings and built a loyal fan base in the process. From their oversized waffle fries that can be twice fried, to their seasonal peach milkshakes, to their numerous, can't-go-wrong chicken sandwich options, Chick-fil-A serves up delicious food that keeps us coming back.
But over the years, the restaurant has made changes and evolved with the times, which has led to 2,500 restaurants in 47 states and over $9 billion in annual sales (via Fox Business). One of our favorite parts of the Chick-fil-A story is their mascot campaign. But did you know that Chick-fil-A's cute black and white cows that can't spell and sport shirts with the slogan "Eat Mor Chikin" have not always been the fast food chain's mascot? In fact, they didn't even make their Chick-fil-A debut until 1995.
Doodles the Rooster was the first Chick-fil-A mascot
Before the cows took over the Chick-fil-A chicken house, Doodles the Rooster ruled the roost. Doodles was Chick-fil-A's original mascot when the tagline for the now fast food giant was, "The best thing that ever happened to Chicken." Hard not to agree with that statement if you've ever noshed on their juicy, tender chicken sandwiches. However, to everything there is a season, and Doodles quickly flew the coup as we entered the 1990s to make room for new barnyard friends who had some different antics up their hooves (via The Chicken Wire). 
The now iconic and playfully mischievous bovines first appeared on a billboard towering over the Atlanta, Georgia community where the renegade cows were featured painting the words "Eat Mor Chikin," harkening the beginning of an udderly fantastic marketing campaign birthed by The Richards Group in Dallas, Texas. Twenty five years later, and these legendary animals even have their own holiday: Cow Appreciation Day (via The Chicken Wire). But Chick-fil-A has always maintained a nod to the rousing rooster that was there since the beginning in 1957. In case you haven't noticed, if you take a close look at the "C" in the Chick-fil-A logo, you will see how the chain has played homage to the ousted bird, now crafted into its doodled script (via Chick-fil-A).