A Miley Cyrus-Themed Flowers Drink Has (Sort Of) Arrived At Starbucks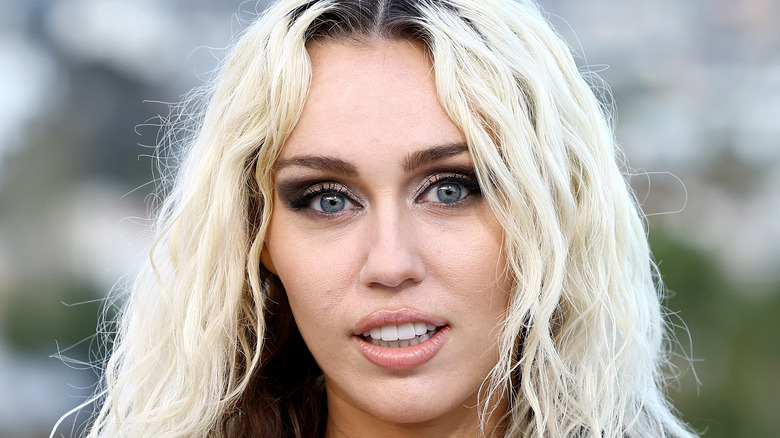 Arturo Holmes/Getty Images
There's a new Starbucks' secret menu drink that's best consumed while jamming out to Miley Cyrus' March 10 release, "Endless Summer Vacation." The album was spearheaded by the hit, "Flowers," Cyrus's first number one single since "Wrecking Ball" shook audiences 10 years ago. To celebrate week three of the song's now six-week tenure on the Billboard Hot 100, Cyrus took to Instagram to thank her fans. "This song & its success represents the power of YOU!" she wrote, acknowledging this type of fate "doesn't happen by chance."
In a fun spin-off of the song's lyrics, Yas Bean, a coffee shop in the United Kingdom, decorated its exterior window with a photo of Cyrus holding a coffee cup. The advertisement read, "I can buy myself Yas Bean," to be sung to the tune of "I can buy myself flowers." Starbucks isn't on board quite like Yas Bean is, but one barista was up for the challenge when a TikTok user asked for a drink to pair with the song.
A barista invented the drink in real time
Shortly after the release of "Flowers," TikTok user @lyellgirl ventured to a Starbucks drive-thru to order a drink inspired by the song. Instead of pairing the ingredients herself, she asked the barista to come up with a beverage to match the song's vibe. What resulted was a "blended paradise drink with strawberry puree, and topped with strawberry inclusions." Per Elite Daily, a traditional paradise refresher includes freeze-dried pineapple ice and coconut milk.
To ensure the barista knew what song she was referencing, Lyell sang a bar of it through the drive-thru. Although the drink caught some attention, many of the commenters were more enamored by her singing. "You have an amazing voice. You brighten up everyone's day," wrote one sweet TikTok user.
If you're interested in ordering the "Flowers" beverage, you may have to recite what's in it. After all, a lone barista just invented it a little over a month ago. But if you want to drink like Miley Cyrus herself, simply opt for the singer's go-to Starbucks' order: a nonfat white mocha without whipped cream (per Yahoo and Shape).