When Were Coffee Cups Invented?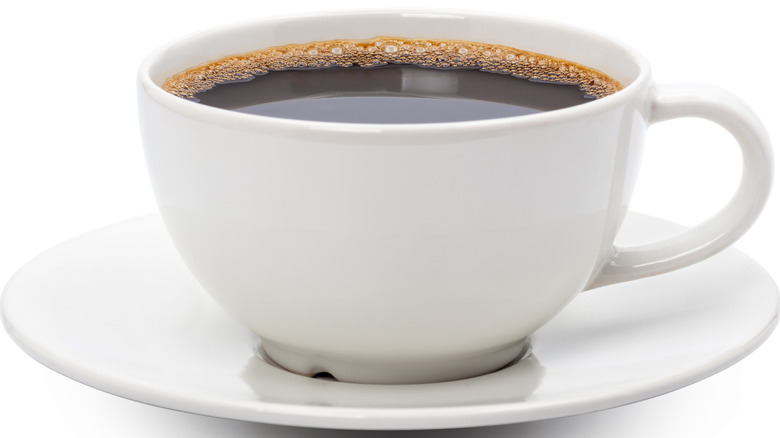 Freedom Life/Shutterstock
A coffee mug may be the first thing caffeine enthusiasts see every single morning. According to the 2019 Statista Global Consumer Survey, 44% of American adults drank two to three cups of coffee per day, the most common choice being drip coffee. Plus, the average TikTok morning routine video shows that any perfect (or so-so) day starts with brewing coffee in a cup, either with a French press or a coffee maker that's been in the family for years. Oftentimes, you're not pouring your joe into just any cup, but the "favorite cup" — a souvenir, Christmas gift, or vintage mug that carries a special meaning.
Coffee mugs have been around for longer than many of us can imagine, and they've been part of people's coffee drinking rituals for many generations. They have evolved throughout the decades, too, becoming a modern accessory in the form of insulated travel mugs and Starbucks' famous cups. Ever wondered when it all started?
Coffee cups were invented thousands of years ago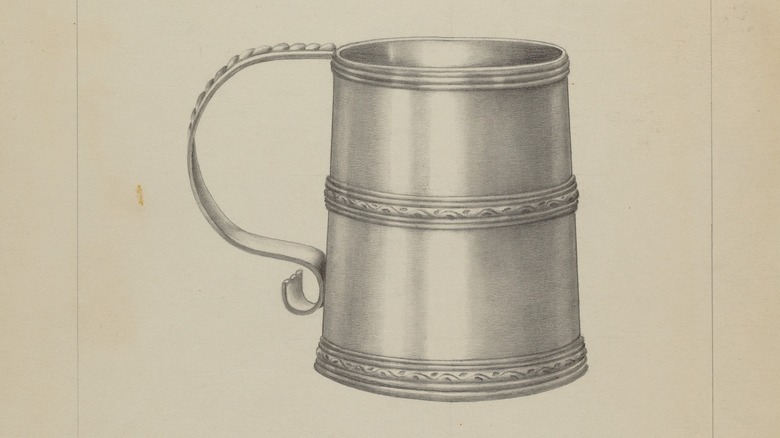 Heritage Images/Getty Images
The first mugs were invented around 3900 to 1700 BC, reveals Quality Logo Products, but they weren't used for coffee. Because coffee was not discovered until sometime in the 9th century in Ethiopia, according to The Spruce Eats, these mugs carved from wood or even animal skulls were used for water, spirits, or wine. By 3000 BC, metal cups appeared as metalwork increased, and mugs were made from gold, silver, bronze, or lead (but this last one, of course, was a harmful material to drink from). As time went on, the advancements of each era contributed to the development of mugs: Pottery of the Middle Ages brought a variety of designs, followed by widespread distribution of cups during the Industrial Revolution.
But it wasn't until the 1940s, when diners, smoothies, and huge hamburgers became a hit in America, that people began using the classic coffee mugs we recognize today. It was all thanks to the work of the Victor Insulator Company around 1945, according to Exploring Upstate. The business designed a durable white coffee cup with sturdy handles and porcelain that kept drinks hot. Soon after, diners popularized these mugs to transform them into the symbol of every breakfast experience we know today. Now, coffee drinkers of the 21st century can enjoy mugs in a variety of shapes and designs — from the classic diner version to the dainty cappuccino cups invented by Illy. Lucky us!