The Viral Grocery Cart Hack Is Perfect For Those Huge Costco Hauls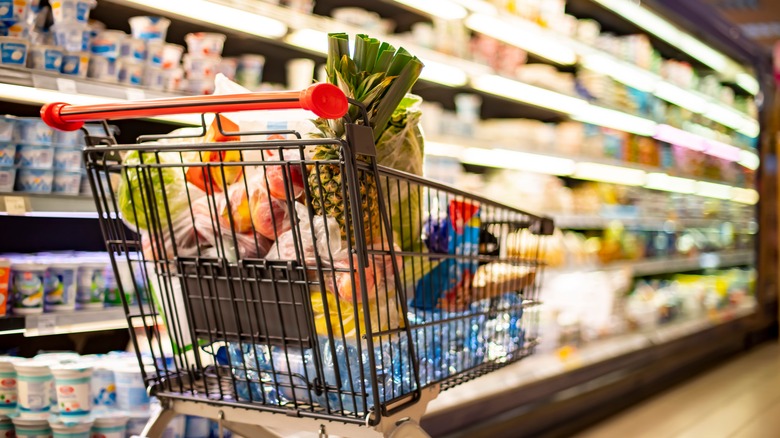 monticello/Shutterstock
It's 2023, and everyone loves a viral TikTok hack. Some of the most popular hacks involve tips for preparing food or making overall food prep easier. One of the most well-known is the quickest way to soften a stick of butter by simply putting the stick inside a glass that has been heated with hot water. In addition to cooking and baking, everyone needs to stock up on groceries. With so many hacks, it's almost as if each grocery chain has its own set of exclusive hacks for scoring the best deals or recreating favorite products. Wholesale club Costco has been at the center of several TikTok hacks focusing on more than just the chain's forbidden hot dog-eating trick.
If you're shopping at Costco, chances are you're going to be doing a large grocery haul. Even if you're just going in for a few items, you'll leave with a heavy load to drag to the car. Costco is known for forgoing plastic or paper bags and packaging up customers' groceries in boxes. Luckily, you can take their oversized carts to your car and unload your mountain of groceries. The Costco carts do have some flaws, including not having a drink holder, which can be a pain when you are parched from perusing the store. One shopper found a controversial cart hack to solve the problem, but what to do when it's time to unload all the heavy groceries into your car?
Bring your own cart
After a long trip around the grocery store, the last thing you want to do is spend time lifting everything back into your car. One mom shared her hack for simple grocery loading on TikTok and it set the internet ablaze. In the video, the mom is pushing her grocery cart through a store, and all looks typical until she goes to load her groceries into her trunk. With one push, the loaded basket slides right into the trunk, while the cart base simply folds up next to the cart. No, the mom didn't DIY a grocery cart. Instead, she is using the Australian brand, SlideAcart.
SlideAcart is a shopping cart that breaks down and slides directly into your car. It's reusable and relieves customers of having to put back a shopping cart or worry about constantly sanitizing the cart. Users were quick to comment on their love of the cart, with someone writing, "This is a game-changer." Another was quick to point out the advantages of the cart specifically for those who have physical disabilities or who can't lift heavy objects. The clip has over 14 million views and the cart can be purchased for $199, however, it appears it can only be shipped to those living in Australia.