The Flavorful Stir-Fry Rachael Ray Makes To Use Up Leftover Rotisserie Chicken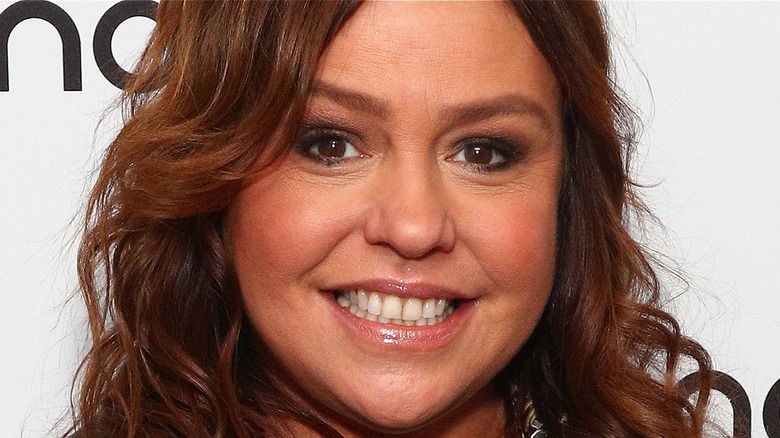 Astrid Stawiarz/Getty
Many people turn to Rachael Ray for help with easy, weeknight dinners — especially when crunched for time. She's known for her show "30 Minute Meals," but sometimes it can take less than five minutes to make a Rachael Ray recipe. Ray definitely has a knack for keeping meals quick and affordable. One way she keeps meals budget-friendly is by keeping leftovers in mind, including recipes that pose creative uses for the ever-popular rotisserie chicken. A rotisserie chicken is definitely a time-saving hack, but after the first meal, that bird can languish far away in the land of forgotten leftovers.
Ray's easy Chinese-American takeout-style chicken chow mein comes to the rescue. Her recipe uses about half a pound of thinly sliced chicken breast as the protein, but she says this same method would be a great way to use up leftover rotisserie chicken. Like many of Ray's recipes, this one doesn't require hard and fast measurements. Use whatever amount of chicken you have left and any vegetables languishing in the back of the produce drawer. Ray uses chow mein egg noodles, but different types of Asian noodles or even regular old spaghetti would work. This is definitely a clean-out-the-fridge kind of meal. But don't worry, this is not a bland and boring stir-fry: Ray has some tricks to make this simple dish shine.
Don't skip making Rachael Ray's sauce
To complete this dish, Rachael Ray creates three components to make a standout sauce you'll want to copy. First, she makes two different mixtures using warm chicken bone broth. Here's another leftovers hack — never throw out rotisserie chicken bones. After you have picked the rest of the meat from the bones for this dish, you can use an entire rotisserie chicken carcass to make bone broth yourself.
First, Ray takes a beaten egg and adds the broth to it while whisking with a fork to temper the egg. Adding the warm broth to the beaten egg means it won't scramble when added to the pan. Eggs work as an emulsifier, helping to bind all the liquids to each other. Next, Ray makes a cornstarch slurry, which is typical in Chinese cooking. It thickens the sauce once it is heated and also helps the sauce cling to the noodles.
Finally, Ray makes a flavorful sauce using Asian pantry staples. She combines oyster sauce, light and dark soy sauces, toasted sesame oil, and sugar. This combination is earthy, salty, sweet, and savory. Once the chicken, noodles, and vegetables are combined, Ray adds all three mixtures, which ultimately creates a luscious, glossy, sauce that coats and glazes the noodles. This easy lunch or dinner — or, as Ray would say, "linner" — would be a great addition to your weeknight rotation or a budget-friendly alternative when the Chinese takeout craving strikes!