The Clever Cake Mix Hack That Transforms A Nostalgic Ice Cream Bar Into Cookies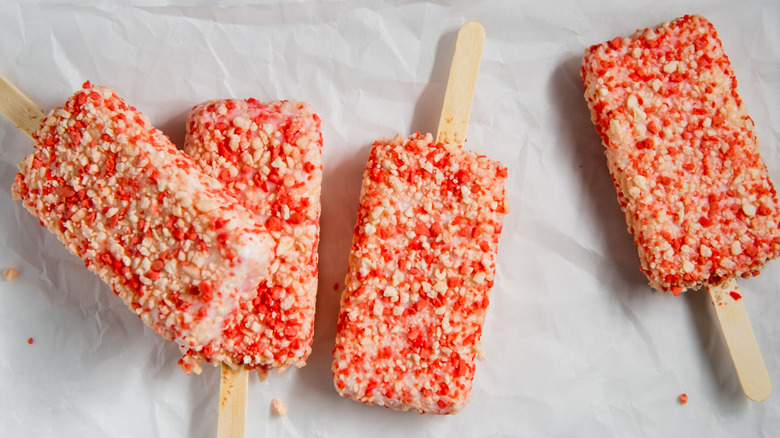 Ezume Images/Shutterstock
For over one hundred years, Good Humor has been synonymous with hot summers, playing outside with friends, and of course, tasty treats on a stick. What began in 1923 in Ohio with a fleet of 12 freezer trucks adorned with bells from a bobsled amassed into 85 Good Humor ice cream products sold in grocery stores nationwide and revolutionized the industry.
Good Humor sold its iconic fleet of trucks in 1976, but the product is still available in supermarkets and convenience stores. It can even be found in vendor carts in parks like New York City's Central Park. Good Humor's history is fascinating, complete with run-ins with the Chicago mob. Yet, they persevered for a century and created the industry's novelty (or take-home) ice cream segment, a $7 billion market today.
Whether your favorite Good Humor bar tastes as good as you remember is questionable. Still, the nostalgia is strong for many of us who remember chasing after the Good Humor truck with a dollar in our hands. Good Humor simplified its product line to "The Classics" in 1992 — Candy Crunch, Chocolate Eclair, Strawberry Shortcake, and Toasted Almond. If your favorite bar is listed, then good news for you. You can still find the bars in stores and recreate that taste at home in cookie form.
TikTokers have created a strawberry shortcake cookie, including the best part — the pink and white crunchy coating. These easy-to-make cookies are thick and sweet, and here's how to make them.
Strawberry shortcake cookies
Using a few shortcuts and pantry items, TikToker Moribyan has recreated the taste of the nostalgic ice cream bar in a cookie, al la Crumbl Cookies. Moribyan combines a box of store-bought strawberry cake mix with two eggs and ½ cup of vegetable oil to make a dozen strawberry shortcake cookies. The thick batter is scooped onto two parchment-lined baking sheets, six cookies to a sheet, and baked at 350 degrees until firm — about ten minutes. While the cookies bake, the delicious crunchy topping is made using more store-bought items.
The crumble topping is made with a package of instant vanilla pudding and strawberry Jell-O. In two separate bowls, each mix is combined with ¼ cup of softened butter and ¼ cup of all-purpose flour to make a paste-like batter. On one parchment-lined baking sheet, the two batters are flattened, but not combined, and baked for ten minutes. When it completely cools, the cookie-like topping can be crumbled and set aside until assembly.
A simple cream cheese frosting is made by whipping ½ cup of softened butter, eight ounces of room-temperature cream cheese, one teaspoon of vanilla, and three cups of powdered sugar until light and fluffy. To assemble the strawberry shortcake cookies, pipe a generous amount of cream cheese frosting on each pink cookie and top with a sprinkle of the strawberry and vanilla crunch. Store any leftovers in an airtight container in the refrigerator.