How Duff Goldman Celebrated His Daughter's Second Birthday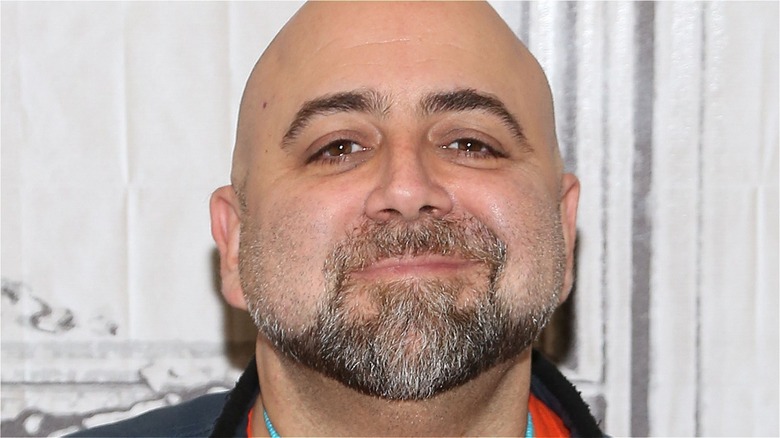 Manny Carabel/Getty
Ever since he and his wife welcomed their baby girl, Duff Goldman has been a devoted family man, interspersing all the snaps of delectable cakes and time on set he shares on social media with sweet shots of his wife Johnna and daughter, Josephine. He loves to document life with his girls — and that of course includes some sweet treats just for the family.
Now, given that Goldman is a wizard with fondant and frosting, you'd assume he'd craft completely over-the-top creations for his daughter's birthday celebrations, right? Well, it seems the baker prefers to go in a more personal direction when baking for his favorite customer. Since fans were obviously clamoring to know what the "Ace of Cakes" himself whipped up for Josephine's first birthday celebration, he shared the cake he crafted on Instagram. Though it was adorable, it looked more like something a father makes for his child than an elaborate custom creation for a client — a simple round cake with chocolate frosting, white icing lettering, and a white outline of Studio Ghibli character Totoro. Several fans in the comment section of the post even wondered why he went with something so simple for such a big occasion.
It seems like Goldman's approach to his daughter's birthday treats remains consistent, as he rang in her second birthday with an equally sweet and simple treat, documented in a video he shared with his 745,000 followers.
Goldman's unusual take on birthday cake
In an Instagram video shared on January 31, Duff Goldman tossed a filter packed with color and sparkles over a clip of him and Josephine working hard in the kitchen. Despite her young age, Josephine wasn't content to let her father do all the work, even if he's a renowned baker. Instead, she was shown adding sprinkles from a large container into a bowl of batter, and even whisking the mixture together to help disperse the colorful flecks throughout as the duo whipped up a batch of birthday confetti pancakes. It seems an appropriate way to mark a milestone in the Goldman household, as just last year he shared a post in which Josephine enjoyed her first-ever pancake.
The comments section was filled with fans swooning over the sweet moment, with one even commenting that "she's going to be a baker like her papa" while another added that "she has a good teacher."
And, while Josephine didn't actually eat any of the pancakes in the short clip, since the batter was still raw, don't fret — she seems to have gotten her fair share of celebratory sweet treats. In a photo posted that same day in which Goldman wished his daughter a happy birthday in the caption, Josephine was shown with a cookie in her hand and chocolate smeared all over her face, suggesting that there were more than just birthday pancakes on offer for her big day.