Guy Fieri Has No Idea Why He's Watching An Egg Video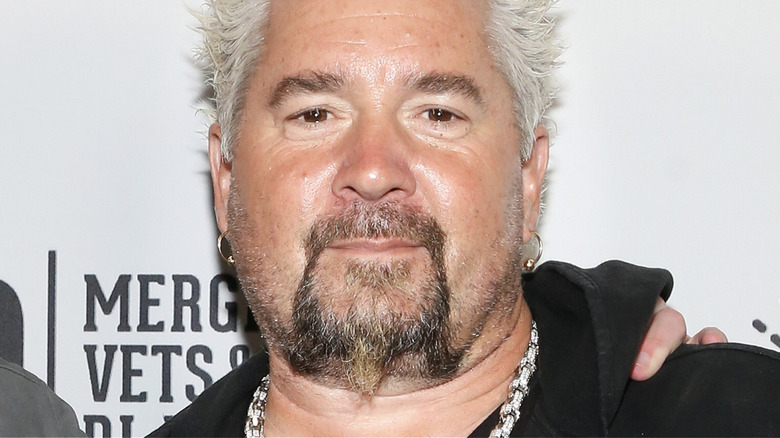 It's almost impossible to turn on Food Network and not see Guy Fieri's face and signature spiky hair smiling back at you. In only the last two years, Fieri has hosted six different shows, including the immensely popular "Tournament of Champions." On "Guy's Grocery Games," Fieri challenges chef contestants to push themselves to the limit while cooking a delicious dish with time constraints and limited ingredients. Even though Fieri plays the hosting role, he's known to roll up his sleeves and cook alongside his competitors. Always a good competitor, Fieri follows the same rules, such as cooking with only vegetarian ingredients for the All-Star Vegetarian games.
Chefs are typically not super picky eaters, yet we all have that one food we just can't stomach. Fieri is no exception, as his detest for eggs is well documented. When he travels to breakfast joints on "Diners Drive-Ins and Dives," fans will notice he never tastes any egg dishes. Fieri isn't a huge breakfast person, opting for something more savory, like ham and grits with red-eye gravy. Even though Fieri doesn't mind if an egg is incorporated into food, such as a yolk being used in Caesar dressing, he still doesn't love to see eggs being cooked, if at all possible.
The joke's on him
Guy Fieri has a larger-than-life personality and is quite the jokester both on and off the screen. While visiting his favorite joints on "Diners, Drive-Ins, and Dives," he often jokes with the chefs and customers. While most of the jokes land, sometimes the results or awkward silence is incredibly cringy. While Fieri is usually the one making fans laugh, he became the butt of a joke thanks to Food Network. Thanks to Food Network's Tiktok, fans can watch Fieri cringe as he watches a video of a chef cooking scrambled eggs.
It's clear that Fieri doesn't quite understand why he is being asked to watch the video, with him even asking, "Is this some kind of sick joke?" Towards the end, he declares he is "done" watching, which isn't too surprising, given his troubled history with eggs. While Fieri may not have appreciated the video, fans couldn't get enough. One person simply wrote, "Walk... Away..." While Fieri didn't stick around for the egg video, he does make several appearances on the network's TikTok account including explaining his infamous Donkey Sauce.