The Unexpected Ingredient That Will Majorly Upgrade Your Lasagna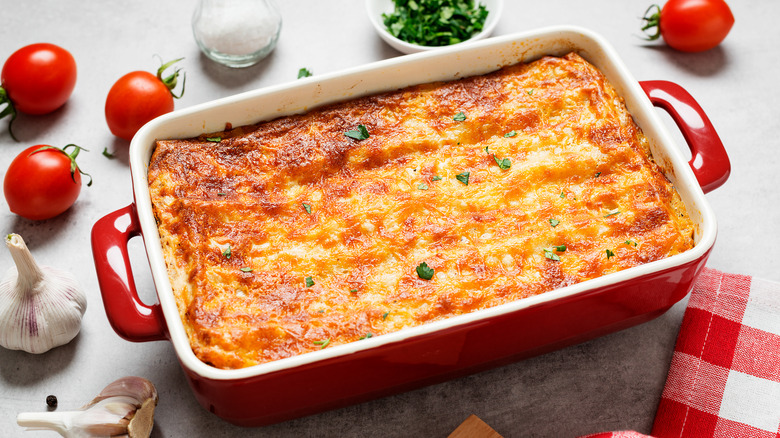 nelea33/Shutterstock
It's hard to complain about homemade lasagna, but even the most die-hard fans of this layered pasta dish (we're looking at you, Garfield) might admit the simple combo of cheese, pasta, and sauce can get a little boring sometimes. If you add in ground meat or sausage, you're also potentially dealing with what could end up being an overly rich meal that practically begs for a kick of freshness. So, how can you reinvent the wheel on this Italian favorite? It's as simple as bringing some pesto into the mix.
Even jarred basil pesto from the grocery store can go a long way toward changing up the flavors in your lasagna, though homemade pesto will be more vibrant. You can use pesto in your lasagna in addition to marinara sauce, or skip the tomatoes entirely and make a green lasagna. Alternatively, you can mix pesto into a Béchamel sauce or ricotta cheese mixture to add some bright, herbaceous flavors to the richness of dairy and cheese. Most excitingly, though, pesto can be a vehicle for adding more nutritious leafy greens into your diet — and making homemade basil pesto from scratch is actually pretty simple.
There are many ways to make pesto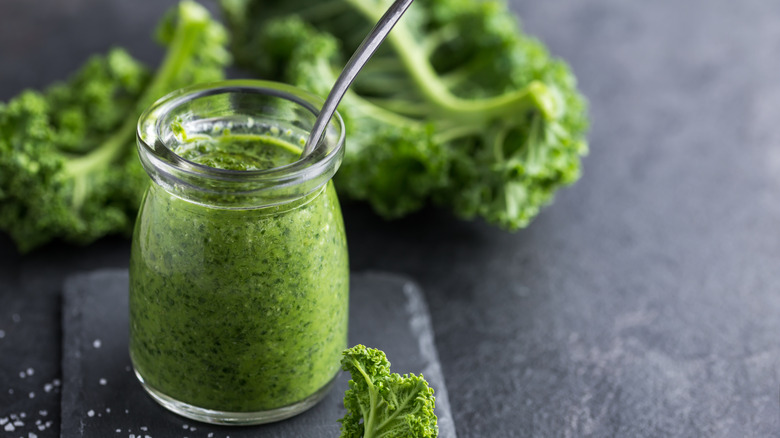 Anna Shepulova/Shutterstock
On its most basic level, traditional basil pesto is made from basil, pine nuts, garlic, salt, olive oil, and cheese. But those ingredients are just a guide for making pesto. Cooks who want to be even more creative with their lasagna can make pesto out of other herbs, greens, and nuts. For example, parsley, arugula, and kale can all be used to make pesto instead of basil. You can even use up ingredients that otherwise might become scraps — like beet greens or carrot tops — in your pesto recipe. As for the nuts, you can swap out expensive pine nuts for something like blanched almonds, heart-healthy walnuts, or cashews. Or, you can even use seeds like pepitas or sunflower seeds instead.
Another idea? If you like the thought of changing up your go-to lasagna recipe, but think you'd miss the acidity from tomatoes if you swapped marinara sauce for green pesto, try using sun-dried tomato pesto instead. This condiment is packed with the sweet and tangy concentrated flavor of tomatoes. Plus, the addition of nuts and cheese makes it taste different than traditional marinara sauce, so it's sure to add some unexpected oomph to your next tray of lasagna. Regardless of whether you use red or green pesto, this versatile ingredient is the easy lasagna game-changer your taste buds need to try.