10 Champagnes You Should Be Toasting With In 2023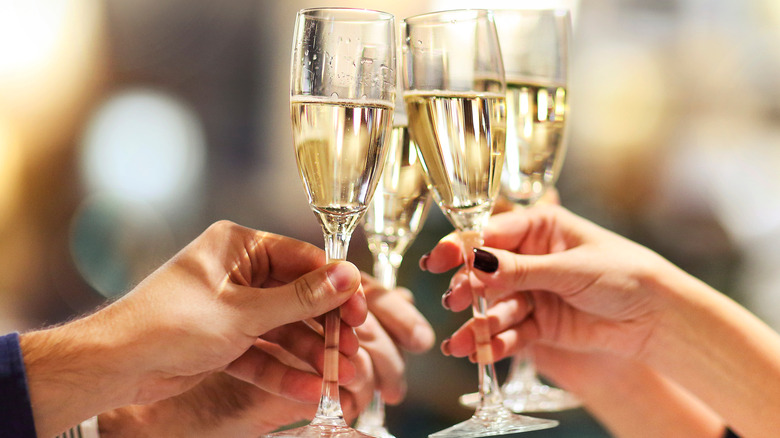 Dasha Petrenko/Shutterstock
There are many great Champagne alternatives, but this legendary wine has yet to find its match in the sparkling category. Classic Champagne-style wine and traditional bottle fermentation methods have been recreated elsewhere, but the results were never as elegant and precise as those that regularly come out of the Champagne region. Though it is steeped in tradition, Champagne retains the aura of a hip and trendy wine that is fit for any festive event, and it is perhaps the only acceptable boozy drink that can be sipped at any time of the day.
2022 was a great year for Champagne in terms of sales. The year marked the end of the global pandemic, and Champagne as the signature celebratory wine was the ideal choice to commemorate the event. The predictions for the future are promising; 2022 was a warm vintage, and the grapes were allowed to attain perfect ripeness, so we can expect the wines to be packed with rich aromas and supple flavors. However, most of the Champagnes on this list spend a long time aging, so in 2023, you'll be drinking wine from grapes grown years ago.
How we chose the best Champagnes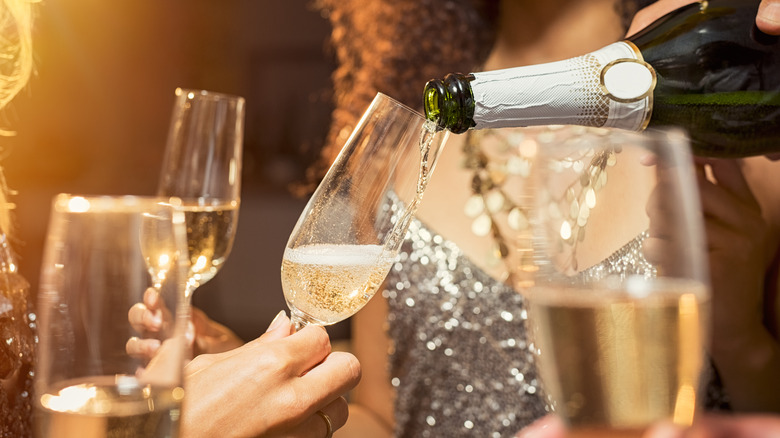 Ridofranz/Getty Images
Champagne can be a slightly frightening and demanding category when it comes to selecting the best labels. The size and the volume do not pose a problem, but the consistent quality of Champagne makes the process somewhat difficult. You will rarely find a poorly made Champagne label, so choosing the finest among such a distinguished group is challenging.
We based the selection on several criteria. The guiding lines were reviews and scores by esteemed wine experts, followed by opinions from fervent Champagne enthusiasts who shared their scores on trusted wine platforms. We also relied on personal experience and the descriptions of the wines to find the ones that best fit in particular categories. The list is diverse as it includes some of the biggest Champagne houses and their signature labels as well as independent, family-owned domains that produce exceptional wines that truly reflect a unique terroir. We made sure to include a wide range of styles and examples that come at different price points, so you can easily find a Champagne fit for a specific occasion or the one that best suits your budget. All prices were accurate as of the publishing date of this article.
Best overall: Charles Heidsieck Blanc de Blancs
Charles Heidsieck is one of the most significant Champagne houses with a rich heritage dating to 1851. Founded by Charles Heidsieck — also known as Champagne Charlie and the man who brought Champagne to the U.S. — the maison releases a wide range of labels that continually win medals at international competitions and receive high grades for their unprecedented quality. Blanc de Blancs is a 100% Chardonnay blend inspired by the original 1949 label that was relaunched in 2018. The grapes are harvested from exclusive sites, mainly the prized Côte des Blancs, and the final result is a beautiful Chardonnay blend that shows the true character of the terroir and grapes, but it also reflects the philosophy of the house and its legendary founder.
The rich and complex aroma combines classic stone fruit, citrus, and nut-like notes. On the palate, the wine shows great elegance. It is smooth and supple but remains fresh, bright, and zippy. It ends beautifully with a long, mineral aftertaste. This is a Champagne fit for any occasion. It would make an excellent aperitif, but you can also easily pair it with some small bites, appetizers, and main courses that are not too robust. It is a perfect toaster and a great label to give as a gift on most occasions.
You can get Charles Heidsieck Blanc de Blancs from Woodland Hills Wine Company for $69.95 per 750-milliliter bottle.
Best blanc de noirs: Egly-Ouriet Blanc de Noirs Grand Cru
Blanc de noirs is a Champagne term for white Champagne made from red grapes. By Champagne guidelines, this includes Pinot Noir and Pinot Meunier. The two can be blended, but versions with only Pinot Noir are quite common. The final profile of blanc de noirs can vary, and though you can expect to get more fruitiness, the character is not entirely dependent on the variety. In the category, the 100% Pinot Noir version from Egly-Ouriet is one of the finest examples.
Egly-Ouriet is a Champagne producer falling in the grower's Champagne category, meaning that the winemakers grow the grapes used in the wines. The Pinot Noir in this blend comes from old vines planted in 1946 in the chalk-rich Les Crayeres vineyard. The result is a spectacular wine with superb aromatic finesse displaying ripe yellow fruit, sweet citrus, floral, and buttery vanilla notes. The texture is smooth, with fine, evenly distributed bubbles. The palate is dominated by an elegant mineral backbone, a saline character, and chalk-like notes. It is a lively Champagne with a rounded, long-lasting, and juicy finish. This is the label that can be a good match with some more complex dishes and would pair exceptionally with seafood. It is also one of the examples with good aging potential.
You can get the Egly Ouriet Grand Cru Blanc de Noirs from Woodland Hills Wine Company for $249.95 per 750-milliliter bottle.
Best rosé: Krug Rosé
Krug is a major name in the Champagne world. This outstanding Champagne house was founded in 1843 by the legendary Joseph Krug and is still run by the members of the Krug family. Champagnes from Krug cellars are typically some of the best expressions you can find. They all follow Joseph Krug's initial vision: To retain quality and signature expression regardless of the climate conditions. The range includes seven labels, and though the non-vintage Grande Cuvée is the flagship style, Krug Rosé, which was launched in 1983, is one of its base labels and the best rosé option for 2023.
These salmon-colored Champagnes blend Chardonnay, Pinot Noir, and Meunier. Each edition combines several skillfully blended vintages aged for approximately seven years to attain the desired character. This Rosé aims to combine classic Krug elegance with a more intense expression. You can expect fruity and floral aromas followed by buttery, toasty notes and a hint of spiciness. The palate perfectly balances incredibly fresh and lively character with power and depth. The rich palate leads to an exceptionally long and pleasant finish. This is a Champagne that you can serve on any occasion. It would also make a fantastic pairing option as it has enough character to stand with slightly elaborate dishes.
Krug Rosé is available at Drizly, and you can currently get the 24th edition for $375 for a 750-milliliter bottle.
Best for aperitif: Louis Roederer Champagne Collection 243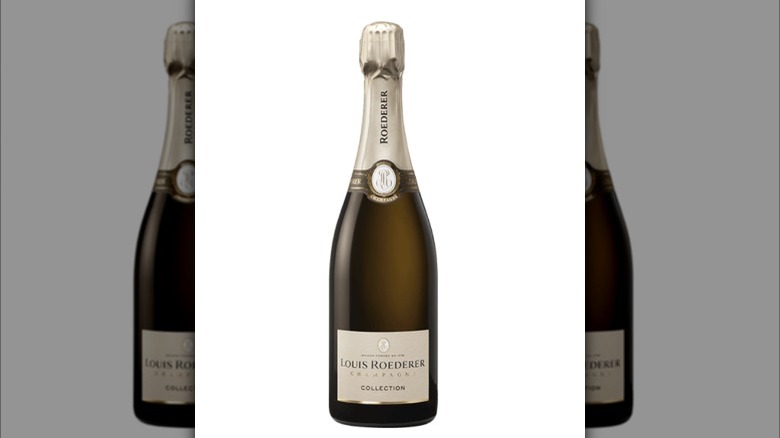 Louis Roederer
Most Champagnes make ideal aperitif wines, but some perform slightly better as bright starting bubblies than others. Louis Roederer Champagne Collection 243 is certainly one of the best options if you are looking for a lively and fresh Champagne to sip as an opening wine.
Louis Roederer is a renowned Champagne house with a history spanning centuries. It is best known for Cristal as its legendary luxurious vintage, but the house retains the highest quality with every label in the range. Collection is a line that Roederer introduced to give the classic multi-vintage blend a modern feel that would better express the true Champagne terroir and align with sustainable winemaking practices. With the latest release, Collection 243, Roederer blends three classic Champagne varieties: Chardonnay, Pinot Noir, and Meunier. The cuvée is based on the warm 2018 vintage that is blended with Roederer's oak-aged and perpetual reserves. The result is an elegant and refined wine that shows the great Champagne character with bright aromatic notes reminiscent of citrus, white flowers, yellow fruit, toasty brioche, and nuts. The palate reveals an exceptionally well-built wine with a fine effervescence, firm structure, and significant depth. Still, it remains soft and supple, brimming with juicy flavors and lively acidity. Serve this Champagne alone or pair it with some savory, salt-packed starters for an ideal partnership.
Louis Roederer Champagne Collection 243 is available at Millesima starting at $34.99 for a 350-milliliter bottle.
Best with food: Philipponnat Blanc de Noirs
The Philipponnat story started in 1522 when the family first moved to the region. With a central location and ideal south-facing vineyard positions, Philipponnat continually releases labels that find their place at the top of the competitive Champagne market. The grapes are harvested when fully ripe and mainly come from top positions, ensuring superior quality that later translates into the wines.
Blanc de Noirs is one of the finest Philipponnat expressions. As the name suggests, this is a white Champagne made from red grapes, in this case with 100% Pinot Noir. Blanc de Noirs is a vintage, meaning that it only holds the blends of one particular year. It is usually made as an extra-brut Champagne — that packs the least amount of sugar — which is supposed to balance out the rich profile and keep the Champagne fresh and lively. This label shows its Pinot character in the fruit-dominated aroma, though the final expression varies among vintages. Some toasty notes are usually accompanied by spice-like nuances as the wines spend some time in oak. The extensive aging on lees helps these wines to attain power and a firm backbone that works perfectly with the bright acidity. This wine is built for each course but goes exceptionally well with seafood or poultry.
2014 Philipponnat Blanc de Noirs is available at Millesima starting at $110.99 for a 750-milliliter bottle.
Best for special occasions: Veuve Clicquot La Grande Dame Brut 2015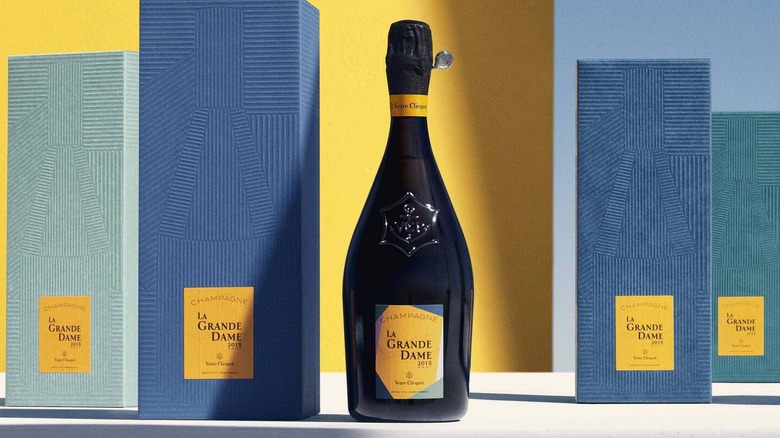 Veuve Clicquot
Champagne is designed for special occasions, but if you want the ultimate celebratory option, go with La Grande Dame, the legendary Veuve Clicquot vintage. Veuve Clicquot is a household name in the Champagne region and La Grande Dame, as the remarkable vintage label, is one of its flagship styles that honors the legendary Clicquot widow that created some of the most important Champagne styles. Since the 2008 vintage, the house has amped up the ratio of Pinot Noir, which now makes 90% of the blend.
The latest release comes from 2015, a warm and sunny year, ideal for Pinot Noir. This warmth translated into the wine, creating a plush vintage packed with floral, fruity, and light toasty notes. On the nose, you can expect dominant primary aromas reminiscent of white flowers, white fruit, and citruses. The texture is delicate and smooth, with fine, equally distributed bubbles. Bright acidity and a lean mineral backbone keep the wine fresh, despite its rich, sun-packed character. This is the wine you can pair with food, ideally savory dishes that show a similar saline character. The 2015 vintages are packed in a neat pastel-colored designer box designed by Paola Paronetto, so you can even consider this grand Champagne as an ideal lux gift.
La Grande Dame Brut 2015 is available from Woodland Hills Wine Company starting at $199.95 for a 750-milliliter bottle.
Best extra brut: 2008 Bollinger R.D. Extra Brut
Often classified as one of the most important Champagne houses, Bollinger needs little introduction. This superb Champagne name produces some of the most prized expressions coming from the region. Bollinger holds some of the best locations and uses Pinot Noir as the central varietal, which ideally reflects the main house style that is powerful, bold, and dominant. 2008 R.D. vintage also falls in this category and is best described as a remarkable vintage that is certainly one of the best extra brut labels currently available.
R.D. stands for recently disgorged — meaning that the yeast deposit has been removed from the bottle as late as possible. The label is one of the signature vintages coming from Bollinger that was started by the great Madame Bollinger. The wines spend a long time on lees and are released soon after disgorgement. The 2008 vintage is centered around Pinot Noir, which makes 71% of the blend. Chardonnay fills out the rest. The wine is oak-fermented, and the extra-brut label is chosen intentionally, as the bright acidity keeps this giant fresh and lively. The aroma is dominated by cooked and ripe fruit, brioche, and honey. The palate reveals yellow fruit, citrus, and a beautiful hazelnut flavor. This is the ultimate wine for Champagne connoisseurs. It is an excellent investment wine as it has fantastic aging potential.
2008 Bollinger R.D. is available for pre-order at Center Wine + Spirits, starting at $429.99 for a 750-milliliter bottle.
Best splurge: 2013 Dom Pérignon Brut
Dom Pérignon is perhaps the most recognizable name in the Champagne industry. As the legend goes, a Benedictine monk known as Dom Pérignon invented the bottle fermentation technique which launched the entire Champagne tradition. With such a story behind its name, it is no wonder that Dom Pérignon remains one of the finest labels on the market. It is known as the vintage Champagne house, meaning that it only releases wine from single years. The wines spend at least eight years aging on lees, producing spectacularly complex and structured examples that help to build Dom Pérignon's reputation.
The latest addition to its famous portfolio is the 2013 vintage that continues Dom Pérignon's philosophy of striving for the perfect balance between depth and freshness. The wine is a blend of Pinot Noir and Chardonnay used in almost equal proportions. 2013 was a warm and sunny year that ended with a later harvest and perfectly ripe grapes, so expect to see this warmth in the bottle. On the nose, it brims with apple, citrus, honeyed nuances, and hints of floral notes. The wine is bright and lively on the palate with a well-integrated effervescence. The finish is sapid and has great length. This is the wine you can drink immediately, but you can also cellar it as it has amazing aging potential.
2013 Dom Pérignon Brut is available at Millesima starting at $229.00 for a 750-milliliter bottle.
Best value: Henriot Brut Souverain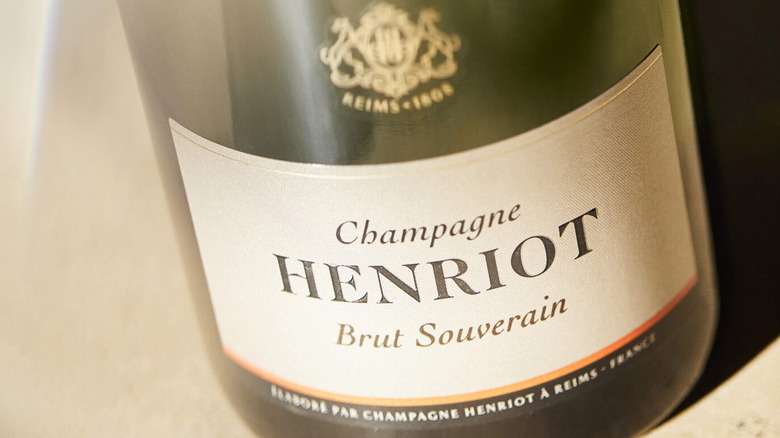 Henriot
Henriot is one of the independent houses in the Champagne region. The estate is still family-run and boasts a rich history dating to 1808 when it was officially established by Apolline Henriot. The range includes classic blends and vintages predominantly made from Pinot Noir and Chardonnay. The house has had a tumultuous history but remains one of the notable Champagne houses producing remarkable Champagne labels.
Henriot's Brut Souverain is a flagship non-vintage blend that comes at the top as the best-value Champagne for 2023. This historic label was launched in the same year the house was founded. Apolline Henriot initiated the idea, as she desired to create a signature cuvée that would reflect the entire philosophy of the house. The blend includes vintages from different years and wines from various, usually best-positioned, vineyards. Chardonnay makes 50% of the mix and while the other half is taken mainly by Pinot Noir, with just a small addition of Meunier. The wines spend three years on lees to attain complexity and character. The aroma reveals citrus, floral, and fruity notes, complemented with light brioche-like toastiness. On the palate, this Champagne is clean, bright, and balanced. Henriot Brut Souverain is a reliable label that will never disappoint. It comes at a very reasonable price but delivers classic Champagne character.
Henriot Brut Souverain is available at Drizly starting at $46.34 for a 750-milliliter bottle.
Best all-rounder: Moët & Chandon Impérial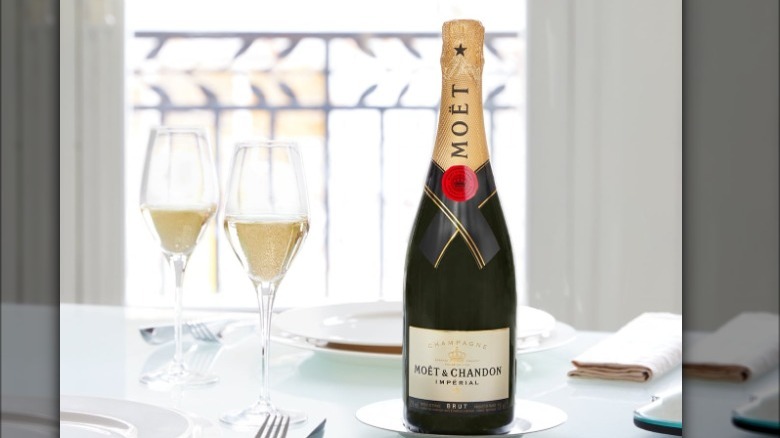 Moët
Champagne aficionados often smirk at Moët & Chandon being included on the list of best Champagnes, but there is no reason to doubt the reliable Impérial label. This is a Champagne built as the ideal all-rounder option. Currently under the LVMH group, Moët & Chandon is the biggest Champagne producer. Though some Moët labels might not be the pinnacle of Champagne production, the house consistently releases outstanding vintages and ambitious blends. Impérial is one of the flagship labels that sums up the essence of Moët's character: Keeping the wines zesty and bright, with elevated complexity and a velvety palate. 
Impérial was introduced in 1869 as an intricate blend of more than 100 wines, including some of the house's prized reserves. Grape selection is dominated by Pinot Noir and Meunier, whereas Chardonnay makes between 20 to 30% of the blend. On the nose, Impérial shows an abundance of bright, fruity notes reminiscent of citruses and green apples. The profile is rounded with a touch of floral and toasty nuances. The palate is equally fresh and reveals similar, somewhat warmer notes. Impérial is not an overwhelming Champagne, which makes it an ideal option to always have on hand. It is subtle enough for cocktails, but also works well on its own — most people like its unpretentious character. 
Moët & Chandon Impérial is available at Total Wine starting at $44.97 for a 750-milliliter bottle.