Beyond Champagne: Best Sparkling Alternatives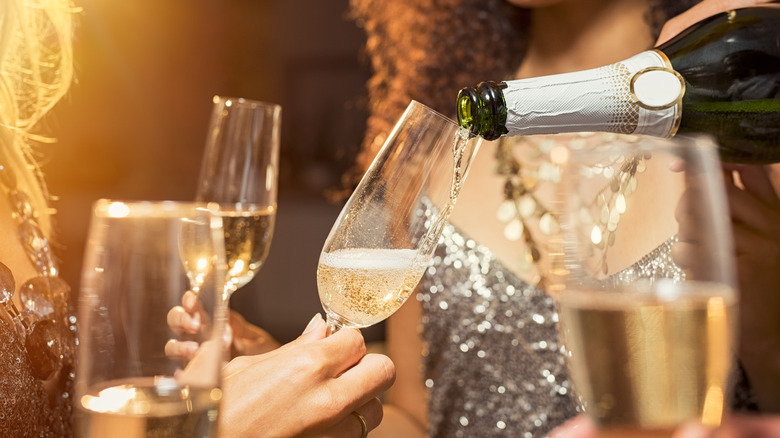 Ground Picture/Shutterstock
Champagne is the gold standard in the world of sparkling wines, and as such, it usually comes with a high price tag. Although it is generally believed to be the best sparkling expression in the world, it is not the only option. Winemakers outside the Champagne region now produce sparkling wines of outstanding quality, and while some try to mimic the traditional Champagne methods to get similar aromas and flavors, others rely on different techniques and the use of regional grapes to preserve the unique, local character. Many of them can be a good alternative to Champagne, whether as a less expensive version or a completely distinct sparkling style. 
In the world of sparkling wines, we talk about two main techniques: Champagne, or the traditional method, in which the yeast and sugar ferment inside the bottle, and the Charmat, also known as the tank method, where the fermentation takes place in pressurized tanks. The production method will influence the style and character of the final product. Tank method wines will usually have a lighter and unpretentious character — think of Prosecco as the best representative — while bottle fermentation usually results in wines with more complexity, toasty notes, and a fuller body (via VinePair).
The list gathers examples made with both methods to showcase the wonderfully diverse world of sparkling wines that shouldn't rely on Champagne as the only reliable option.
Cava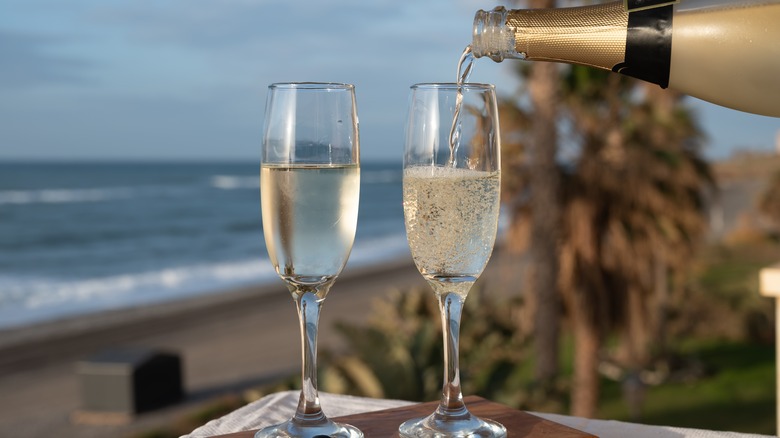 barmalini/Shutterstock
Cava is a sparkling wine that can be produced in several Spanish regions, though Penedés, located in Catalonia west of Barcelona, remains its most important production area. Just like Champagne, Cava is made with a traditional method, meaning that the second fermentation takes place in the bottle. But unlike Champagne, the base wine is traditionally made with native Spanish grapes. Macabeu, Xarel-lo, and Parellada are the most common varieties used to produce Cava. The wine is usually a blend, and each grape lends distinctive qualities; Xarel-lo provides acidity, Parellada imparts apple and citrusy notes, and Macabeu gives structure. Cava can be vinified into white or rosé wine (via MasterClass).
Cava compares to Champagne in the quality of its bubbles. The second fermentation will typically create finer bubbles and more elegant structure. Though Cava is mainly described as a young and refreshing sparkling style, Decanter emphasizes that age can be a deciding factor that provides complexity, creamy texture, and a nutty flavor and aroma. Consequently, you can find a lot of different styles, but look for Reserva or Gran Reserva labels for nuttier and creamier examples.
While Champagne is still among some of the priciest wines in the world, Cava comes at a fraction of the cost. At Drizly, you can find examples for as low as $10 a bottle, but you should shoot for medium or higher-priced Cava, which still doesn't come close to Champagne, to see how great bubbly doesn't always come with a high price tag.
French Crémants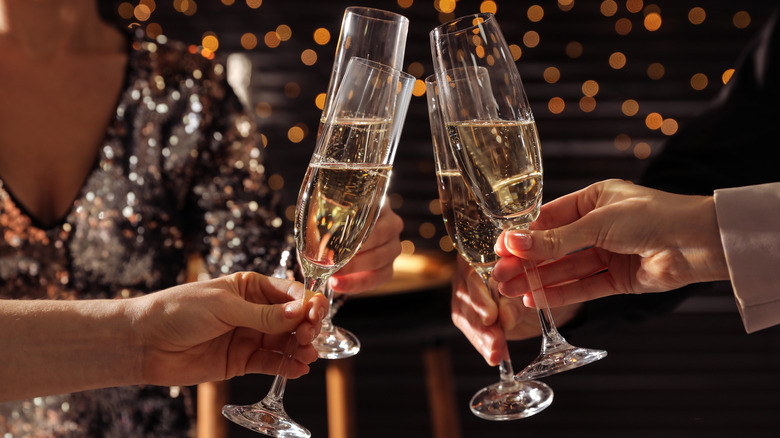 New Africa/Shutterstock
If you're looking for the best French alternative, Crémant is the next best thing to Champagne. As Wine Folly explains, the term "crémant" encompasses all French sparkling wines produced outside the Champagne region. In total, there are nine French regions that produce Crémants. All these wines are made using the traditional method of bottle fermentation, but as they are produced throughout the country and with various grapes varieties, the result is a wide array of different regional styles.
Crémant de Bourgogne is the version from Burgundy, which relies on classic Champagne grapes, and includes refreshing, zesty examples and warmer and riper styles from southern positions. Crémant de Limoux is one of the ancient sparkling wine regions, producing fine bubblies with Chardonnay and Chenin Blanc. Chenin Blanc and Chardonnay are the predominant varieties in the sparkling Crémant de Loire. Crémant is also produced in Bordeaux, Jura, Savoie, and Rhône (Crémant de Die). Crémant d'Alsace is the most prolific region, accounting for more than 50% of all Crémant production. The wines can be monovarietal, but they are usually blends made with a Pinot Blanc base. As explained on Wine Enthusiast, despite the differences in character and aromatic profile, most Crémants fall in the brut (dry) category.
Crémants will usually deliver good quality for a very reasonable price, and you can expect to find impressive examples for about $20.
Franciacorta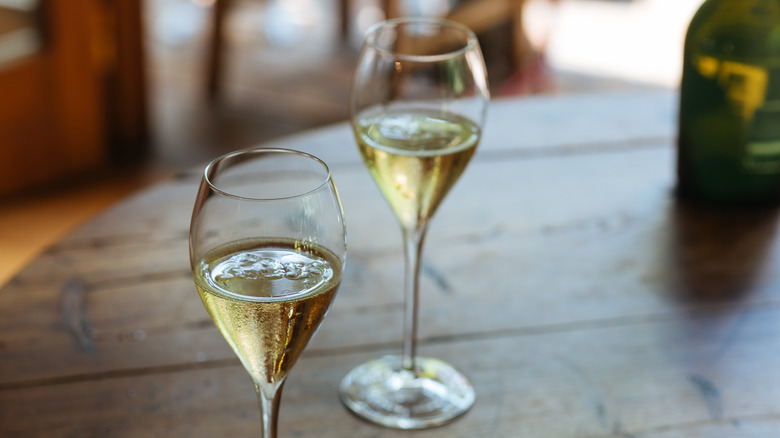 Maurese/Shutterstock
Although it still doesn't enjoy the popularity it deserves, Franciacorta is arguably the biggest star among Italian sparkling wines. Sometimes called Italian Champagne, Franciacorta wines are made with the prestigious traditional method, also known as metodo classico in Italian. The wines can only be made in Lombardy, and they predominantly use Chardonnay and Pinot Noir — two classic Champagne grapes. The resulting wines are usually of exceptional quality. They can easily be compared to Champagne, but due to different terroir, Franciacorta wines have a distinctive character and personality. They typically have fine effervescence and typical autolytic flavors and aromas reminiscent of brioche and toast. Elegant notes of dry fruit, citrus, and nuts are also present in the aroma and the palate. The styles vary from pas dosé (brut nature, no dosage) to the medium sweet demi-sec.
Among the Franciacorta labels, Forbes recommends the creamy and rounded Satèn as the premium version or the vintage Millesimato. Price-wise, you can find entry-level Franciacorta for about $30, per Wine-Searcher, while some better vintages and top labels typically go over the $50 range.
Cap Classique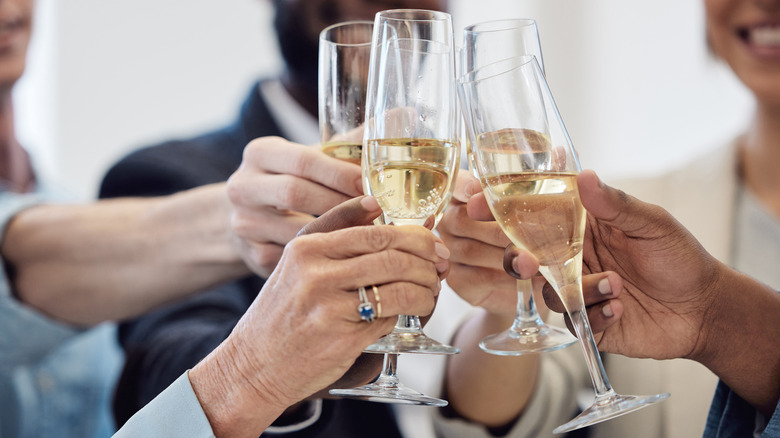 Peopleimages/Getty Images
Cap Classique is a term that has been used since 1992 that encompasses South African sparkling wines produced using the traditional method. Although not as famous as Champagne or Cava, sparkling wines from South Africa have a rich and prolific history and a 50-year-long tradition that was supposedly first brought by French Huguenots. The first official South African sparkling wine was released in 1973 by Simonsig Estate. Although it was made following traditional Champagne methods, the winemaker Frans Malan opted for Chenin Blanc as the signature South African grape. Cap Classique can be made with Chenin Blanc, but Chardonnay, Pinot Noir, and Meunier — three classic Champagne varieties — usually give the best results. New regulations stipulate that all Cap Classique wines have to spend at least 12 months on the lees. When it comes to sweetness, the range includes dry to medium sweet demi-sec wines. The styles include cuvées, blanc de blancs, and rosés (via Forbes).
Don't think of Cap Classique wines as Champagne replacements. These wines have a distinct character, and if you're looking for a great, affordable sparkling wine, Cap Classique is an excellent option. As Rose Murray Brown explains, Cap Classique is medium-priced — with a price range that goes above Prosecco and Cava and is somewhere in line with French Crémant. Drizly offers a good selection of South African bubblies. Most bottles won't break the bank and sell for less than $20.
English Sparkling Wine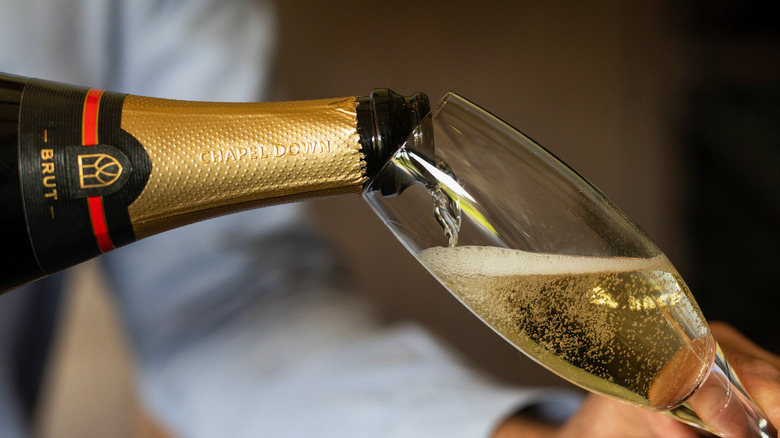 Bloomberg/Getty Images
English Sparkling Wine is the next best thing in the sparkling wine industry. As Grape Britannia explains, England has been familiar with the production of sparkling wines since the 16th century, but there was no significant progress until the 1970s and the first plantings of Pinot Noir, Chardonnay, and Meunier in the south of England. This classic Champagne trio is still the most common option among English winemakers. The rise in popularity came with the global recognition that the region can produce exceptional wines for a very reasonable price.
Most sparkling wines produced in England are made using the traditional method, officially called the "great British classic method." The region produces a wide array of styles with various sweetness levels — starting with brut nature as the driest version and ending with doux as the sweetest style with the most residual sugar — but brut remains dominant. Along with Champagne grapes, English bubblies can be made with Pinot Blanc, Pinot Gris, and the hybrid Seyval Blanc. The wines can be classic blends, but you can find well-structured blanc de blancs, blanc de noirs, and rosés.
Due to their recent rise in popularity, English bubblies have a slightly higher price tag, which is still lower than the cost of Champagne. You can find great labels for around $30, while superior bottles typically go over $50 (via Drizly).
Asti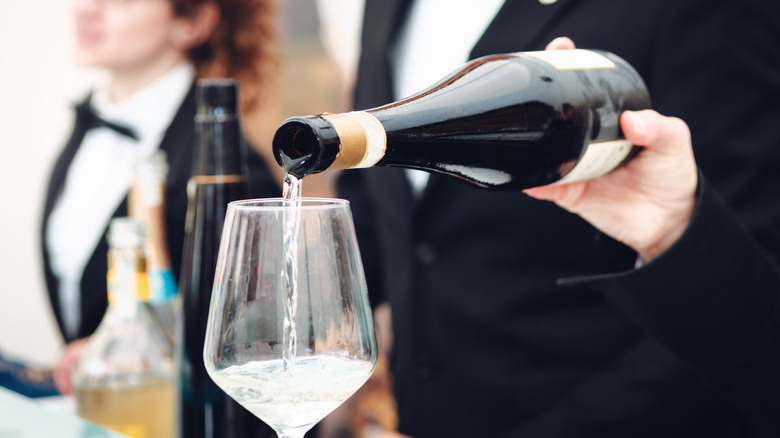 Alessandro Cristiano/Shutterstock
Asti Spumante is one of the lesser-known sparkling wine regions. The wines coming from Asti are not the biggest or the most complex examples you will find, but their seductive aromatic profile makes them an ideal choice for those who enjoy perfumed notes and fruitiness in sparkling wines. According to Wine Insiders, Asti wines are produced in Piedmont and must be made from Moscato Bianco — a highly aromatic white grape that belongs to the legendary Muscat family. They are usually produced using the tank method, so they typically miss out on all those autolytic notes but make up with floral and fruity nuances. Asti wines are low in alcohol, falling between 7% and 9% alcohol by volume, and they usually have a light and unpretentious character and some sweetness.
Due to their aromatic intensity and sweetness, Asti wines are a fantastic aperitif and make an excellent pairing with desserts. All those floral and fruity aromas would partner well with fruit or nut-based desserts, but don't miss out on the savory pairings. Try to match them with some spicy dishes, as the sweetness and peppery spiciness usually make great partners. 
Prosecco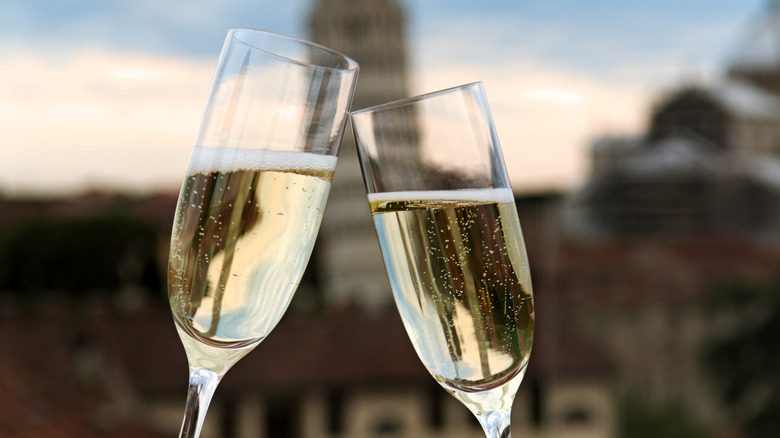 Riuma72/Getty Images
Prosecco is one of the more familiar names on the list. This approachable bubbly has already earned the rep of everyone's favorite sparkling wine. Prosecco is only made in Friuli-Venezia Giulia and Veneto, two regions located in northeastern Italy. Prosecco is produced using the tank method, and the base wines are mostly made from the local Glera variety. Glera is a grape that packs acidity and creates light-bodied wines with apple and melon aromas, which then translate into the bottle.
You can find lightly (frizzante) or fully sparkling (spumante) Prosecco, while the sweetness ranges from brut (dry) to demi-sec (sweet) styles. Prosecco can't and shouldn't be compared to Champagne. Apart from bubbles, the two don't share many similarities. While Champagne promotes the image of the big, bold, and complex sparkling wine packed with buttery and toasty notes, Prosecco flaunts an entirely different character; the light, fruity, and floral wine that should be enjoyed young. Prosecco can be your go-to choice for any celebration. It makes a great aperitif and an excellent cocktail ingredient, and it easily pairs with light snacks and bites — think of the classic Italian pairing with melon and prosciutto. If you want to look for premium Prosecco expressions, look for Asolo and Conegliano Valdobbiadene as two superior Prosecco regions (via VinePair).
Oltrepò Pavese Metodo Classico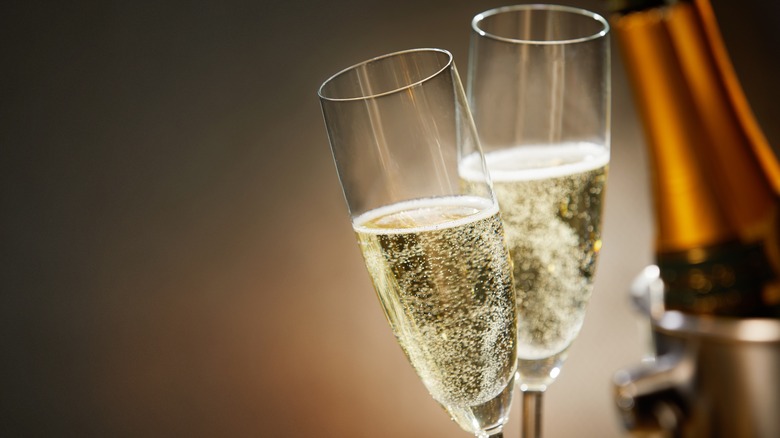 stockcreations/Shutterstock
Oltrepò Pavese is another Italian bubbly that probably doesn't get the attention it deserves. These sparkling wines are produced in the hilly area in the province of Pavia, Lombardy, a region where Pinot Noir is king. Sparkling wines were once a part of a larger Oltrepò Pavese appellation but are now a separate entity with a controlled and guaranteed designation of origin status and an official "Metodo Classico" label. As you may assume, the term signifies that all wines from the region are produced using the traditional method (via Wine-Searcher).
As Pinot Noir is the dominant variety in the region, it also makes the base for Oltrepò Pavese sparkling wines. Though Pinot Noir is a red variety, the wines are exclusively made into white or rosé styles. Pinot Noir has to make at least 70% of the blend for the standard Oltrepò Pavese label, while Chardonnay, Pinot Gris, and Pinot Blanc can be used to add extra aromatic complexity and create creamier structure (via Wine Dharma).
As it is still a relatively unknown region, often overshadowed by the more popular Franciacorta, you can find affordable bottles that rarely go over $20 (via Wine-Searcher).
Lambrusco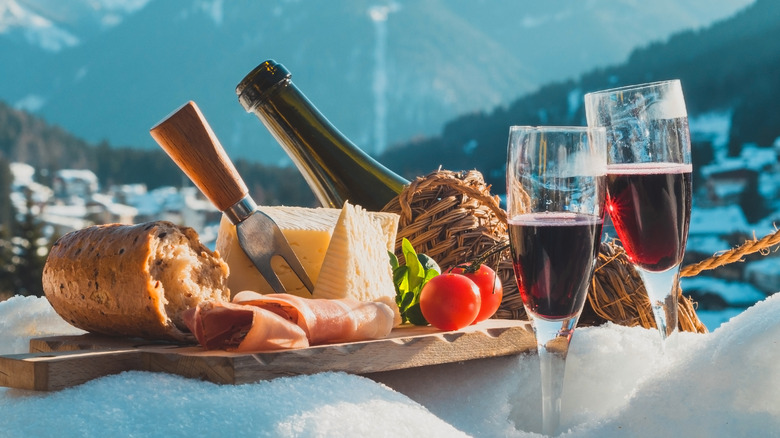 Razbitnov/Shutterstock
Lambrusco can be considered somewhat of a wildcard in the world of sparkling wines. As explained on Liquor, Lambrusco is produced in four northern Italian provinces. The name can refer to the style of wine and the eponymous grape, or more precisely, a family of red grapes used to produce the wine. Lambrusco is a fruity wine with an approachable and easy-drinking character and a usually low alcohol content. It is usually a lightly fizzy style, and the range includes all sweetness levels. The wines typically have a fruit-forward palate dominated by red and dark berries, with some floral and earthy nuances. All the wines are produced using the tank method.
Although it has a long tradition, since the 1970s, Lambrusco was often shunned as an overly sweet, cheap sparkling wine that was first popularized outside Italy, but Wine Folly explains that the vast Lambrusco group offers excellent quality wines that are usually reasonably priced. For the best expressions, look for completely dry (secco) or semi-sweet (semisecco) examples. Lambrusco Grasparossa might be the most reliable choice, as the wines are dry, full of character, and packed with aromas of dark berries. Lambrusco is generally a food-friendly wine, especially when paired with traditional Italian dishes.
Trento (Trentodoc)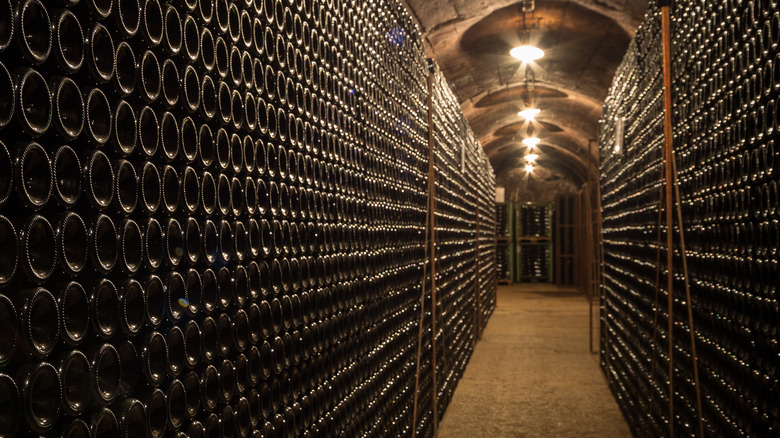 Marcello Brunetti/Shutterstock
There are many Italian sparkling wines on this list, but Trento, or Trentodoc, might be the country's most remarkable hidden gem. Trentodoc is a wine region in the mountainous Trentino, home to the UNESCO-protected Dolomites. The sparkling wines from Trentodoc are all made with a traditional method, which significantly influences their quality, but the unique terroir has the strongest influence, as it creates perfect environment in which the grapes can attain perfect ripeness but still retain acidity and freshness, which then easily translates into sparkling wines. Trentodoc is made from Pinot Blanc and the classic Champagne trio. The wines are kept in contact with lees for at least 15 months, but the aging requirements extend to 24 months for Millesimato (single vintage) and 36 months for Riserva. Naturally, the complexity of these wines will improve with age (via Masters of Wine).
Chicago Tribune calls Trentodoc wines some of the finest sparkling wines in the world, but despite their quality, these wines don't command high prices, and you can get a phenomenal bottle for about $20. Naturally, age will influence the price, so expect Riserva and Millesimato labels to be more expensive. Regardless, Trentodoc wines are great value when compared to the pricey Champagne.
Crémant de Luxembourg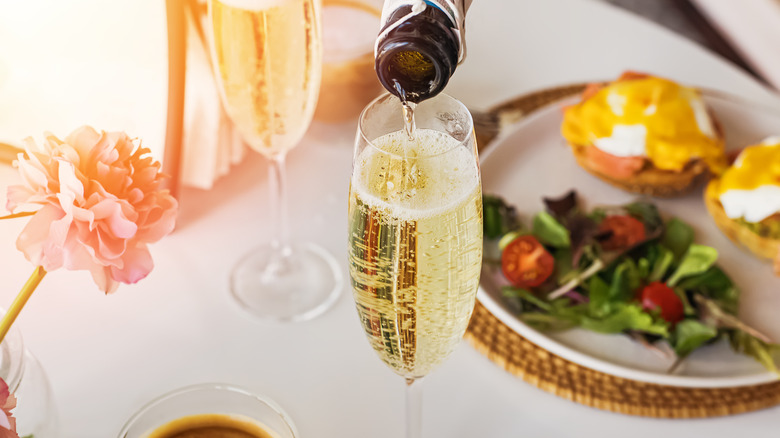 Chiociolla/Shutterstock
We've already mentioned French Crémants as one of the best Champagne alternatives. This Crémant shares similar qualities to its French cousins, but it can only be made in Luxembourg. It is the only Crémant you can find outside French borders, but it follows equally strict production regulations. According to Luxembourg's official website, Crémant de Luxembourg can only be made with hand-picked, perfectly ripe grapes, and it is always produced using the traditional Champagne method. The wines can vary in sweetness, but most winemakers vinify them into crisp and fresh, dry (brut) sparkling wines. They are also available in a rosé version.
These wines are relatively unknown, which is good news to anyone who wants to try them, as they are usually reasonably priced. You can find decent labels for under $20, whereas some premium examples go over the $30 price point. Price-wise, Crémant from Luxembourg can compare to most French Crémants (via Wine-Searcher).
German Sekt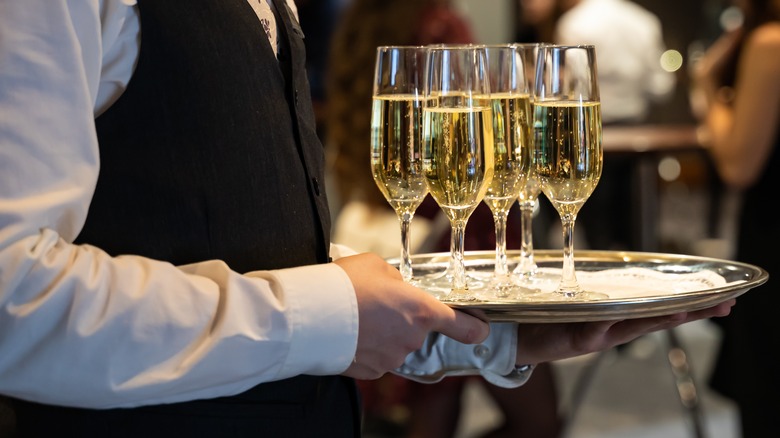 1take1shot/Shutterstock
For a long time, German Sekt had a bad rep and was often classified as poorly executed, low quality, and cheap bubbly, but thankfully, things are looking much brighter for this German contender. As Glass of Bubbly explains, German Sekt was inspired by the Champagne tradition, and Germany was already producing sparkling wines at the beginning of the 19th century. A series of unfortunate events in the 20th century, primarily two World Wars, downgraded the quality and the reputation of German Sekt. A wine once made with German grapes and produced using the traditional method started using cheap imported wines as the base and opted for the tank method as the less expensive and much faster route — which resulted in bulk-style, unimpressive sparkling wines. The change came in the 1980s when several winemakers decided to retrieve Sekt's former glory.
Nowadays, you can find wonderfully crafted Sekt on the market. For better quality examples, look for Deutscher Sekt, the label that stipulates that the wine has been made with German-grown grapes, or for Winzersekt (made with estate-grown grapes), which is generally considered to be the best expression of Sekt (via Vivino). Wine Enthusiast recommends Rieslingsekt as the most exciting Sekt label.