Dove Is Bringing Back The '90s With New Molten Lava Filled Chocolates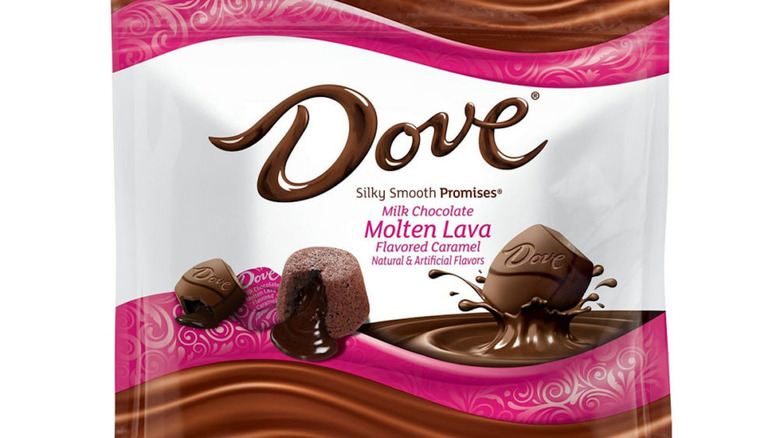 As overplayed as molten lava cakes have become, let's all be honest with ourselves, they're still downright delicious. Who doesn't love chocolate oozing out of more chocolate? Well, Dove agrees. The chocolate brand is launching new bite-sized chocolates inspired by the passé but beloved dessert.
Dove's parent company Mars, Inc. shared in a press release this week that the new flavor will be Dove Milk Chocolate Molten Lava Caramel. It is part of the existing Dove Promises line, which includes individual dark and milk chocolates wrapped in colorful foil. There are plain chocolates, as well as flavors like mint swirl and almond. There are two filled options, peanut butter and sea salt caramel, but here's where the Dove Milk Chocolate Molten Lava Caramel will live up to its name. Instead of simply being a filled chocolate candy, the new dessert-inspired offering will actually ooze in the center for a decadent lava cake on-the-go experience.
These lava cake chocolates are poised to be a permanent offering from Dove. Maybe these candies will become the new go-to for chocolate fans instead of the Hershey's fan-favorite lava cake Kisses that are only offered around Valentine's Day.
Where did molten lava cakes come from?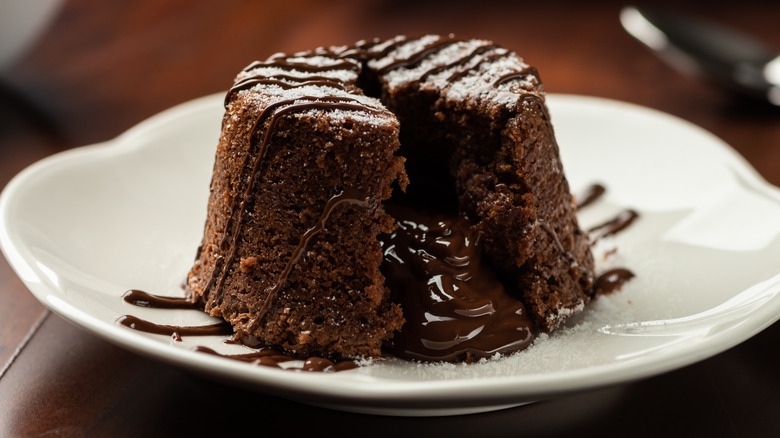 FernandoZ/Shutterstock
It seems like the '90s are coming back in vogue with chokers, bucket hats, and bike shorts galore. There are lots of foods from the 1990s that are weirdly making a comeback, as well. Molten lava cakes, for example, were all the rage at that time. Chocolate lava cakes, though now mostly seen at chains like Chili's and Domino's, actually started out as a very high-brow dessert. French chef Michel Bras told Thrillist that he "wanted to translate the emotion evoked by coming home to find a mug of hot chocolate after a day of skiing." After months of detailed testing, in 1981 he invented a chocolate cake baked with a frozen chocolate ganache center. By the time the outside of the cake is cooked, the ganache creates an ooey-gooey middle.
A few years later, Jean-Georges Vongerichten, chef at the Restaurant Lafayette in New York City, accidentally invented a similar dessert when he under-baked some Valrhona chocolate cupcakes, leaving a yummy, gooey center. This simpler version was served with vanilla ice cream and catapulted the molten lava cake into popularity in the United States.
You may not find lava cakes on fine-dining menus very often these days, but clearly the chocolate dessert still captures delight. Though not exactly the same, eating a piece of chocolate can still be delightful — doubly so if it has a caramel-lava filling.