Hershey's Fan-Favorite Lava Cake Kisses Are Back In Time For Valentine's Day
Hershey's Kisses are an iconic candy. Just seeing the instantly recognizable teardrop shape and silvery wrapper is enough to make any chocolate fan's mouth start to water. However, Hershey's isn't one to just stop with a traditional milk chocolate dessert. They have been known to help their fans celebrate special occasions with a whole host of specialty Kiss varieties, including Strawberry Ice Cream Cone, Birthday Cake, Sugar Cookie, and even Candy Cane Kisses (via Wide Open Eats).
But perhaps one of their most popular seasonal flavors is their limited-edition lava cake Hershey's Kisses, which are only available around Valentine's Day. Made with smooth dark chocolate and filled with a gooey molten chocolate center, they deliver the same experience as biting into a rich chocolate lava cake in bite-sized form. While these tasty kisses are certainly a great way to show your love to anybody in your life with a sweet tooth on Valentine's Day, many fans love these decadent treats so much that they wish the company would make these Kisses available all year round (via Hersheys).
Fans were excited about the return of these limited-edition Hershey's Kisses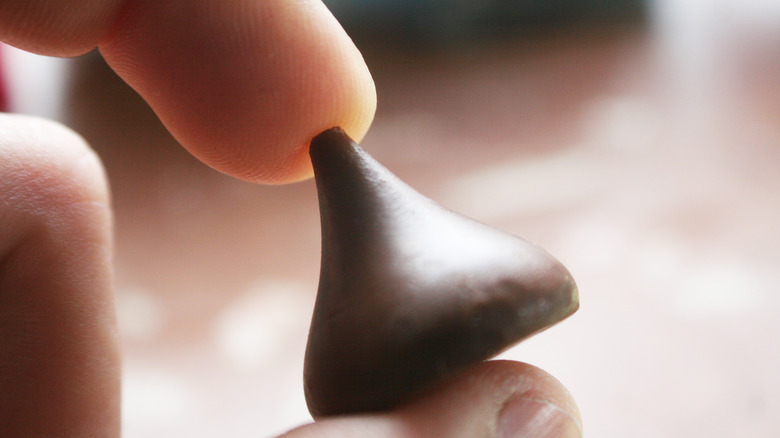 ShutterstockProfessional/Shutterstock
Unfortunately, it doesn't appear that Hershey's has any plans to make their lava cake Hershey's Kisses a permanent offering just yet, but at least dark chocolate fans can now celebrate the return of these Kisses for Valentine's Day 2022. 
The popular Instagram account @candyhunting couldn't help but make a social media post about the return of these seasonal treats after finally seeing them on store shelves. "Lava Cake Hershey's Kisses are back for the Valentine's season! I found them at Walmart, but they should be available at most stores carrying Valentine's Day candy," they wrote.
Many other social media users were just as delighted to see the return of these special edition snacks. "The only kisses worth eating I just bought 3 bags," @jackie_d_324 replied. "I had these last year and loved them," @sweet.reviews.on.deck agreed. "Not a want but a need," posted another follower, while another user lamented, "Wish they had these all year round." So any Hershey's Kisses fans who have been waiting all year for this lava cake variety to return to retailer's shelves definitely won't want to wait their chance to stock up on this popular candy.