Blake Lively's Deadpool-Themed Bread Is Pure Magic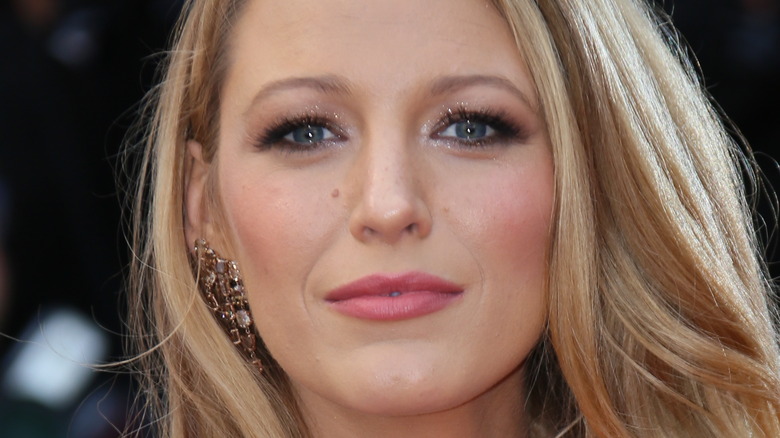 Denis Makarenko/Shutterstock
Baked likenesses of celebrities have been a popular trend for almost as long as social media has been around. From the TikTok Drake cake craze to the Funny Face Bakery who paints Harry Styles, the Kardashians, and other celebs onto cookies — creating your favorite musicians, actors and influencers in edible form is the ideal way to blend stan culture with baked goods. Seeing as bread is complex enough to make on its own, as of yet there aren't too many examples of celebrities baked into bread format. There is, however, this unusual Paul Hollywood bread painting that has been accurately described as haunting.
But now it seems a new piece of edible bread art has risen to the top of our social media feeds, and this time it features none other than "Deadpool" star Ryan Reynolds. Reynolds' wife and actress Blake Lively, recently baked the superhero-themed bread for the writers of "Deadpool 3," the upcoming 2024 movie in which Reynolds will return to play the titular role. We personally think it bears an uncanny resemblance.
What does the bread look like?
The now infamous bread made its debut when "Deadpool 3" director Shawn Levy posted a picture of it on social media and shared that Blake Lively made the special bread for the movie's writers. The actress shared the bread on her Instagram story with an incredible pun, "Dead Boule," and before long, everyone else from the movie was chiming in to repost it as well. With the cracks in the homemade bread lining up perfectly to create the superhero's iconic mask — we can see why everyone wants a slice of the action.
Shawn later also posted the bread to Twitter, and everyone in the comments section was loving it. "If only someone around there had three knives on each hand to cut and butter it with," one person commented. "Will this delicious treat make a cameo in the movie or is it too late?" another asked. It wasn't long before Ryan Reynolds commented to reveal that this was, in fact, not possible. "Felt pretty guilty biting into Breadpool today," he said, confirming that the loaf was sadly no more.