12 Mall Food Court Restaurants That Disappeared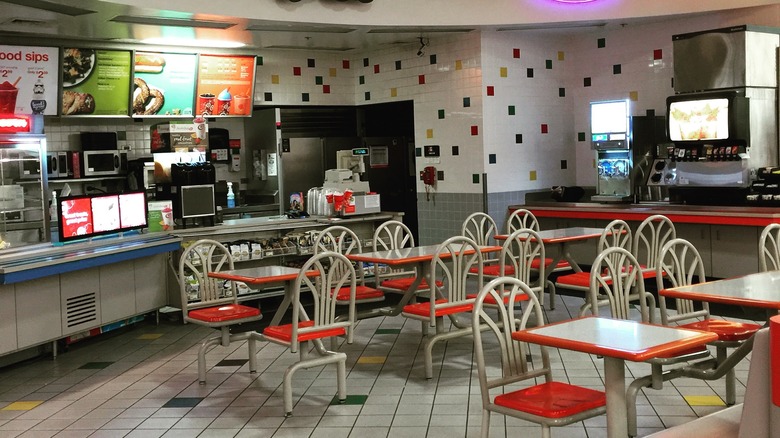 melissamn/Shutterstock
Beginning in the 1950s, shopping malls became a staple of late 20th-century consumerist culture. As they evolved, they also became the center of community for some towns, where photo booths, arcades, play centers, and shops would see plenty of customers. The mall provided a place for families (and especially American teens) to shop, eat, and hang out.
In the 1970s and the 1980s, malls hit their heyday. Films like "Fast Times At Ridgemont High" immortalized the culture around shopping malls. This was also the era when food courts were a popular place to dine. Today, however, times have changed. As many shoppers purchase items online and many retailers have gone out of business, the American mall is disappearing.
Shopping malls may be disappearing but many modern-day food court chains have pivoted to rebranding or strategizing how to best reach the contemporary shopper. Popular restaurants like Sbarro and Panda Express have their own plans for staying relevant in the current world. As these brands hold strong in malls and shopping centers across America, we mourn the ones we've lost since the tragic downfall of the mall. Here are 12 mall food court restaurants missed by many.
1. Hot Sam Pretzels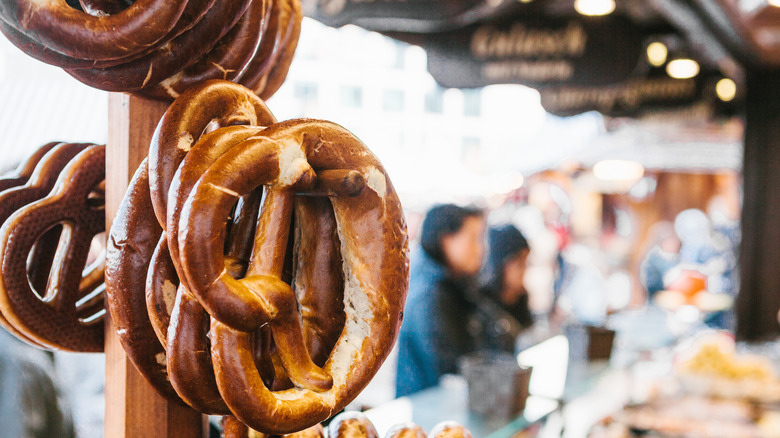 Franz12/Getty Images
Hot Sam Pretzels was once a popular choice for mall shoppers across America. Unlike many other food spots on this list, this Michigan-born pretzel shop was actually born at a mall. In the mid-1960s, the first Hot Sam was opened in the Livonia Mall outside of Detroit. Today, sadly, that same mall now sits empty, a symbol of the demise of malls across America. 
Hot Sam served up hot Bavarian-style soft pretzels that took over 15 minutes to heat up. Soft pretzels proved to be the perfect snack for shoppers and the brand grew to over 175 locations in the span of two decades. At this height, the brand was noticed by its competitors and was eventually sold in the '90s to Mrs. Fields, the beloved cookie chain. Finally, in 2005, the last remaining Hot Sam restaurants were turned into Pretzel Times.
"Stranger Things" fans will recognize Hot Sam Pretzels as being one of the food court restaurants alongside the fictional Scoops Ahoy!, where Steve and Robin spend their days serving up ice cream. If your memories at your local shopping mall include an ever-prevalent pretzel aroma, then you likely have Hot Sam to thank.
2. Harvest House Cafeteria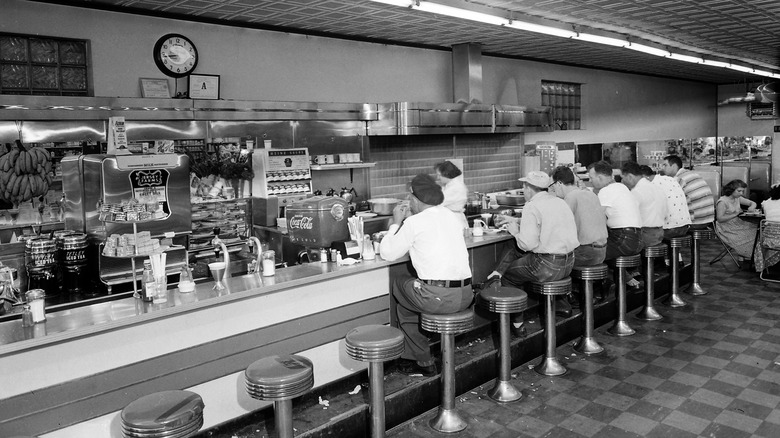 Leila Grossman/Getty Images
Once incredibly popular, Harvest House Cafeteria was typically situated in Woolworth's stores and malls where it offered entire dinners for just over a buck. Family-friendly, the sit-down restaurant was owned by Woolworth's (the original "five and dime" stores) who began serving ice cream decades before malls grew popular, making the brand's in-store dining a precursor to the modern food court.
In the 1960s, Woolworth's opened Harvest House Cafeterias in shopping malls where the restaurant's sit-down atmosphere made it a popular option for customers who wanted a real restaurant experience while shopping. Some of the locations featured luxury interior design details such as leather seating, burgundy red carpet, brick finishings, and a white paned windows view of the rest of the mall.
By the 1990s, both Harvest House Cafeterias and Woolworth's stores were fading into oblivion. What was once an American institution that began in the late 1800s that pioneered much of the modern customer experience we know today has now virtually disappeared.
3. Kenny Rogers Roasters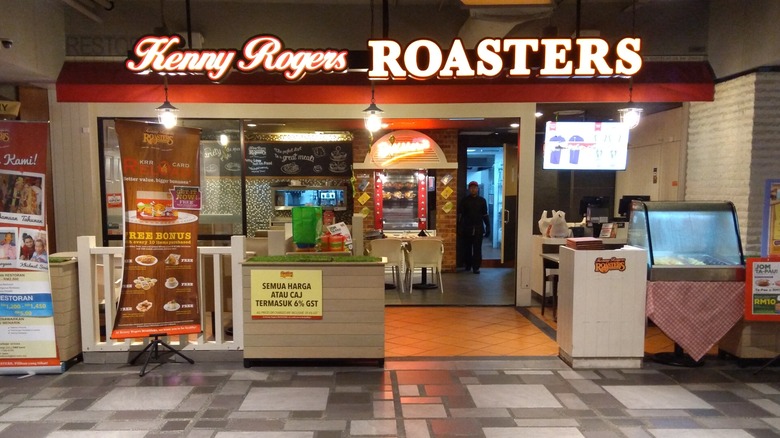 Ismail Sadiron Pictures/Shutterstock
Many famous country music icons own their own business, from Dolly Parton's Dollywood theme park to Garth Brooks' new Nashville restaurant, but only one icon opened a chicken franchise that was once so popular, it was referenced in a "Seinfeld" episode. Kenny Rogers Roasters was a fast-food roasted chicken joint that began in 1991 and grew to a whopping 350 restaurants by the mid-to-late 1990s.
Opened by country singer Kenny Rogers and John Brown Jr. a former Kentucky Fried Chicken CEO, the restaurant was known for its delectable roasted chicken and corn muffins made with real corn. A food court star, the first branch of Kenny Rogers Roasters was opened in Florida and in just a few short years, the chicken shop found massive success early on.
Their success, however, was short-lived as the restaurant chain filed for Chapter 11 bankruptcy in 1998. Eventually, the company was sold to Nathan's Famous Inc., the popular hot dog chain, and then to an Asian franchiser which now operates around 400 locations in nine countries. Especially popular in Southeast Asia (where Kenny Rogers has sold millions of records), the fast food joint is a hit.
4. Karmelkorn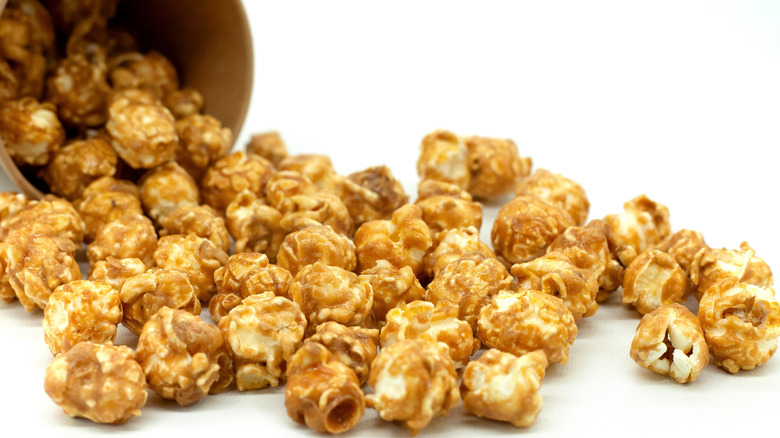 Yulcha/Getty Images
Caramel corn has been enjoyed by sweet tooth havers since the 1870s. Karmelkorn began around 50 years after the invention of caramel corn, in the 1920s, with the first retail shop located in Wyoming. Selling its product in downtown storefronts, the brand found early success. During the shopping mall boom of the mid-century, the brand grew even bigger. The mall boom led the caramel popcorn retailer to prioritize opening stand-alone shops. There were over 200 locations spread across the country by the 1980s, as the popularity of the American mall was at a high. Later that decade, an acquisition by food court staple Dairy Queen lead to the merger of the Karmelkorn name with its other food court brands, Dairy Queen and Orange Julius.
The emergence of malls in the mid-century solidified Karmelkorn's success, making the name synonymous with mall food courts. But the decline of shopping malls also meant the decline of Karmelkorn locations. By 2019, there were almost no Karmelkorn locations, and today, the brand sells gourmet popcorn online and through its existing Nebraska locations.
5. Morrison's Cafeteria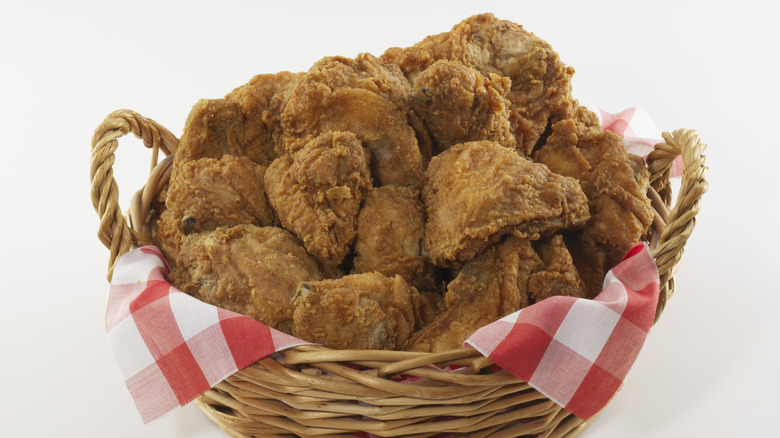 Jupiterimages/Getty Images
A Southeastern chain known for its cafeteria-style lunch and dinner offerings, Morrison's Cafeteria was once one of the top shopping mall options for Southern-style food. Originally opened in the 1920s in Mobile, Alabama, the first Morrison's featured over 70 menu offerings in a unique cafeteria-style dining experience. Rapidly, the chain grew in popularity and by the Great Depression, hundreds of thousands of diners were flooding into Morrison's Cafeterias over the United States. At one point, as Morrison's found success, there were over 150 restaurant locations opened 365 days a year.
As many retailers shifted away from downtown locations and began popping up in large indoor malls, Morrison's found even more hungry customers. A family-friendly place for large groups featuring plenty of options, Morrison's was right at home in the mall atmosphere. As malls dwindled, so did Morrison's locations. Although mall dwellers today won't find a Morrison's at their local food court, the restaurant group's related restaurant, Ruby Tuesday's, is still often found in shopping centers across the country.
6. Orange Julius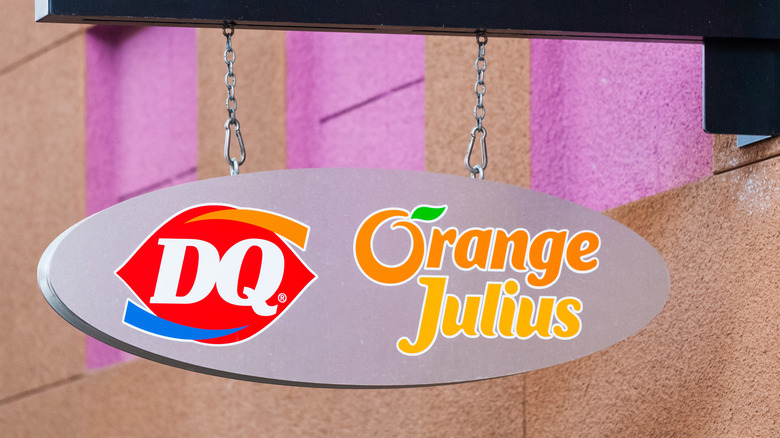 BestStockFoto/Shutterstock
A sweet treat that was once a staple in malls across America, Orange Julius was originally born in Los Angeles, California nearly 100 years ago. It all began with the invention of the drink that blends orange juice, ice, and sugar. The drink was a hit and the orange juice stall grew to also serve hamburgers. The restaurants were franchised out in cities and suburbs across America and in the 1960s, the company had grown to over 400 locations before being sold to International Industries Inc.
At the height of the 1980s mall boom, Orange Julius juice shops became a staple of shopping mall food courts and were a subsidiary of Dairy Queen. Although the popular drink spot didn't disappear completely with the downfall of shopping malls, by 2018 all standalone Orange Julius locations had disappeared. Nowadays, you can find the sweet treat at Dairy Queen locations in some of America's remaining shopping malls. Nearly 10 decades as one of America's favorite sweet drinks gives us hope that the Orange Julius (and maybe shopping malls themselves) will never disappear completely. 
7. Britling Cafeterias
Throughout the last century, cafeteria-style restaurants were an American staple. When Birmingham-born Britling Cafeterias arrived on the scene back in 1919, it was the first cafeteria of its style in the South (beating Morrison's Cafeteria, which opened the next year in Mobile, Alabama). The restaurant was named by its founder W.B. Johnson named the cafeteria after the war novel "Mr. Britling Sees It Through" by the English writer H.G. Wells.
The cafeteria-style dining experience appealed to many people of all ages including kids and it wasn't long before the downtown Birmingham favorite began expanding into the suburbs and then on to other states, including Tennessee. Although Britling restaurants weren't technically situated inside food courts, the restaurant was located in several malls and shopping centers. Britling Cafeteria's popularity could be attributed to its range of menu options with the restaurant's slogan being "Good Food Is Good Health". The Britling chain collapsed slowly, first losing its urban locations and then closing the last of its suburban restaurants in the 1980s.
8. Bresler's 33 Flavors
Bresler's 33 Flavors began in 1929 when its founder, a Polish immigrant named William J. Bresler began selling ice cream bars during the Great Depression. The idea to sell ice cream reportedly happened for Bresler at an air circus when his brother David spotted a vendor selling ice cream. The rest is history, with Bresler and his brother going on to sell ice cream wholesale and eventually expanding to offer franchises. The first franchise opened in the 1960s.
By the 1980s, the ice cream chain was booming and could be found in malls, including inside food courts. Upon the founder Bresler's death in 1985, there were over 400 ice cream stores across the nation. In 1989, the chain was sold to an investor group. In the 1990s, the ice cream corporation changed hands again before going international in 1996, with locations in Middle Eastern countries, including Jordan and Egypt. The Bresler's brand disappeared in 2007.
9. China Coast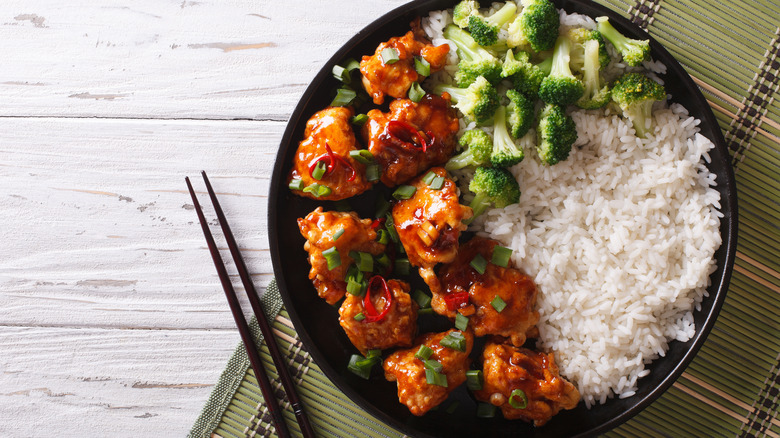 AS Foodstudio/Shutterstock
It seems to be a cardinal rule of the 20th-century American mall food court to feature at least one fast casual-style Chinese restaurant. China Coast was an attempt by General Mills (and later, Darden Restaurants) to create a popular Chinese-American restaurant chain. Although there's not a lot of evidence the chain featured authentic Chinese dishes (for instance, the kid's menu offered a hot dog), the chain did have a moment of popularity in the early 1990s before disappearing in the mid-1990s.
In 1995, the conglomerate that owned China Coast Restaurants closed each of the 51 stores left. The chain went out of business for good after not being able to match the food and service of other competitors. Although it seems the restaurant wasn't on its way to a Michelin star, there were fans of the place as evidenced by these letters to the editor sent to the Tampa Bay Times.
10. Soul Daddy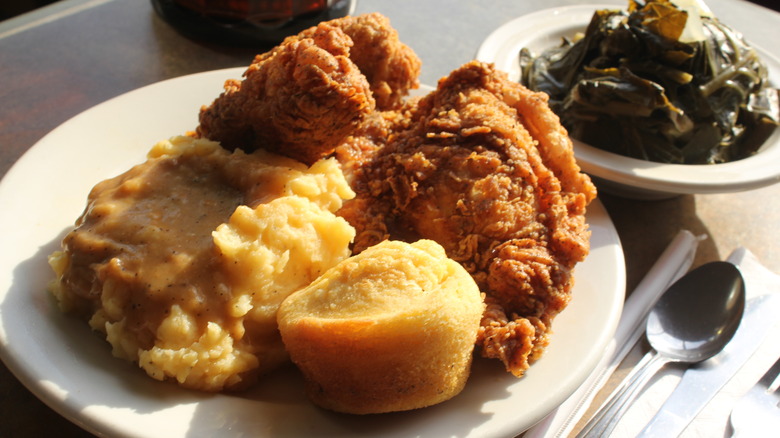 Shafeeq Muhammad/Getty Images
Soul Daddy, a fast-casual restaurant with a concept centered around healthy soul food, was part of a prize won by reality show contestant, home cook, and formerly unemployed auto worker Jamawn Woods on the NBC show "America's Next Great Restaurant." The brand's three locations were all in high-traffic areas, with one located in Mall of America and one in the Hollywood & Highland shopping center. However, the good locations weren't enough to save the brand from a swift demise.
With only three locations lasting a total of fewer than nine weeks, Soul Daddy never got the opportunity to become a beloved mall staple. There were plenty of reasons given for the restaurant's demise (which included the food not being up to snuff). Although the soul food restaurant won't be remembered as a mall or food court go-to, it does have a secure place as the shortest-lived mall restaurant on this list.
11. Mr. Fables
Mr. Fables was a beloved burger and cafeteria-style restaurant founded by John Boyles and Dick Faber. The restaurant still lives up to its name as the many beloved menu items, including the dressing, the burger, and onion rings, are fabled secret recipes that many people have tried to crack, even decades later.
With more than a dozen locations in Western Michigan, Mr. Fables tried its hand at becoming a mall restaurant in the 1980s. By 1992, that location closed down, proving that even a beloved chain can't always make it in the mall environment. The restaurant chain went completely out of business in 2000. A former employee named Bill Lewis opened a now-popular Grand Rapids restaurant called Yesterdog which has been open for over four decades. It's reported that Lewis owns the trademark to Mr. Fables along with the secret recipes, meaning there's always a possibility that the world might be able to eat a Mr. Fables onion ring once again.
12. Chicken George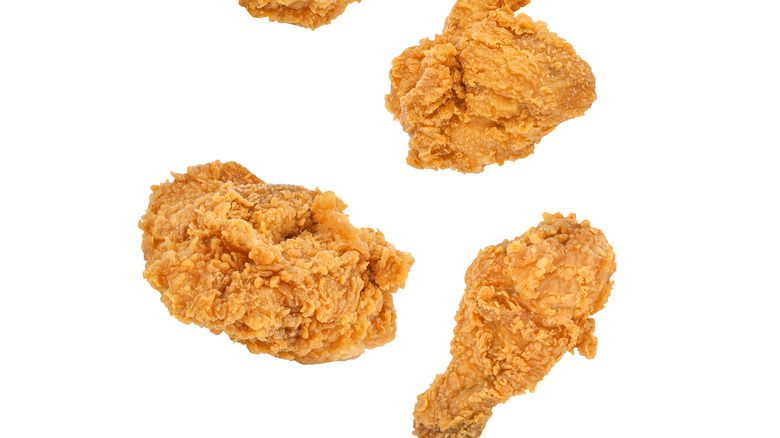 Potaerin/Getty Images
Theodore Neal "Ted" Holmes was a civil rights activist, educational advocate, and anti-apartheid operative. He also worked as a railway personnel worker, and founded the fried chicken joint Chicken George, named after a character from the Alex Haley book "Roots." On a quest to create the perfect fried chicken recipe, Holmes tested over 300 chicken dishes and traveled with his family from Louisiana to California to Illinois.
The first Chicken George restaurant opened in 1979 at the Mondawmin Mall in Maryland. Later, the restaurant expanded into more locations throughout the East Coast, including in large cities like Philadelphia, Washington, D.C., and Atlanta. The chicken joint was immediately extremely popular; Holmes said in the beginning that the restaurant was the "highest-grossing chicken outlet in the country," according to the Baltimore Afro-American. However, by 1991, the restaurant was bankrupt and was forced to close down. Although the restaurant was short-lived, it was, at one point, the largest Black-owned fast-food restaurant in the country and just one part of Holmes' extraordinary contribution to the Black community.