Aldi's Pizza Dough Can Go Toe-To-Toe With Take-Out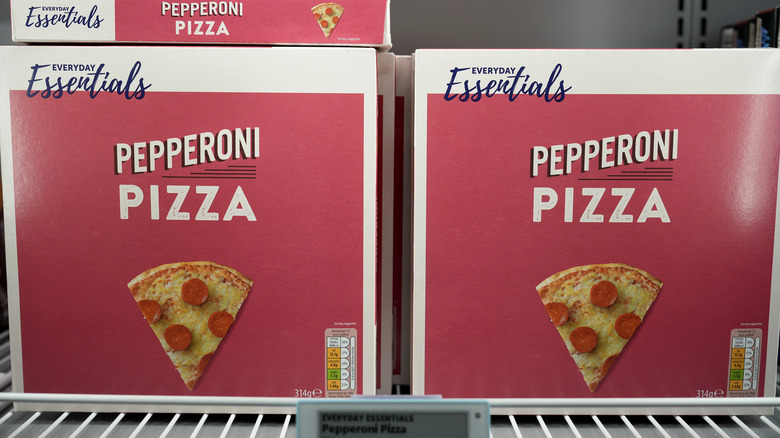 Christopher Furlong/Getty Images
If you're an Aldi aficionado, you already know about the chain's frozen pizza. The much-loved, no-frills retailer has earned quite a following for its fresh and frozen pizzas: Mama Cozzi's plain, pepperoni, and cauliflower crust varieties. But even if you're not a fan of Aldi's prefab pizzas (not everyone is), you're not out of luck. You can have your dough and still roll in it, too. 
The Germany-based grocery store's take-and-bake pizzas take up a lot of shelf space, with their 16-inch crusts and cardboard box cases. But if you let your eyes wander a bit, you'll spot the true jewel of Aldi's Pizza Hub: Mama Cozzi's Ready to Bake Pizza Dough. For under $2 ($1.39 at most Aldi locations), you can bring it home and have pizza ready in about the same amount of time if you wait for delivery. Some people on Reddit say the finished product is just as good as your local joint. While Aldi's doesn't sell true pizza sauce, they have a variety of options that substitute nicely, as well as a range of toppings. You can even have some fun with that crust — one Redditor suggested adding string cheese to the outside edge of the dough for double-stuffed crust.
High-end taste for low-end dough
Instructions say to let the Mama Cozzi's Ready to Bake Pizza Dough rest until it gets to room temperature, and fans agree that the pizza tastes best that way. But some have rushed the process and were still highly satisfied with the results. One person on Reddit brought both the high- and low-end game to the equation, baking up that cheap pizza dough in a fabulous fancy Ooni pizza oven (an irony that wasn't lost on the Reddit crowd). 
While any pizza tastes better when it's baked in a pizza oven, others have been just as happy with the results they get with an everyday sort of appliance, ideally cranked up to its highest setting. While the pizza itself gets a 10 out of 10 from the original Reddit poster, lots of people chimed in with other great uses for Aldi's dough, ranging from stromboli to breadsticks (brushed with butter, with or without the addition of everything seasoning). There's even a viral TikTok recipe for breakfast pizza with Aldi's dough. At that inflation-resistant price, you don't have much to lose.