The Best Pizza Ovens In 2022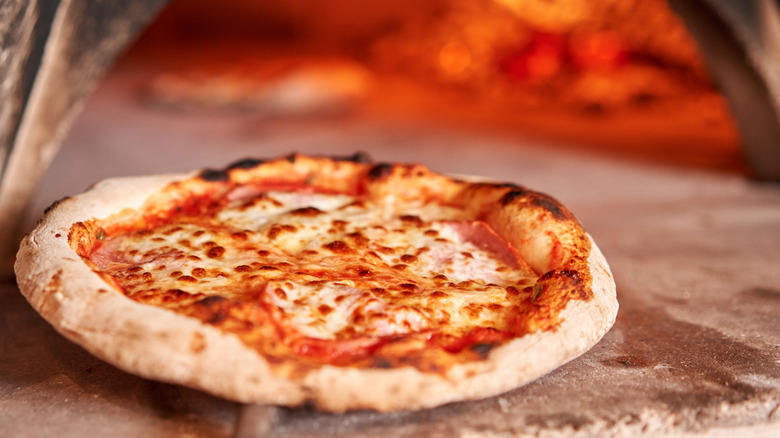 Fusion Studio/Shutterstock
We may receive a commission on purchases made from links.
Very few aspects of life are universally agreed upon. However, we would be willing to bet that most people would concur that pizza is one of humankind's greatest culinary achievements. Sinking your teeth into a perfect slice of pizza is a surefire way to brighten up your day. Even just a passing whiff of the alluring scent will leave you spellbound, mesmerized by the looming promise of a freshly-baked pie teeming with toppings nestled in a glorious layer of bubbling cheese.
A big part of pizza's mass appeal is that it can be customized with an endless amount of topping combinations. But there are downsides to ordering pizza from a restaurant: You're limited to whatever ingredients they offer and you have very little control over other important nuances in the cooking process. A simple solution will seriously revolutionize your cooking game: Having a personal pizza oven can make all of your wildest pizza dreams come true from the comfort of your own home.
Some important pizza oven features to consider are its dimensions, portability, and fuel type. How much space do you have for it? Do you want your pizza oven to be stationary or do you want the ability to set it up in different places? Do you prefer wood pellets or the convenience of propane? Read on below to learn about all of the choices at your fingertips.
How we selected products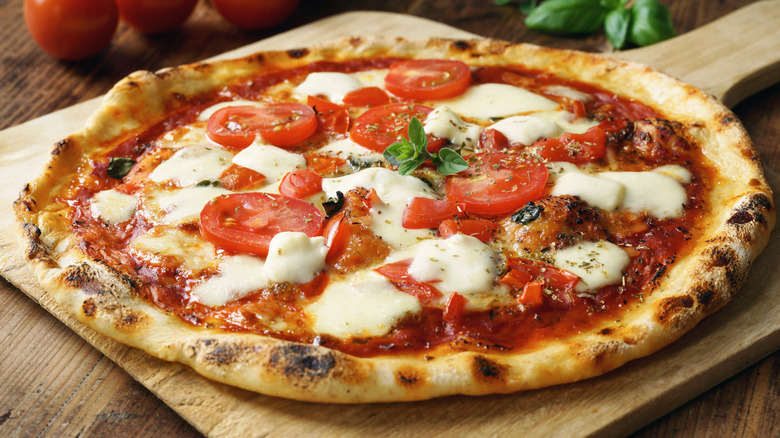 V. Matthiesen/Shutterstock
This list of pizza ovens was carefully curated through extensive research and analysis. These pizza oven models come highly recommended from meticulous evaluations of overall popularity based on user reviews and press coverage. Attention was paid to each model's affordability, heat retention, and the quality of materials used in construction. Rest assured, each of these pizza oven models is capable of hitting high enough temperatures for you to bake pro-level pies in a matter of minutes.
An assortment of models with a wide range of price points has been selected to ensure that there is a pizza oven on this list for everyone. Whether you're a professional pizza slinger or a home cook still mastering the basics, you're sure to find an option on this list that is suited to your needs and level of experience. 
As you check out this collection, remember that many of these models are highly versatile. They can do more than just cook a pizza and can sizzle just about anything else you want to roast at high temperatures. So as you shop around and daydream about all of the pizzas you're going to make, keep in mind that lots of these models have the power to bake countless dishes to fire-kissed perfection.
Best overall pizza oven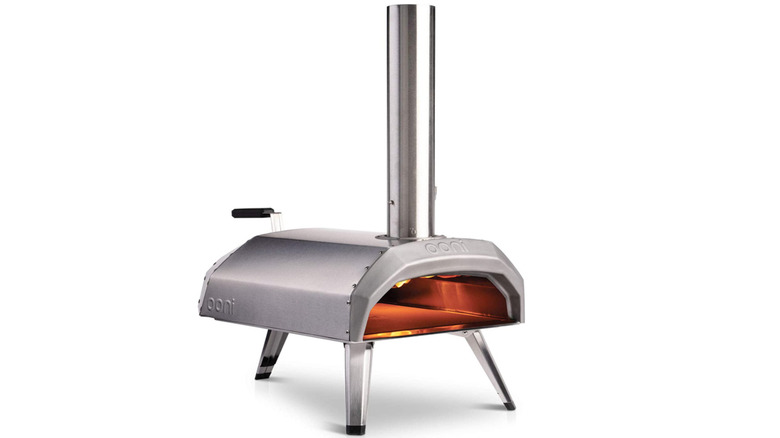 Ooni
Based on our research, the best overall option currently on the market is the Ooni Karu outdoor pizza oven. The Ooni Karu works with charcoal and wood and has a separate gas burner attachment that's available for purchase, giving you the luxury of choice. This oven is capable of reaching over 900 F in only 15 minutes, which creates intense heat that allows you to cook restaurant-quality pizzas in about 60 seconds. This model also has impressive heat retention thanks to its durable, high-grade stainless steel, ceramic fiber insulation, and specially designed fuel tray that improves airflow.
The Ooni Karu's exceptional features don't stop there: This pizza oven is also easily portable. Weighing only about 25 pounds with folding legs and a detachable chimney, this handy oven can tag along just about anywhere you want to go. For extra protection, it even has a 100% waterproof carry cover. With hundreds of satisfied customer reviews that average out to 4.5 stars, it's clear that the Ooni Karu pizza oven is a keeper. 
This model also comes highly recommended by CNN, thanks to its easy assembly process and incredible results. The outlet describes the resulting pizza as "out of this world." It truly has it all and can consistently bake epic pies with remarkable efficiency. The moment you pull your first perfect pizza out to eat, you'll wonder where this oven has been all your life.
The Ooni Karu outdoor pizza oven is available on Amazon for $400.
Best budget pizza oven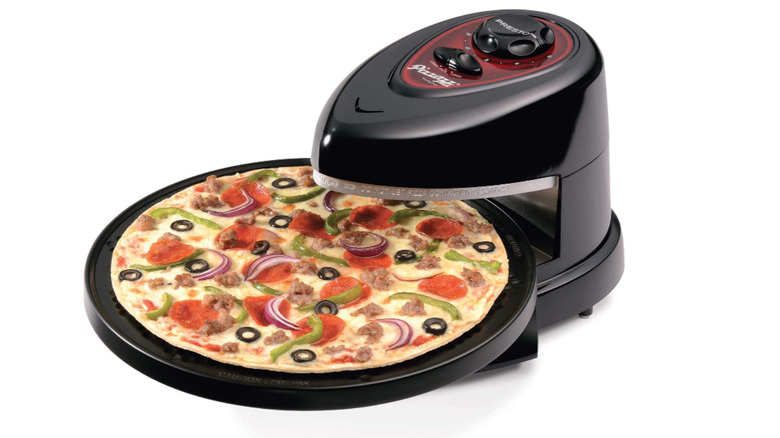 Presto
Everyone deserves the tools to make fresh pizza at home. While using a standard kitchen oven will get the job done, there's no doubt that products specifically designed for baking pizza create much better results. But for those on a budget, cost is often a barrier. We've managed to track down some of the best bargains available, including this very affordable rotating pizza oven.
The Presto Pizzazz Plus comes recommended by Pizza Oven Radar for its various remarkable features. For starters, it has two separately adjustable heating elements that allow you to cook the top and bottom of the pie at different temperatures, ensuring that every bite is evenly cooked. Its simple controls allow you to customize the cooking experience, granting you the ability to switch the bottom and top heating elements on or off at any time. This is an ideal feature when you want to broil the top of your pizza to make it extra crispy but you don't want the base to keep cooking. 
The baking pan is removable and non-stick, providing you with easy storage and cleanup. While this oven may not be able to reach the blazing temperatures of other pizza infernos, it's still perfectly capable of producing satisfying results with ultimate convenience. If you want an affordable tool to make better pizza with way less hassle than more expensive models, this was made with you in mind.
You can buy the Presto Pizzazz Plus Rotating Oven on Amazon for $55.
Best pizza oven bundle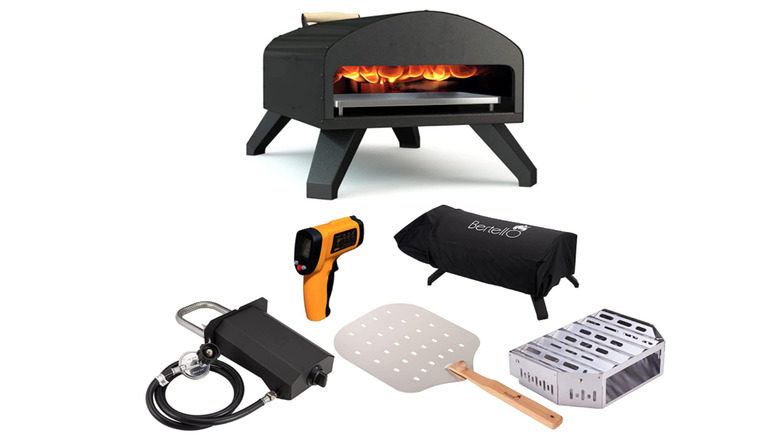 Bertello
If you're just getting started making pizza at home, Bertello's outdoor pizza oven comes with just about everything you could possibly need. This bundle package comes with an oven, gas burner attachment, pizza peel, protective cover, and a digital thermometer. Having to track down and buy each of these accessories separately can be time-consuming, but Bertello has conveniently packaged together all the tools you need so that you can start making cheesy pies in no time.
This model is a top pick by Gear Lab, and the outlet notes this oven's unique ability to hit sufficiently high temperatures with gas to produce Neapolitan-style pizzas in less than 90 seconds. With a deep cooking surface and the ability to reach scorching temperatures, this pizza oven is reliable and well-designed. 
Its multi-fuel function allows you to cook with charcoal, wood, and gas — or any combination you want. This means that you can use gas to maintain a steady temperature in the oven and then switch over to wood for a little extra flavor. Of course, you always have the option of only working with wood if you want an authentic char that leaves your pizza with just a subtle hint of smoke. All in all, the Bertello outdoor pizza oven is a great package that's well-suited for anyone who wants dual fuel modes in a clever and effective design.
The Bertello Outdoor Pizza Oven Everything Bundle is available on Amazon for $470.
Best wood-fired pizza oven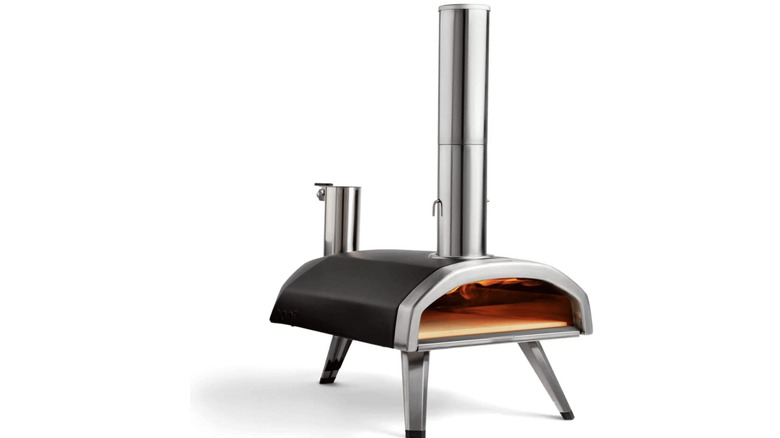 Ooni
For anyone looking to cook exclusively with wood, the Ooni Fyra pizza oven is the way to go. This model comes equipped with a pellet hopper that automatically feeds the fire, allowing you to tend to your pizza and focus on cooking without having to worry about the fire losing heat. The Fyra also has a specially designed fuel tray to optimize airflow and offers excellent heat retention due to its powder-coated carbon steel shell. Rest assured, this model can hit the high temperature you need to make authentic Neapolitan-style pizza.
Weighing just over 20 pounds, this model is also highly portable. The oven's legs are foldable and the chimney, flame keeper, hopper, and pellet burner are all detachable for easy storage inside the pizza oven. That means you can set this up on a stable surface and make fresh pizza just about anywhere. 
BBC Good Food recommends the Ooni Fyra, giving it an overall rating of more than four out of five stars. The outlet calls it a great choice for beginners due to its easy-to-use wooden pellet fuel design. If you're still not sold, keep in mind that Ooni is an official member of 1% for the Planet and has partnered with Eden Restoration Projects. This means that for each pizza oven sold, a part of the proceeds supports global reforestation projects in countries including Madagascar, Nepal, Haiti, and Kenya.
You can buy the Ooni Fyra Wood-Fired Pizza Oven on Amazon for $350.
Best portable pizza oven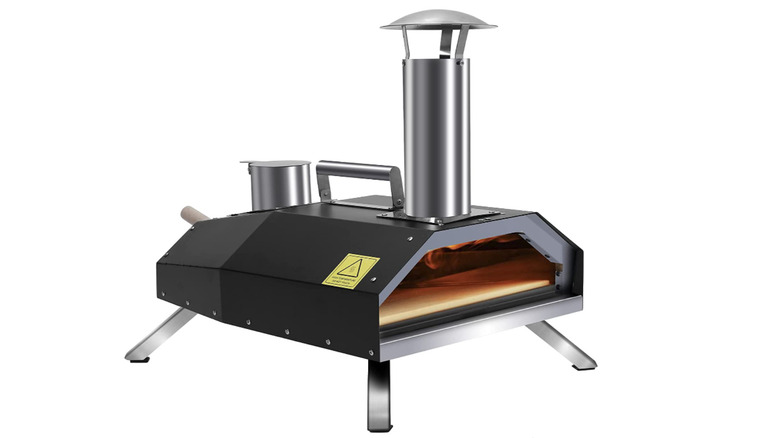 GOOBUY
Mobility has its advantages. Being able to cook and enjoy a slice of pizza in just about any setting allows you to take every adventure to the next level. Imagine baking a pepperoni pizza on your next camping trip while sitting around a fire as you chow down on a fresh slice. That's the kind of stuff dreams are made of. And you can turn those dreams into reality with the GOOBUY outdoor pizza oven, which made Best Reviews Guide's list of top ten best portable pizza ovens.
Not only is this pizza oven specifically designed for portability, but it also comes with a bunch of useful accessories like a fuel scoop, pizza stone, pizza peel, pizza cutter, oven mitts, and a waterproof carry bag. Its foldable legs and detachable chimney allow it to break down with ease, ensuring a smooth transition from place to place. At just over twenty pounds, carrying this oven around in its complimentary bag is a breeze. It's time to step up your cooking game in the wild outdoors and bake epic pizzas the next time you're enjoying mother nature with your loved ones.
The GOOBUY Outdoor Pizza Oven is available on Amazon for $209.
Best pizza oven for grills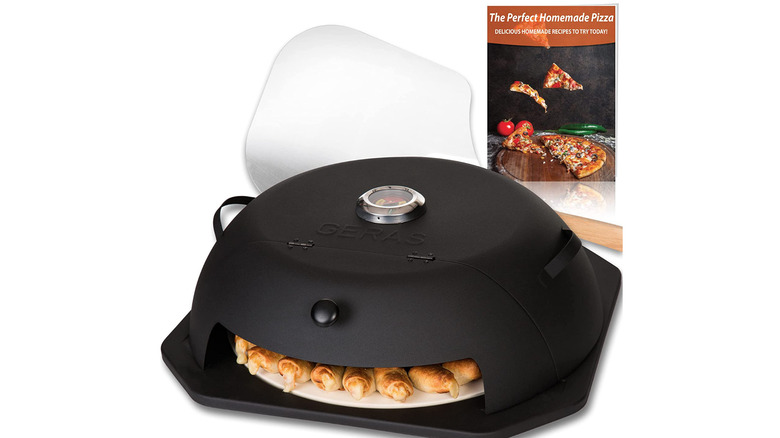 Geras
Did you know there are pizza ovens that can fit right onto your grill? That's right — if you already have a grill, whether it's gas or charcoal, there's a good chance that there's a pizza oven designed to sit snugly right over the grates. The intense heat coming from your grill is enough to warm up the pizza oven and produce excellent results. If you already have a grill and this sounds right up your alley, then the Geras outdoor pizza oven is a top-notch choice that comes recommended by the New York Post as one of the best pizza ovens on the market for backyard gatherings.
The Geras outdoor pizza oven will fit most 18-inch gas or charcoal grills. It can be quickly assembled without any tools and its high-temperature resistance ensures longevity. This pizza oven starter kit is made with durable stainless steel and comes with a built-in thermometer, ceramic pizza stone, aluminum pizza peel, and a recipe booklet to get you started. The pizza stone is designed to absorb some of the steam from the dough to create a perfectly crispy crust. Easy to use and reasonably priced, this pizza oven is convenient and effective. Once you give it a try, you'll know you've been missing out until now.
You can buy the Geras Outdoor Pizza Oven for Grill Kit on Amazon for $180.
Best multi-fuel pizza oven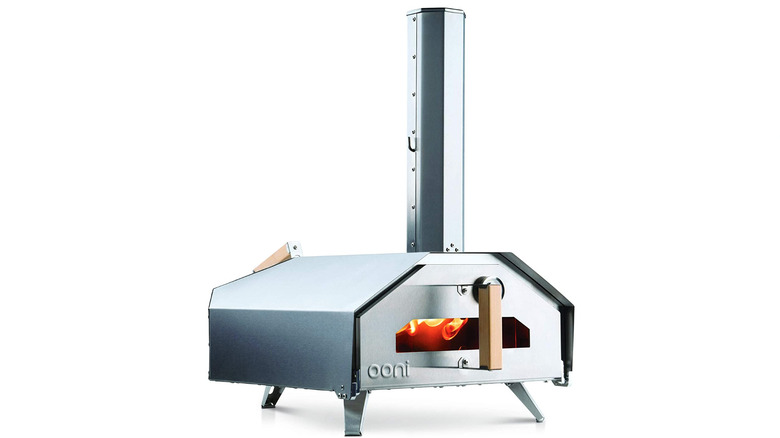 Ooni
If you appreciate the flexibility of being able to use multiple fuel sources when you cook, then the Ooni Pro 16 pizza oven is for you. This spacious pizza oven is one of Ooni's larger models, providing you with more surface area to bake extra-large pizzas up to 16 inches in diameter. While it's perfectly capable of cooking smaller pizzas too, it's definitely nice to have the option to bake bigger pies for those times when you're really hungry or cooking for a crowd. Smoked BBQ Source gives it a glowing review, describing it as a "solid performer" that offers amazing versatility and bakes restaurant-quality pizzas. 
As with all pizza oven models by Ooni, this oven's highly-insulated steel body and stone baking board help it retain serious heat, allowing you to bake restaurant-quality pies in a matter of minutes. The Ooni Pro gas burner accessory for this model is also available for purchase, allowing it to run on multiple fuel sources, including wood, charcoal, pellets, and gas. The larger oven design opens new possibilities outside of baking pizza, giving you the option to easily roast meats and vegetables or bake fresh loaves of bread. Roomy and versatile, the sky's truly the limit with the Ooni Pro 16 pizza oven. Take pizza night to the next level.
The Ooni Pro 16 Pizza Oven is available on Amazon for $600.
Best stovetop pizza oven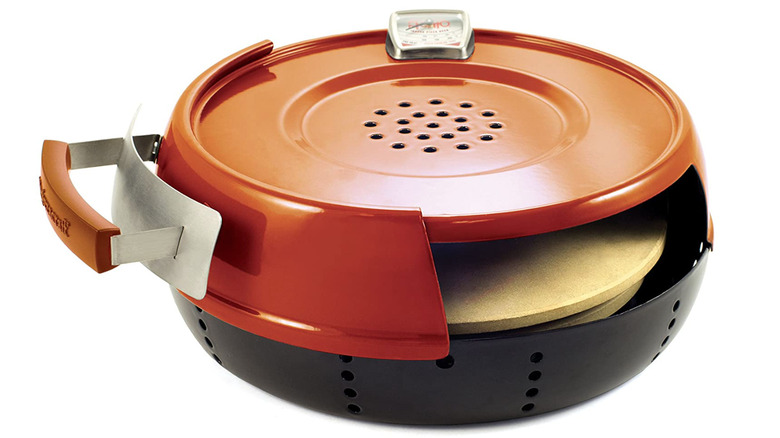 Pizzacraft
If you don't have a grill or enough space for a separate pizza oven, there's no need to worry — as long as you have a gas stovetop, you still have options. Pizzacraft's Pizzeria Pronto makes it possible to conveniently cook pizzas right on your gas stovetop without having to worry about setting up any extra accessories or bother with constantly tending to fuel sources like wood or charcoal. This model scored an 8.8 out of a 10 on Pizza Oven Review for its exceptional value and convenience.
The advantage of this stovetop pizza oven is that it's designed to reach up to 600 F, which is much hotter than the oven in your stove. The steel base, vented hood, and pizza stone all set up an atmosphere for ideal airflow and heat distribution. The oven door on this model allows for impressive heat retention and it has a built-in thermometer to help you keep an eye on the heat level. 
There's even a vented hood situated on top of the oven that allows steam and excess moisture to escape, which helps create a crispier crust and broiled toppings. The base fits over most gas ranges and is built with high-quality material to ensure durability. Why wait to make better pizza at home when there's a great product like this one right at your fingertips?
You can buy the Pizzacraft Pizzeria Pronto Stovetop Pizza Oven on Amazon for $70.
Best propane pizza oven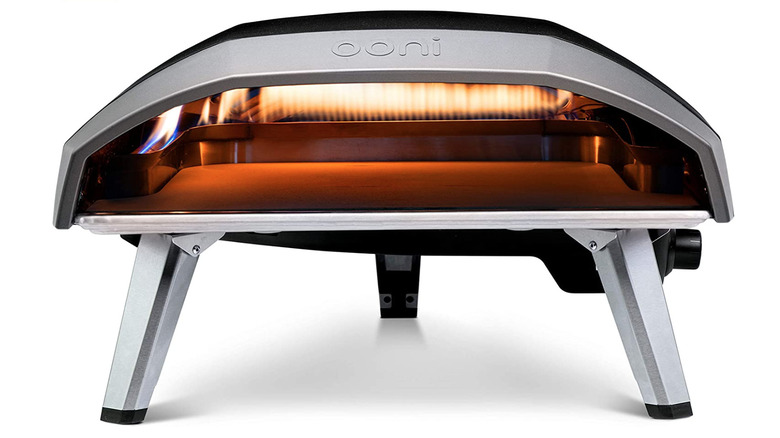 Ooni
There's no denying the convenience of cooking with gas and the Ooni Koda gas pizza oven provides you with maximum ease and a user-friendly design. And if you're new to the world of baking pizzas, have no fear: Gear Patrol calls this model by Ooni "the perfect outdoor pizza oven for newbies." With easy instant gas ignition, all you need to do to is fold out the legs, slide in the pizza stone, hook up your gas tank, and you'll be baking top-notch pizzas in no time. 
The Ooni Koda is designed with a generous amount of space, allowing you to cook bigger pizzas through its wide-mouthed oven door. And because it's gas-powered, you'll enjoy a steady stream of consistent heat that makes baking pizza a breeze. In only 20 minutes, this pizza oven can reach over 900 F, creating the perfect climate for restaurant-quality pizzas. Aside from its practicality, this model also has a sleek modern design that adds a touch of class and sophistication to any cooking area. If you already have a gas grill and enjoy using propane, this pizza oven would make a great addition to your backyard.
The Ooni Koda Gas Pizza Oven is available on Amazon for $600.
Best professional pizza oven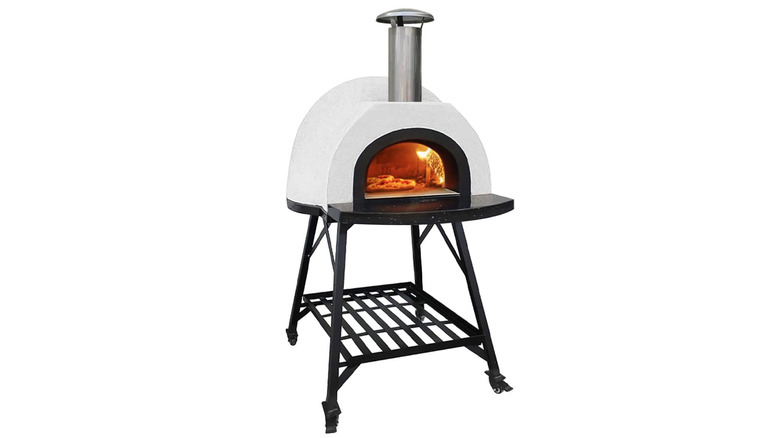 Forno Piombo
For all the pros in the house on the prowl for a new piece of gear, Forno Piombo's Santino oven is a great choice. You often get what you pay for, and even though this pizza oven is on the pricier end of the spectrum, its design is far superior to some other models on the market. According to Inside Science, that's because materials like brick and ceramic have physical properties that create even heat distribution. This model's thick hemispherical dome, castable refractory clay oven, and firebrick floor go above and beyond most pizza ovens on the market to provide you with an authentic design to create the most professional pies possible.
If you're in the business of slinging tons of pizzas, then this model was made with you in mind. Because of its sturdy design, Forno Piombo's Santino pizza oven is capable of retaining heat for an impressive 24 hours. This model's high-quality insulation and exceptional heat retention allow you to keep making pies without drastic dips in temperature that can interrupt your cooking process. To sweeten the pot even further, this model even comes with a handy shelf below the base of the oven to stack your wood.
You can buy the Forno Piombo Santino Pizza Oven on Amazon for $3,390.
Best outdoor pizza oven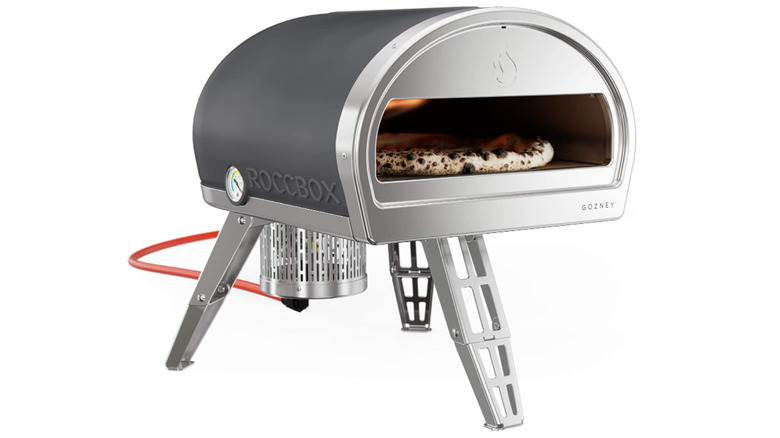 ROCCBOX
Cooking outdoors is one of life's greatest joys. But buying outdoor cooking gear comes with a cost, considering that the weather eventually has its way with just about everything. Acclaimed chef J. Kenji López-Alt highly recommends the ROCCBOX pizza oven, highlighting the fact that it is also weatherproof (via Serious Eats). Being weatherproof puts this model ahead of its competition since this pizza oven can stand the test of time better than some other choices on the market.
With dual fuel options and impressive durability, this pizza oven also has retractable legs and detachable burners for easy portability. Its exterior insulation and innovative silicone outer skin provide some extra safety precautions so that you're less likely to get burned cooking at higher temperatures. If you're looking for an excellent pizza oven for the backyard, then search no further — the ROCCBOX has everything you need.
The ROCCBOX portable outdoor pizza oven is available on Amazon for $499.
Best pizza oven for two pizzas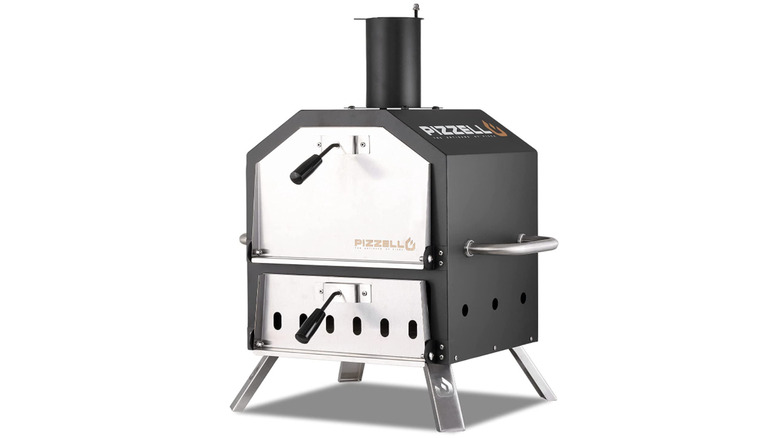 Pizzello
Why settle for a single pizza when you can double the fun and cook two at a time? The Pizzello outdoor pizza oven is specifically designed with two different oven racks so that you can bake multiple pizzas in one round. This model is ideal for anyone who regularly cooks for family or friends. In case you just want a little extra space for other cooking projects, the middle rack can easily be removed to accommodate preparations that require more room, such as cooking a whole roasted chicken.
This pizza oven also comes with a stainless steel pizza peel, pizza stone, cooking grill grate, and a waterproof cover bag for all-weather protection. Fueled through wood, the vents on the chimney allow for effortless temperature control. Plus, the whole oven only weighs a little over 20 pounds, which means you can bring it along with you to set up just about anywhere. 
All things considered, this affordable pizza oven can cook twice as much at just a fraction of the price compared to other more expensive models. Don't just take our word for it: The Pizzello outdoor pizza oven scored an impressive 8.8 out of a perfect 10 on Best Products Reviews.
You can buy the Pizzello Outdoor Wood-Fired Pizza Oven on Amazon for $140.