You Can Now Order A Secret Starbucks Barbie Frappuccino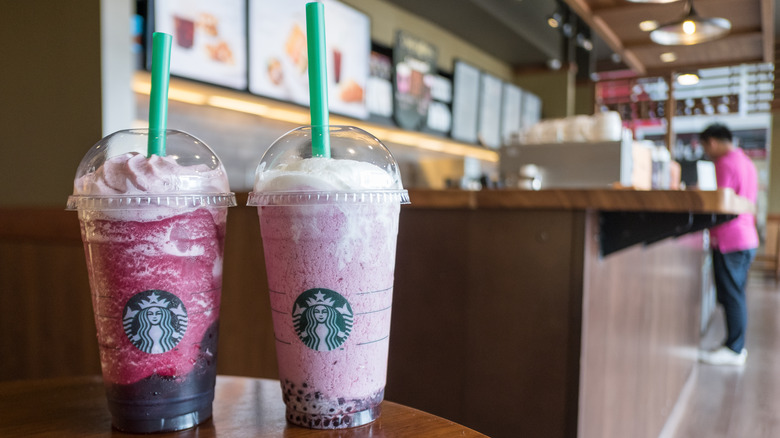 Boyloso/Shutterstock
Don't get us wrong, we'll always have a soft spot for the Starbucks' Pink Drink's mix of strawberry, acai, and coconut milk, but it's just not enough to complete our Barbie fantasies with the new movie coming out. We need more pink, more whipped cream, more in-your-face sweetness. Fortunately, the Starbucks secret menu has a new Barbie Frappuccino — perfect, pink, and, well, plastic. On the outside, anyway.
To get your very own Barbie Frappuccino, go to your local Starbucks (sorry, this one doesn't work for mobile orders) and order a Vanilla Bean Creme Frappuccino with three pumps of vanilla and dragonfruit inclusion, blended together. Finally, top it off with whipped cream and more dragonfruit. It's worth noting that this particular order is very sweet, so Elite Daily recommends forgoing the pumps of vanilla if you're not big on sugar. A slightly different variation of this recipe includes toffee nut syrup and (potentially now discontinued) raspberry syrup in place of the dragonfruit and vanilla.
You should also keep in mind that this drink can set you back up to $8 for a venti, so it's on the more expensive end of the Starbucks menu. That being said, if you're still interested in giving the Barbie Frappuccino a try, TikTok has further advice to offer. And who wouldn't want the optimal Barbie experience, right?
TikTok's advice for ordering the Barbie Frappuccino at Starbucks
As you might expect, plenty of people have already tried the Barbie secret menu Frappuccino at Starbucks, so of course social media commenters are offering various suggestions as to how to refine the drink. One TikTok in particular became a hotspot for recommendations after its posters complained the drink was "too sweet" and "tastes straight up like a vanilla bean."
Other TikTok users said the drink should be ordered in a larger size "so the syrups dilute a bit" or ordered with less syrup. Another person suggested swapping out the drink's half-and-half for vanilla sweet cream cold foam, as well as adding strawberries. And, of course, several people pointed out that you just shouldn't order this drink if you don't like vanilla.
However, you can still get a non-vanilla Barbie Frappuccino. According to a TikTok from 2021, order a white mocha cream frappuccino with strawberry puree and guava juice (or dragonfruit inclusion), topped with whipped cream. Same Barbie aesthetic, very different taste.