Aldi's Gourmet Peaches Are Screaming Summer Vibes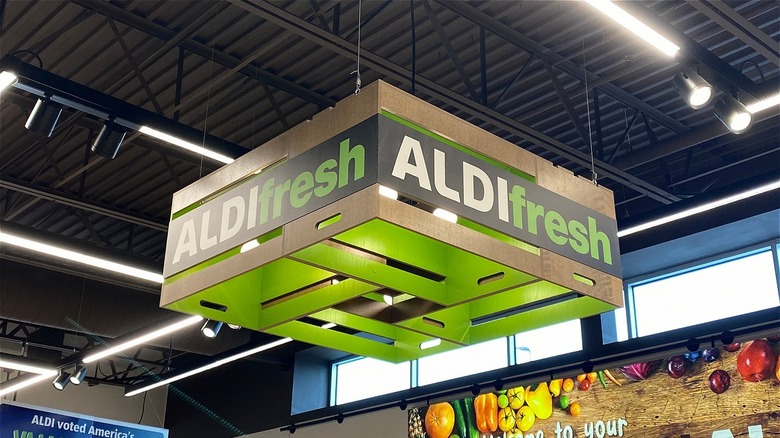 Kevin Chen Images/Shutterstock
Earlier this year, Aldi shoppers picked up jarred peaches in droves. And, the driving force behind this popularity was the products' flavorful syrups, like vanilla and cinnamon.
But in a recent Instagram, Aldi shared some of the new flavors of Speciallity Selected jarred peaches, and the latest line of peaches are packed in tropical juices. Customers can find three variations of peaches on the chain's shelves: pineapple juice with coconut flavor, ginger flavor, and in passion fruit juice.
While there are some canned fruits we don't recommend buying, peaches make our list since there's such a short picking season. If you do decide to stock up on Aldi's extra flavorful peaches, here's how to use them.
Aldi customers plan to eat these peaches as dessert
Although you can eat these peaches straight out of the can, Instagram users shared some of the other ways that they enjoy the peaches. One person said grilling these peaches was the way to go, and called the peaches in passion fruit juice "divine."
Don't want to spend too much time prepping or cleaning the grill? Another Instagram user recommended eating the peaches alongside some pound cake or ice cream. And if you're craving some peach-flavored ice cream, one innovative shopper suggested putting the peaches into a Ninja Creami ice cream maker. Of course, you can always use the fruit for a classic peach recipe, like a simple peach crisp. While fresh peaches might be ideal for a peach cobbler or crisp, canned peaches work in a pinch and when fresh fruit is out of season.
Despite the excitement some people have about these peaches, others don't plan to purchase them because of the added sugars. However, there are plenty of ways to use leftover juice in canned fruit. The sweetness from the juice is great for oatmeal or as a simple syrup for cocktails. Plus, if you're in need of peach juice, these peaches pack some extra flavor for a twist in your recipe.