6 Most Expensive And 6 Least Expensive Fast Food Chains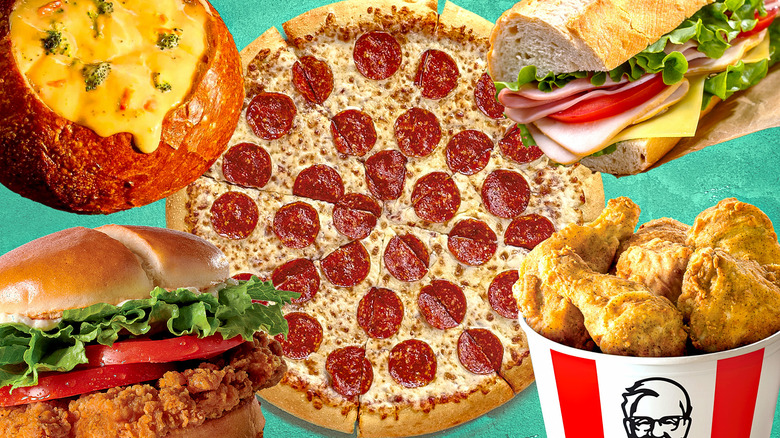 Static Media/Shutterstock
Fast food has historically been known for providing diners with quick eats at affordable prices. However, these days inflation is hitting every business, including tried and true, budget-friendly fast food chains. This makes finding a meal on the cheap harder and harder. On top of that, although fast food menus used to be mostly limited to burgers and fries, the demand in the market has expanded to include cuisines of all types, healthier options, higher quality ingredients, and better customer service. 
All of this ultimately affects the bottom line of the fast food industry, and as a result, the menu prices that customers have to keep in mind. And while the choices are endless when looking for a casual lunch or dinner, one aspect that can help consumers decide which restaurant is right for them is the pricing. Whether you're simply tired of ever-increasing costs for drive-thru fare or are buckling down on your family's budget for eating out, we're here to help. Read on for a list of the most expensive and least expensive fast food restaurants to help you make an informed decision when grabbing meals on the go.
Wendy's was named the most expensive fast food chain in 2022
Known for their square-shaped burger patties, Wendy's has historically topped the list of pricey fast food. In 1971, the average burger would cost diners around $0.30. However, Wendy's was charging nearly twice that at $0.55. In fact, from the 1970s to the 2010s, Wendy's burgers have consistently cost more than their biggest competitors, McDonald's and Burger King. Perhaps their commitment to offering "fresh, never frozen" beef is the reason behind the historically higher price tag. But regardless, Wendy's customers have to decide whether the extra pennies are worth it.
Has anything changed in recent years? As it turns out, Wendy's expensive reputation still holds true today. Wendy's topped the list of fast food chains that would break the bank in 2022. With the restaurant's Baconator burger combo costing more than $12 and a chicken nugget lunch setting you back more than $11, food fans might think twice before swinging through their local Wendy's.
McDonald's is a fast food icon that also happens to be a budget-friendly option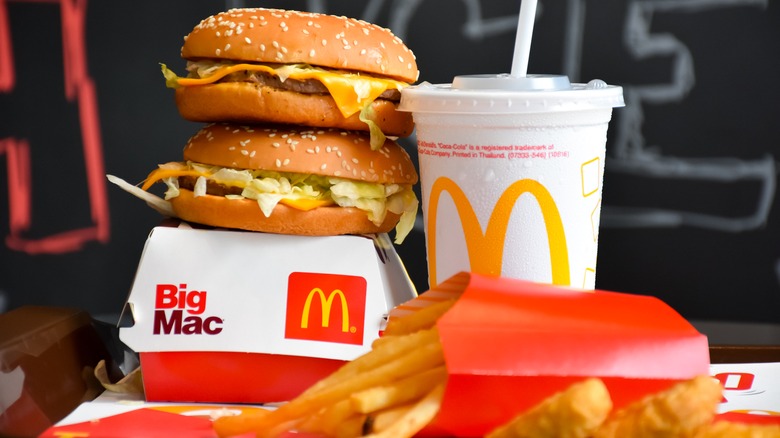 Patcharaporn Puttipon4289/Shutterstock
The king of fast food has always been known for being as affordable as its food is quick and reliable. However, the burger chain recently made headlines for increasing the price of the classic Big Mac. The price varies from state to state, with the thousand island dressing-topped sandwich costing a staggering $5.11 in California, and a more affordable $3.99 in South Dakota, on average. But 20 years ago, the popular burger would only run customers a little over $2.
Despite this news, the restaurant has stayed true to its affordable roots by offering the $1, $2, $3 Dollar Menu, giving diners a chance to still snag some delicious eats for less. This budget-friendly menu features a host of tasty delights like a breakfast sausage biscuit, the classic McDouble cheeseburger, and a small order of french fries. This flexible menu allows customers to create their own affordable and filling combo meals without paying the premium prices.
Chick-fil-A continues to release expensive menu items
Although Chick-fil-A is widely beloved for its speedy drive-thru experience, the chain isn't known for being the most cost-effective option for diners. Staying affordable has been difficult for Chick-fil-A, especially with the increase in the price of chicken, the main ingredient of pretty much every entree on the chain's menu. Combo meals at Chick-fil-A can cost as high as $15 for a Cool Wrap with a side and a drink, and more than $12 for a Spicy Chicken Sandwich Deluxe Meal, depending on location.
However, chicken doesn't seem to be the only high-priced item on Chick-fil-A's menu. In an effort to attract more vegetarian customers, the chain recently released its controversial cauliflower sandwich at select locations in Colorado, South Carolina, and North Carolina. The plant-based dish is available for the jaw-dropping price of nearly $7, all on its own. A spokesperson for the restaurant chain defended the cost of the sandwich in a statement to Fox News, calling it a "competitively priced plant-forward offering that features high-quality ingredients." However, for budget-conscious customers, those high-quality ingredients and the quick and friendly service the chain is known for may not be enough to sway them.
Taco Bell has always had a reputation for having cheaper fare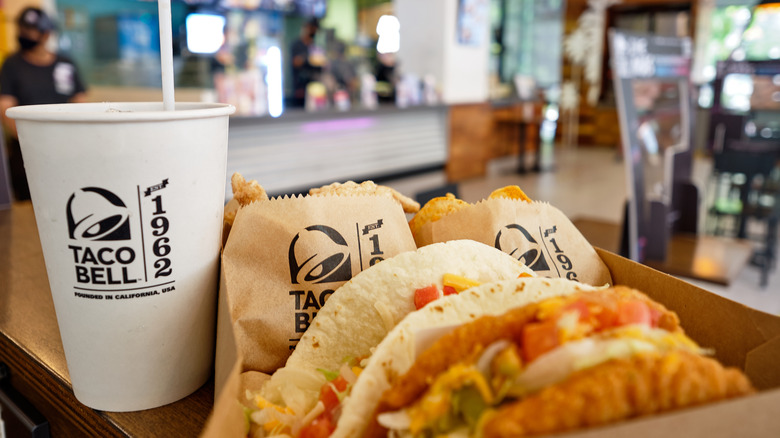 Kullapong Parcherat/Shutterstock
When a Taco Bell receipt from 1999 went viral, fans of the chain were shocked at the fact that the cost of a taco and a side of nachos were once only $0.69 each. Although it may seem like Taco Bell's prices have grown astronomically in the last couple of decades, the restaurant still caters to those looking for a great deal.
In keeping with its identity as a go-to fast food joint for those looking for a lot of food at a low price, Taco Bell continues to release affordable and filling menu items. Recently, the chain announced the addition of $2 Double Stacked Tacos and the return of the generously sized Double Steak Grilled Cheese Burrito for $3.49. These items will play well with the chain's Cravings Menu, a value-focused selection of affordable munchies like the $1 Cheesy Roll Up and a $5 Classic Combo that includes a large fountain drink, a Beefy Five-Layer Burrito, your choice of taco, and either Taco Bell's signature Cinnamon Twists or a side of chips and cheese sauce.
Chipotle customers are getting frustrated with the chain's high prices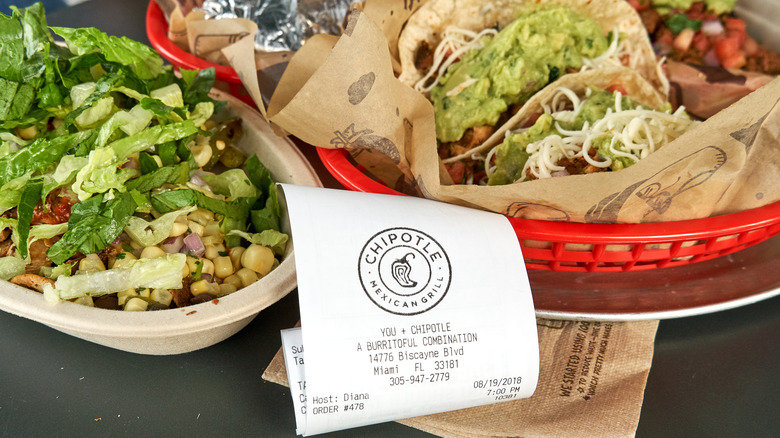 Dennizn/Shutterstock
Mexican-style fast casual chain Chipotle is well loved for its burritos, bowls, and app-exclusive quesadillas. The franchised chain touts its ingredient-focused menu, which it says is created from 53 all-natural ingredients — "the kind you can recognize and pronounce," according to Chipotle. The list includes fresh chicken, beef, beans, spices, vegetables, and made-in-house salsas. 
However, the fresh and high-quality ingredients the chain is known for come at a price — one that some customers are tired of paying. A TikTok user recently went viral for her video asking Chipotle why her burrito bowl cost $19.82. "Yes, I got guac, but that shouldn't make it $19.82. That is so much money for one bowl," the customer said. Although that pricing does seem a bit out of hand, it's not far off considering the chain's burrito bowls begin at $10.89 on average — and that's not including extras like chips, which are about $1.80, guacamole for and average of $2.71, and a side of queso that costs around $2.23 on average. Although these prices will vary by location, diners should still consider the price of extras and sides, not to mention customizations, when ordering their burritos and bowls.
Burger King offers great food at whopping good prices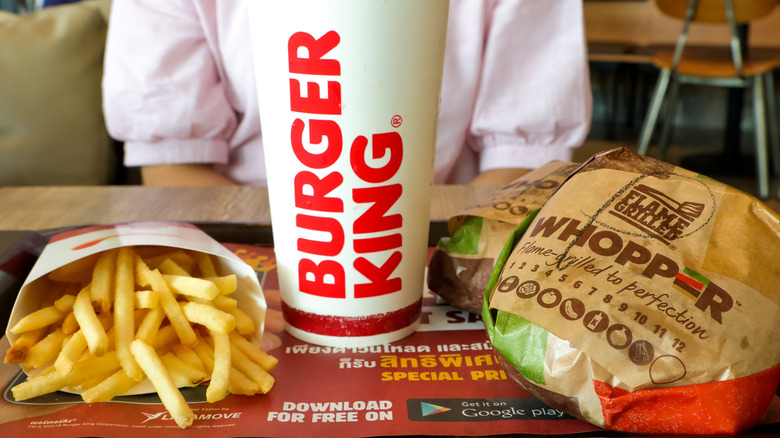 Agencies/Shutterstock
Burger King holds its own with a menu that is constantly changing and evolving without breaking the bank. Most recently, the chain brought back the fan-favorite lineup of Whopper Melts, a unique take on Burger King's signature burger featuring toasty bread instead of a bun and surprising toppings like jalapenos, caramelized onions, and special sauce. Best of all? The Whopper Melt meal, complete with fries and a drink, can be snagged for only $10.44 on average.
The chain also recently brought back its BK Stacker burger, a protein-packed sandwich featuring multiple patties, bacon, and cheese. Although the price of over $8 for a burger alone may seem like a lot at first, that's the cost of a quadruple stacker, so it's a good value given the amount of meat offered in the sandwich compared to the chain's single-patty standard cheeseburger, which costs around $6 and is far less filling. With fresh ingredients, flame-grilled patties, and this kind of value for your money, it's no wonder why burger fans continue to head to Burger King.
Panera Bread continues to evolve its menu, but it comes at a cost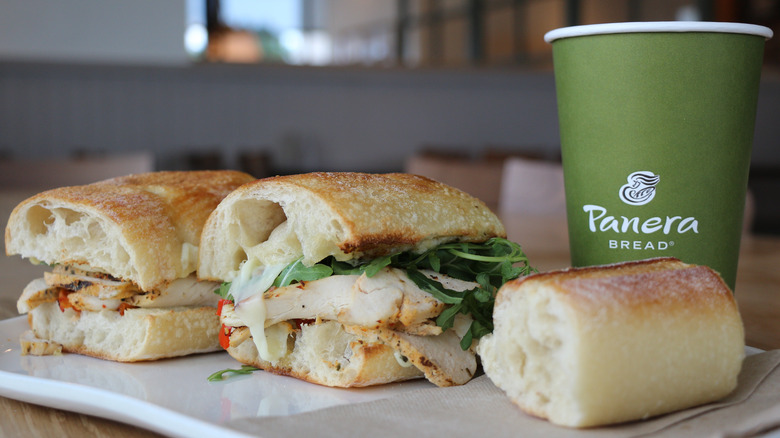 Deutschland Reform/Shutterstock
A go-to for fast-casual dining, Panera Bread boasts an array of baked goods, sandwiches, soups, salads, and other cafe items. However, despite the public's love for the chain, its rising prices have earned it the not-so-great title of "the most expensive fast-casual fast food restaurant" in the U.S. According to a recent study by MarketWatch comparing the average cost of a popular meal at 12 restaurants across 20 cities, Panera topped the chart with an average meal costing nearly $15 — a pretty penny for a sandwich and soup.
In an effort to flesh out its menu, Panera continues to add new and more exciting items like mac & cheese, flatbread pizzas, and its own answer to the fast food chicken sandwich wars — a breaded chicken sandwich offered in regular and spicy with an array of toppings served on a brioche roll. However, no matter how tasty the food may be, it can be cost-prohibitive for some families. Depending on the location, the chain's mac & cheese bowl can run as high as $10 while the recently added chicken sandwiches can cost diners $12 or more.
Despite Panera's reliance on its claims of having fresher ingredients, trendier recipes, and healthier options than its competitors, it may be pricing itself out of the fast-casual market it originally set out to serve.
Jack in the Box offers meal deals and snacks at accessible prices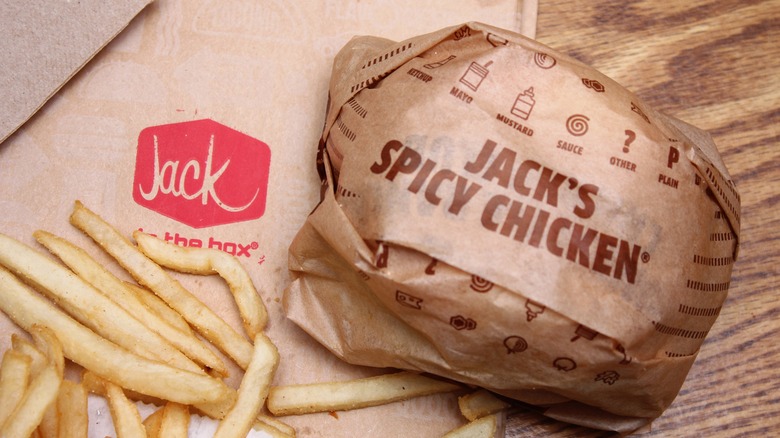 Birch Photographer/Shutterstock
Known for its trademark mascot as well as its variety of menu options, Jack in the Box has been a staple for snackers and burger fiends for decades. Despite surging prices across the fast-food industry, it has managed to stay relatively affordable.
In fact, the Mashed team was able to snag a pretty great meal for less than $10 thanks to the chain's popular Late Night Munchie Meal deal. This wallet-friendly offering gives diners the choice between four different entrees ranging from the Ultimate Cheeseburger to Jack's Spicy Chicken sandwich along with two sides and a drink. Customers can choose an order of the chain's signature tacos, fries, or onion rings as a side, making it a super filling meal for the price.
On top of the meal deal, Jack in the Box's combos and à la carte items tend to be affordable. While prices may vary based on location, as of April 2023 combos range from $6 to $12, and individual snack items like bacon ranch potato wedges and egg rolls cost as little as $3 to $5. Plus, Jack in the Box offers a value menu chock-full of delicious eats like burgers, chicken sandwiches, and tacos for only a couple of bucks each.
KFC shocked customers with its prices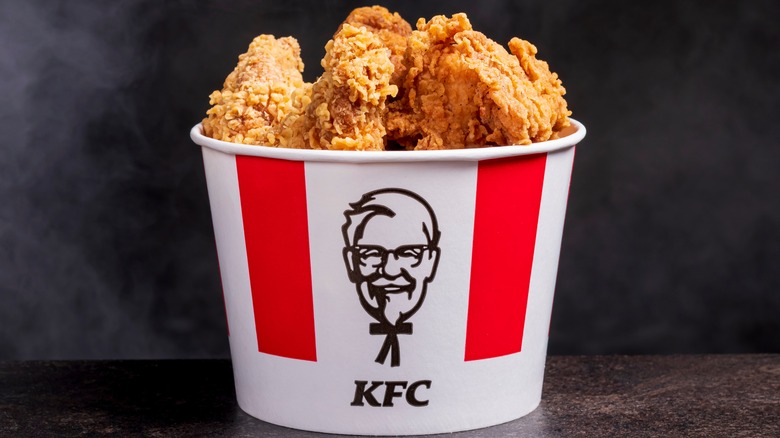 Siarhei Kuranets/Shutterstock
It's no secret that the price of chicken has drastically increased in recent years, and the effects are impacting home cooks and worldwide chains that rely on chicken as their main ingredient. KFC, long loved for its affordable buckets of fried chicken seasoned with the Colonel's secret blend of herbs and spices, has proved it's not immune to inflation. However, fans of the chain are shocked at just how high the prices have become.
In a viral TikTok in 2022 which garnered over a million views, a KFC customer zoomed in on a drive-through menu displaying the unreal cost for a Family Meal of nearly $60. Even though the 16-piece meal included four large sides and eight biscuits in addition to fried chicken, the price is jaw-dropping for fast-food fare.
The pricey family meal appeared to be an isolated case, but KFC's current prices are still high, with the average 16-piece meal ranging anywhere from $25 to $45 with add-ons. Depending on where you're located, even the Big Box Meal (the restaurant's value combo) featuring three pieces of fried chicken, two sides, a biscuit, and a medium drink, can cost more than $10.
Subway allows diners to eat fresh while saving a buck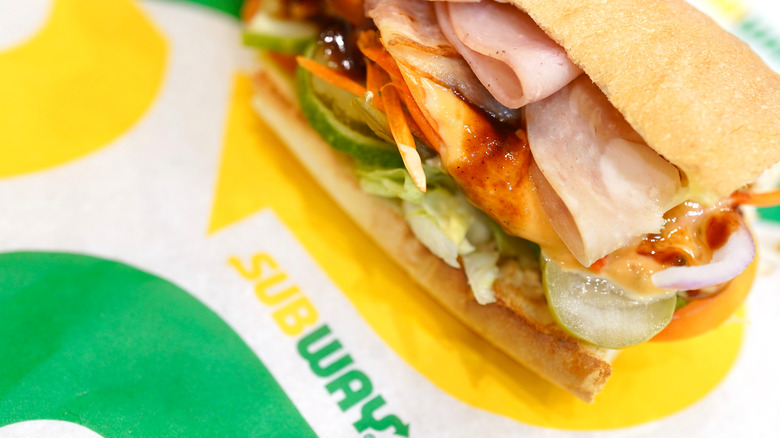 Prachana Thong-on/Shutterstock
Fast food and eating healthy don't always go hand in hand, and when they do it doesn't often come cheap. However, for decades Subway has managed to offer healthier options for diners looking for a quick lunch. The chain has succeeded by keeping its ingredients and recipes simple, forgoing the addition of more complicated dishes and sticking to what it knows best.
Subway continues to offer competitive pricing compared to other fast-food chains, particularly when it comes to including additional vegetables, toppings, and sauces for free. (Of course, avocado will always cost extra, but those who love their guacamole are often prepared and willing to pay for it no matter what.) For $5 to $10, depending on location, type of sandwich, and size, you can enjoy a sandwich piled high with as many vegetables as you want. For only a few more dollars, you can add a bag of chips and a drink.
For years the sub chain was famous for its $5 footlong sandwiches, however, the price has since risen. However, for budget-conscious Subway fans, the chain does offer specials, including coupons and app exclusives that can be ordered online.
Five Guys boasts high-quality ingredients, but burger enthusiasts aren't sure the prices are worth it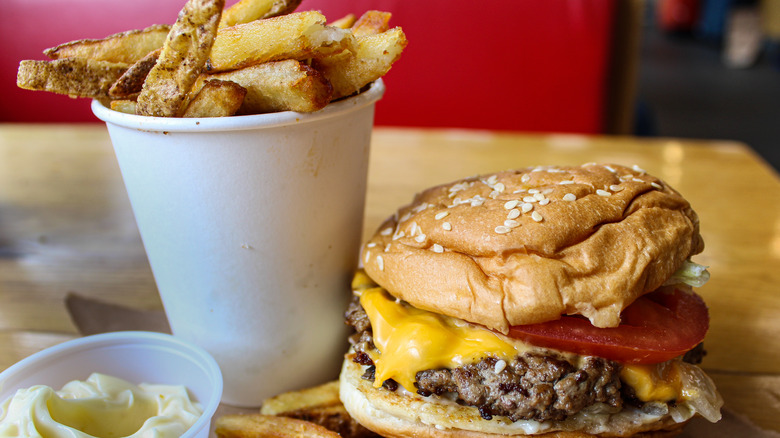 Irati Ventoso Cenzano/Shutterstock
It seems the days of a cheap burger are long gone, and with newer and trendier chains constantly emerging, burger fans are finding it increasingly difficult to find an affordable (yet delicious and well-made) meal. Five Guys is known for being delectable and fresh, but unfortunately, it's also known for being expensive.
A recent TikTok went viral when a Five Guys customer posted her receipt for four hamburgers, two fries, and four drinks of varying sizes totaling more than $70. "When did Five Guys become a five star restaurant?" the video reads. Five Guys friends and foes flocked to the comments to report their own experiences at the chain. Some cited that the food's quality warrants the prices while others claimed they stopped eating there due to the high cost.
Depending on where your local Five Guys is located, the chain's regular hamburger served solo begins at around $10, and cheeseburgers and bacon burgers cost more. A hot dog costs more than $7 while an order of regular fries is typically over $6. However, some TikTok users were quick to point out that one order of fries can easily feed more than one person.
So, why the high prices? Iain Ross-Mackenzie, Director Of Operations-APAC at Five Guys International told The Rakyat Post the answer lies in the quality of the ingredients. "Nothing in store is frozen," he said. "We only ever use fresh ingredients."
Little Caesar's maintains its status as an affordable standby for pizza lovers despite recent price increases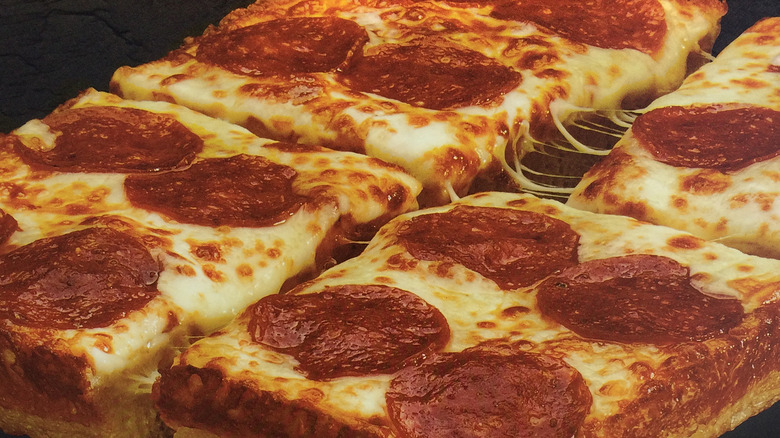 Digital Reflections/Shutterstock
For decades, Little Caesar's offered the best pizza deal around with its Hot-N-Ready pies, available for pickup at a moment's notice for a mere $5. However, in recent years the pizza chain slowly began raising prices to $5.55 and then upwards of $6. Whether the move was due to inflation, increased operation costs, or the rising cost of ingredients, it's clear the days of a $5 Hot-N-Ready cheese or pepperoni pizza are gone. However, even with these recent price hikes, Little Caesar's still manages to be more affordable than its competitors.
Depending on the location, pizza fans can grab items like a large ExtraMostBestest pepperoni pizza for around $8, an order of Crazy Bread with Crazy Sauce for about $4, and a large pepperoni Detroit-Style deep dish pizza for about $9. This means families can put together an affordable pizza dinner with plenty of food available to feed everyone.
The pizza chain's website even showcases a page called "Today's Deals," featuring limited-time coupons and meal bundles to offer additional savings. Simply place your order online and pick it up at your leisure. Not quite Hot-N-Ready, but delicious (and affordable) nonetheless.