Serious Question: Does Taco Bell Do Catering?
Does your dream wedding feature a Taco Bell banquet? As it turns out, this could be your reality, as the fast food chain allows fans to get married at its flagship Las Vegas Cantina by booking a wedding package. The offer is designed for up to 25 guests and includes access to a chapel, catered tacos, a Cinnabon cake, merchandise, and a bouquet made of Taco Bell sauce packets. Just be sure to book the chapel in advance (at least four hours prior) and bring your own witness, Nevada marriage license (unless you are renewing vows), and outfits to say, "I do!"
If you're far from Las Vegas or the idea of getting married, Taco Bell does offer different catering options for groups and parties. The chain's 10 different Party Packs can feed anywhere from two to 12 people — or more if you order multiple packs. The customizable orders include mainstays like crunchy and soft tacos, Doritos Locos Tacos, vegetarian items, and beef burritos. These can be ordered online and delivered to your door, so no one needs to leave their birthday party to pick up Taco Bell.
Other options for a fast fast kind of party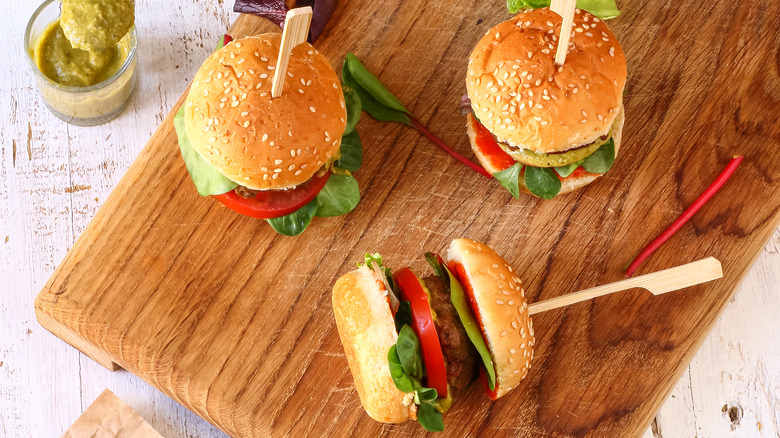 Siims/Getty Images
Also in the Mexican-style fast food catering arena is Chipotle, which offers ready-made burritos, chip and dip spreads, or build-your-own-bowl setups for up to 200 guests. If your preferred party food is not tacos and burritos, but burgers and beyond, many other fast food chains offer group meal options for special occasions — many of them customizable and available for online ordering. McDonald's, for example, has a breakfast catering menu that allows you to create breakfast sandwich, pancake, and beverage bundles for up to 24 people. Chick-fil-A, the chain most people would want to cater their wedding, is known to offer large-scale spreads of chicken nuggets and sandwiches.
For lighter, less temperature-sensitive lunchtime fare, Subway has sandwich and wrap platters, and Quiznos is a similar option. Panera also caters boxed lunches, salads, soups, and your choice of sweets. Other options include Panda Express for orange chicken and chow mein, Boston Market for all-American favorites, White Castle for sliders, and more. 
If you're not sure if your favorite fast food joint has catering options, just ask or search online. You could even mix and match food from different places. Just think about your friends, coworkers, or fellow party-goers: What would they love to see once they arrive at the gathering?