Do Taco Bell's Sauce Packets Taste The Same As The Store-Bought Bottles?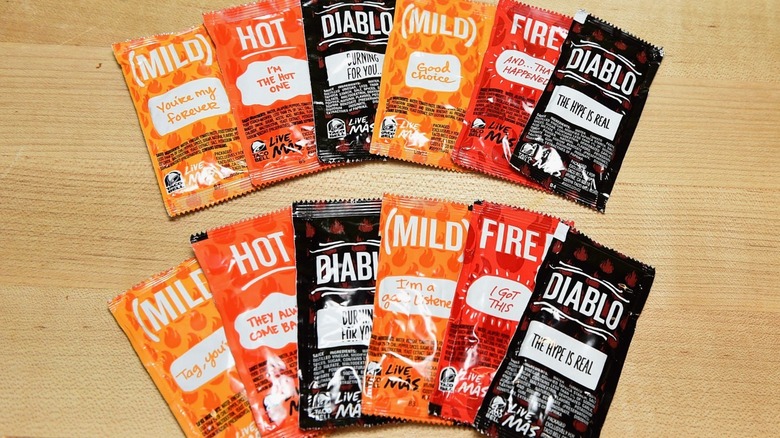 Joshua Blanchard/Getty Images
When you are craving a late night munchie, Taco Bell is there for you with plenty of delicious menu items to fill any craving. The one thing you can't forget with your order is the sauce. Taco Bell currently has four sauce packet variations (mild, hot, fire, and diablo) and six other sauces (nacho cheese, creamy jalapeno, chipotle, red, spicy ranch, and avocado ranch) that either come on the items or can be ordered on the side. However, one Redditor noticed a discrepancy in one of the sauces.
They shared a photo of a bottle of Taco Bell Creamy Chipotle Sauce they bought from a grocery store with the caption "Why is it this only taste 97% like the stuff from a real [Taco] Bell?" The OP opted for a store-bought bottle of the sauce because they didn't like paying extra for the same sauce when ordering at Taco Bell. Upon tasting the sauce, the Redditor claimed "it tastes ever so slightly different than real stuff from the Bell. Oh well, [that] didn't stop me from putting it on 8 tacos." 
A few commenters offered reasons as to why the sauce packets and store-bought bottles taste different. "Preservatives and/or changed recipe for shelf stability I'd guess," one user wrote. Another user pointed out, "The reason is that it's an entirely different recipe. It's not even made by Taco Bell. It's just a Kraft sauce..."
They taste slightly different due to different ingredients and manufacturers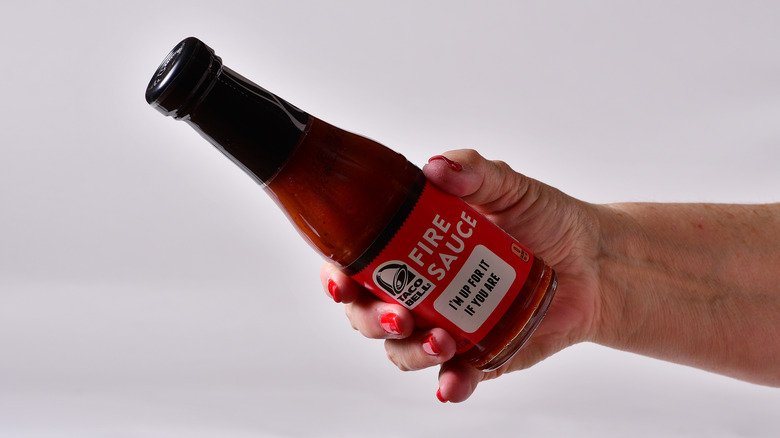 Grossinger/Shutterstock
This is true! If you look at the bottles sold in stores, it says "distributed by Kraft Heinz" (via Target), whereas the sauce packets from Taco Bell read "packed exclusively for Taco Bell Corp." When comparing a Taco Bell hot sauce packet and a store-bought Taco Bell hot sauce bottle, a majority of the ingredients are the same. However, the sauce packet has food starch, sugar, potassium sorbate, and garlic concentrate (via Taco Bell), while the bottled sauce includes spices, xanthan gum, potassium chloride, yeast extract, and datem (via Target). It seems the only difference is various additives and preservatives, with a slight variation in seasonings.
As for Taco Bell's Creamy Chipotle Sauce, while the bulk ingredients of both versions are the same, the store-bought sauce has dried buttermilk, food starch, whey, phosphoric acid, dried red bell peppers, disodium inosinate and guanylate, and sorbic acid (via Walmart). The sauce you'll get at the Taco Bell drive-thru has propylene glycol alginate, sodium benzoate, potassium sorbate, and potassium chloride. The differences between the Creamy Chipotle Sauces are more substantial, with a wider variation of additives and preservatives.