Are Costco's Lobster Rolls Worth The Hype?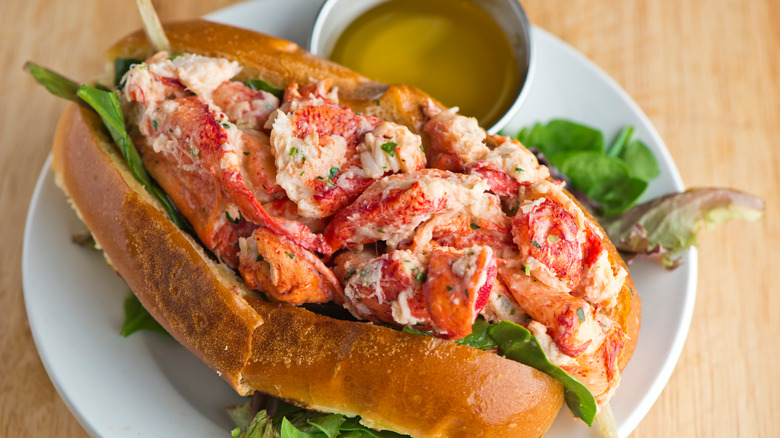 Marie Sonmez Photography/Shutterstock
Now that the weather is warming up, we've started craving all sorts of summer foods, but nothing tops the list like a buttery lobster roll from our favorite seaside lobster shack in coastal Maine. Unfortunately, just because we're craving a lobster roll doesn't mean we can drop everything and blow our savings on an elaborate seashore vacation. We can, however, drive to Costco, because along with garlic butter shrimp and sockeye salmon, the warehouse store also sells lobster rolls. And while it makes sense to be a little skeptical of frozen lobster rolls, it turns out that Costco's lobster rolls really might be worth the hype. 
According to at least one YouTube reviewer, the Pepper's Landing Lobster Co. East Coast Seafood Lobster Rolls from Costco are "nice and crispy," "very buttery," and worth getting again. Each pack contains four lobster rolls, which works out to about $10 per roll, a lot cheaper than what you might pay at a restaurant (the reviewer estimated those lobster rolls cost on average $24). "What I'm surprised at is that something frozen can be this good," they said. So what's Costco's secret to lobster roll success? It turns out it's all about the packaging.
Clever packaging makes it work
When it comes to Costco's frozen lobster rolls, there is some assembly required. That's because in order to make a perfect lobster roll, with a crispy bun and buttery filling, the bread and lobster have to be prepared in different ways. Everything included in the box — brioche buns, spice packet, lobster meat, and seasoned lobster butter — is packaged separately to ensure freshness. The buns get toasted, and the lobster is reheated in the melted butter alongside the spices. The results? "I would never in a million years guess that this was frozen," said one TikTok reviewer. "It is so fresh tasting."
There are some differences between the lobster rolls at Costco and those you might get at a seafood restaurant or lobster shack. Mainly, they're made exclusively with claw and knuckle meat, no lobster tail in sight. But that helps keep the price of these rolls down, since tail meat tends to be more prized and thus, more expensive. And since the lobster meat here is chopped, tossed in a spiced lobster butter, and served on bread anyway, the use of claw and knuckle meat, which are both still plenty flavorful, makes sense. Between the comparatively low price of Costco's lobster rolls, the quality of the ingredients, and the great taste, reviewers seem to agree that they're worth the hype. As one TikToker summed it up: "I think this is a great buy. 10 out of 10, would buy again."