Taco Bell Launches The California Breakfast Crunchwrap To Take Over Mornings
For 40 million Americans each week, Taco Bell provides Mexican-inspired dishes for one of their meals. With a constant rotation of new limited-time options and classics being brought back by demand, Taco Bell's menu has continued to evolve since the quick-serve restaurant opened in 1962.
First announced in April 2023, the fast food chain added the California Breakfast Crunchwrap to its breakfast menu. For $3.79, the California Breakfast Crunchwrap is made with scrambled eggs, whole hash browns, diced bacon, tomatoes, guacamole, and cheddar cheese, folded inside a warm flour tortilla. The item has 630 calories and can be customized with many upgrades to personalize the dish, such as creamy jalapeño sauce, nacho cheese sauce, or sausage crumbles for an additional charge.
Typically, breakfast at Taco Bell is served between 7 a.m. and 11 a.m. each day of the week, but it can vary by location, so check online first to avoid disappointment. The California Breakfast Crunchwrap joins other popular breakfast menu items like breakfast quesadillas, burritos, and the "gotta have it all" option, The Bell Breakfast Box, which contains a Breakfast Crunchwrap Sausage (filled with scrambled eggs, sausage patty, cheddar cheese, and creamy jalapeño sauce encased in a grilled flour tortilla), a two-pack of Cinnabon Delights, a hash brown, and a medium fountain drink for $5.49.
No more Naked Egg Tacos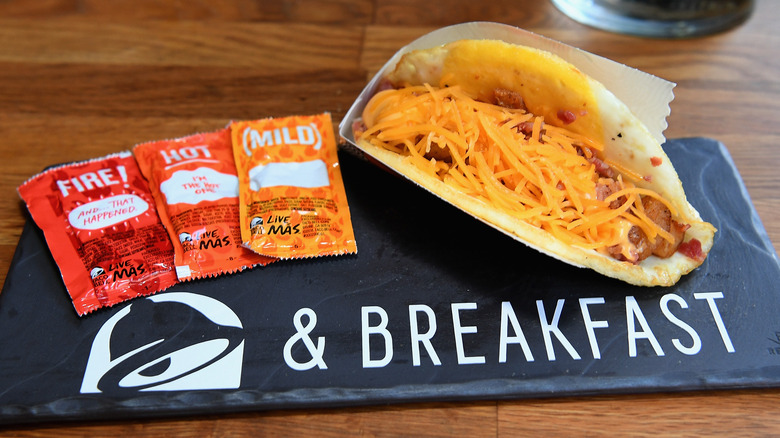 Dia Dipasupil/Getty Images
Taco Bell has shied away from typical American breakfast options like pancakes and muffins like their competitors and instead offers more savory options with a side of salsa. Unlike the OG breakfast sandwich — the Egg McMuffin from McDonald's — Taco Bell's handheld menu options are all wrapped in flour tortillas and are less traditional.
There are currently eight different breakfast burritos, four breakfast quesadillas, and four Crunchwraps on the menu ranging from meat-heavy steak and eggs to a vegetarian Cheesy Toasted Breakfast Burrito Potato, which contains scrambled eggs, fried potatoes, nacho cheese sauce, and tomatoes. Those looking for something sweet before 11 a.m. have one option: Cinnabon Delights, offered in packs of two or 12. These donut-hole-looking spheres are filled with icing and rolled in cinnamon sugar.
According to CNN, Taco Bell attributes 6% of its sales to breakfast, whereas industry leader McDonald's accredits 25% of its sales to the first meal of the day. Taco Bell's 2023 breakfast sales have seen a spike of 9% after airing a new campaign in Q4 of 2022 featuring former SNL comedian Pete Davidson. Davidson drove in customers by mocking the company's past breakfast options, like the Naked Egg Taco, and affirmed that Taco Bell wouldn't go rogue with its menu ever again.