Bring Your Own Cup Day Makes A Comeback At 7-Eleven, So Grab Your Favorite Cup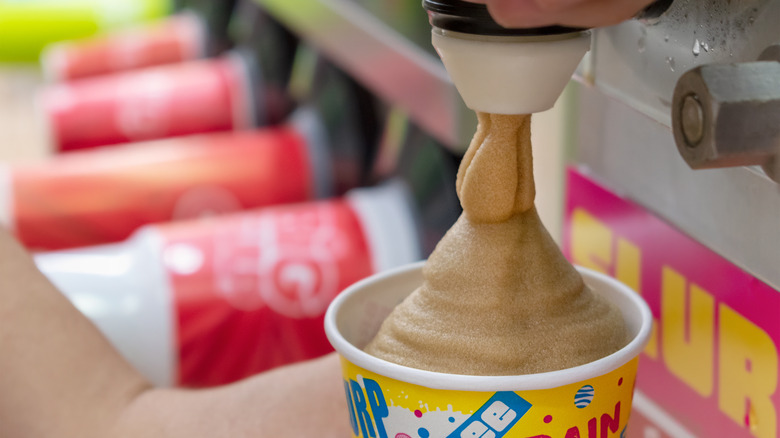 Seika Chujo/Shutterstock
We may receive a commission on purchases made from links.
7-Eleven may be a standard convenience chain offering the usual array of snacks, drinks, and prepared foods, but one way it distinguishes itself from competitors is by having a knack for self-promotion. Every once in a while it pulls something really over-the-top, like back in the aughties when it transformed several stores into The Simpsons' Kwik-E-Marts. Every year, though, there's all kinds of hoopla surrounding July 11 (7/11), aka Free Slurpee Day — even if, post-pandemic, the freebies now seem to be nothing more than in-app coupons. Another popular 7-Eleven promo is Bring Your Own Cup Day, which this year will be taking place on April 29.
What makes this promo so fun, according to 7-Eleven's own press release, is that the stores will be taking a rather elastic view of the concept of "cup." They suggest using a mason jar (surely you have one left over from a boho wedding you attended last decade), a pie pan (if you don't mind spilling half the drink), or an astronaut helmet (which might be a pain to clean). You could also sip your Slurpee from a starlet's slipper, which was what all the cool kids were up to 100 years before TikTok was a thing. As long as you want to call it a cup — and it's clean, watertight, and no more than 10 inches high — you'll be able to fill it to the brim with Slurpee stuff at 7-Eleven, Speedway, or Stripes for $1.99 (plus tax, if applicable).
So is this deal a bargain or not?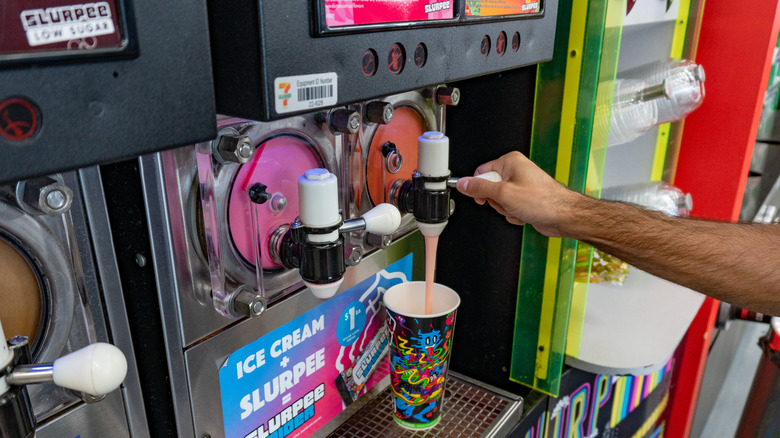 rachel ko/Shutterstock
Depending on how you feel about wacky drinkware, BYO Cup Day at 7-Eleven may be something you do just for fun. If you're just looking for a cheap drink, though, is this a can't-miss deal? Well, that depends. If your vessel is a small one, then maybe not, since 12-ounce Slurpees can be had at some locations for as little as $1.00 while 30-ounce ones are just $2.09. In fact, your Slurpees could even be free if you have the chain's Gold Pass subscription delivery service. If, on the other hand, you have something along the lines of this vintage 100-ounce Big Gulp monster mug, then yes, you've scored yourself a few free Slurpee's worth of sweet frosty liquid.
The thing is, just how much Slurpee can you suck down before it all melts into flat sugar water? And just how bad is the brain freeze going to be if you try? If you're really looking for a bargain, your best bet might be to show up with the largest vessel you can find (a portable bathtub, perhaps), but then decant that super-duper-sized Slurpee into normal-sized serving cups and share it with your 20 closest friends.