Free Slurpee Day Is Back With More Ways To Quench That Thirst
The countdown is on! Per a press release, 7-Eleven — the convenience store known for offering Big Gulps and Slurpees 24 hours a day, 7 days a week — is gearing up to celebrate its 95th birthday. 7-Eleven was first known as Southland Ice Company back in 1927, according to Companies History. That first shop initially sold milk, bread, and eggs alongside blocks of ice after an employee realized many customers found themselves in need of these products after grocery stores had closed up for the evening. This concept of the convenience store burgeoned and Southland Ice Company soon changed its name to Tote'm, and then eventually to 7-Eleven in 1946. 
Today, per the company's website, the retailer has 13,000 stores in the U.S. and Canada and is still going strong — the store is preparing to blow out those 95 candles and mark a milestone anniversary this summer. To get the party started, 7-Eleven will be kicking off the festivities on July 1 with its beloved free Slurpee Day. But this year, Slurpee Day is going to be a much bigger shindig, and interested participants may want to prepare by downloading the retailer's reward app. Here's why. 
$1 slurpees all summer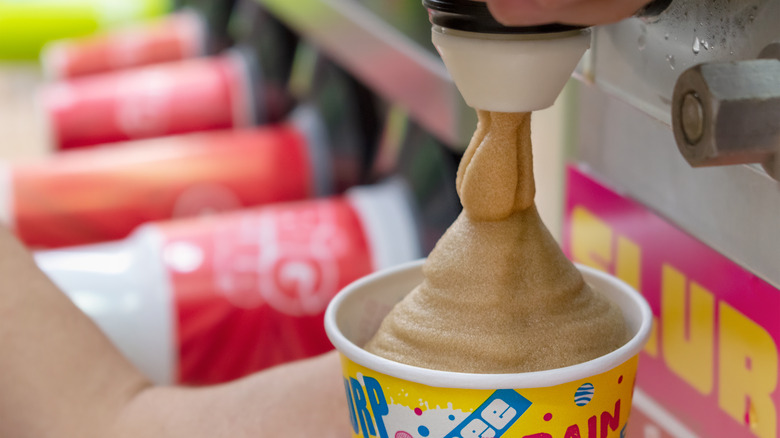 Seika Chujo/Shutterstock
According to a press release, this year's free Slurpee Day will not just happen at 7-Eleven. The company's Speedway and Stripes convenience stores will also be participating. However, to reap the rewards, you've got to go digital. Customers have to use either the 7Rewards or Speedy Rewards app to get your coupon and redeem it. The release goes on to explain that on July 1, a coupon will be loaded onto your rewards account that can be redeemed for a small Slurpee on 7-Eleven between July 1 and July 11. 
According to USA Today, Slurpee Day first launched in 2002, and has been giving us an annual sugar rush ever since. But it's the chain's 95th birthday this year, so of course, the festivities should be grander and last a little longer. This is why 7-Eleven will be offering Slurpee lovers the opportunity to experience brain freeze all summer long with $1 small Slurpees at participating locations. This means if you love the pina colada-flavored Slurpee but also have a hankering for the ever-popular Coca-Cola Slurpee, you can have one free and one for a buck. Hey, if you want, you can even try every Slurpee flavor. Either way, this ice-cold offer sure isn't a bad way to celebrate a birthday.