Discontinued Frozen Pizzas We Wish Would Make A Comeback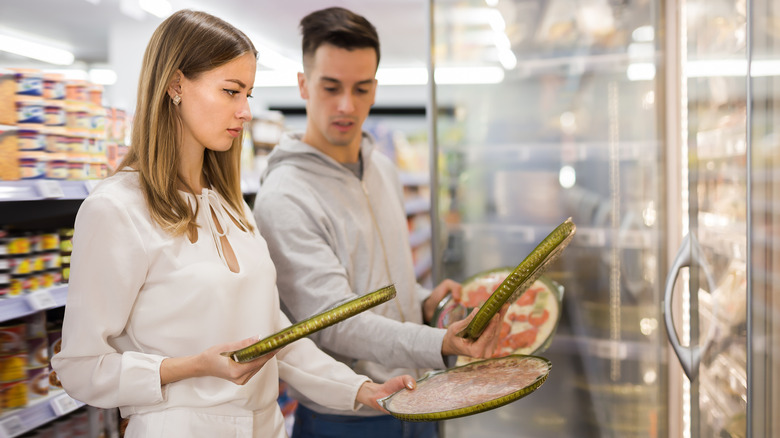 BearFotos/Shutterstock
When it comes to frozen pizzas, we all have our favorites. Yet we still sometimes end up mourning the loss of discontinued brands and flavors. Some of the pizzas we wish would make a comeback have been gone for decades, while others have been whisked away more recently. A few even have online fan clubs with thousands of people who spend time begging a company to bring their favorite product back, while other fans haven't quite presented a united voice yet.
The pizzas on our list include types that you could put in the toaster or microwave, as well as an especially popular pizza bagel snack that's now hard to find north of a certain border. However, practically none of the discontinued frozen pizzas on our list are boring. Instead, they tend to have something special about them, like a unique flavor, dietary factors, or pure convenience. Several were also popular because they were easy to customize.
If you see any pizzas on this list that you wish would make a comeback, don't forget to let your voice be heard online. After all, plenty of beloved menu items and products end up getting saved by the internet all the time. Here are some of the discontinued frozen pizzas we hope will make that sort of comeback soon.
Jeno's Crisp 'n Tasty
February 2019 was a sad month indeed for people who had been enjoying Jeno's Crisp 'N Tasty Pizzas for years. That was when Totino's (one of General Mills' frozen pizza brands) made a Twitter announcement that Jeno's Crisp 'N Tasty pizzas had been discontinued. Jeno's has some of the cheapest pizzas around and the Crisp 'N Tasty variety was especially satisfying for many. Totino's went on to say that it would pass everyone's disappointment on to the powers that be at the company, but it wasn't promising that the pizza would ever be back.
Some on Twitter said they wished it had been Totino's Crisp Crust Party Pizzas that had been discontinued, since Jeno's wasn't as greasy as the other. But, alas, the ban had fallen on Jeno's instead. The nostalgia for the pizza was strong, and they were even once a treat you could even pick up at Dollar Tree. Unfortunately, Jeno's of any variety is no longer for sale. These days, the closest you can get are Totino's Party Pizzas for just under $2.
Buitoni Instant Pizza
Buitoni Instant Pizzas probably have the biggest fan following of any discontinued pizza, though it's been a long time since they graced the shelves of your local grocery store. These mini toaster pizzas from the 1970s and 1980s look more like a fully enclosed calzone than a pizza, but the fact that they were flat and perfectly enclosed allowed you to warm them up in the toaster. Even better for energy-minded parents of the era, this meant that you didn't have to heat the whole house with the oven. Besides that level of convenience, fans also continue to crave the flavor.
The Buitoni company still exists, but it seems to have shifted its focus to other products like pasta, ravioli, tortellini, sauces, and shredded cheese. Buitoni has responded to customer feedback from the many people who still long for its instant toaster pizzas. However, nothing has come from it so far. Even multiple organized petitioning sessions that saw fans posting on the Buitoni USA Facebook page have yielded no real results.
Totino's Pizza Slices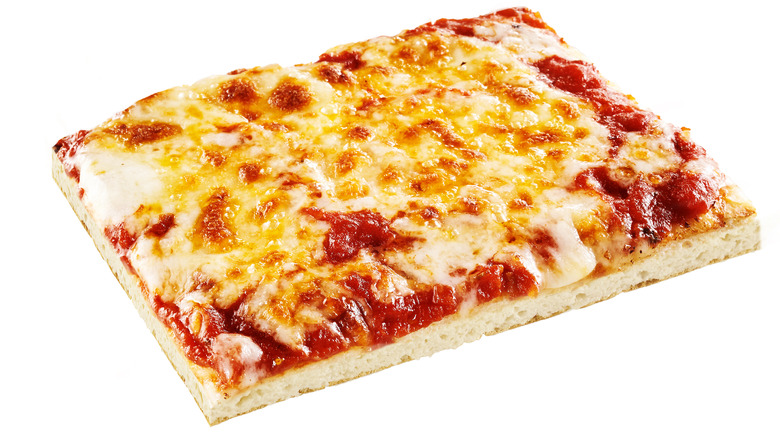 stockcreations/Shutterstock
Totino's was quite possibly the first company to make a name for itself in the frozen pizza industry. The company grew out of a successful Minneapolis pizza restaurant that was owned by Rose and Jim Totino. When they decided to get into the frozen-pizza business in the 1960s, they produced the best-selling frozen pizza in the U.S. Some of the early offerings included individual slices of pizza called Totino's Pizza Slices. They were rectangular and looked a lot like the pizza slices you used to get in your school lunch. They also came in a box of six pizza slices, so you eventually could eat all six at your leisure rather than having to eat a whole pizza all at once.
There are only two things that you can still buy from the brand today: Party Pizzas and its Pizza Rolls. With so few options today, you're out of luck if you're craving anything else they once sold. Totino's Pizza Slices were great when you just wanted a single slice of pizza without the temptation of cooking and eating a whole pizza. Sure, there are other mini pizzas available to buy today, such as Red Baron Deep Dish Singles. Unfortunately, there's nothing similar if you're craving Totino's pizza or looking for an ultra-cheap option. Totino's only single-serve option is Pizza Rolls, which don't quite fill the same craving as a pizza.
Delissio (Canada)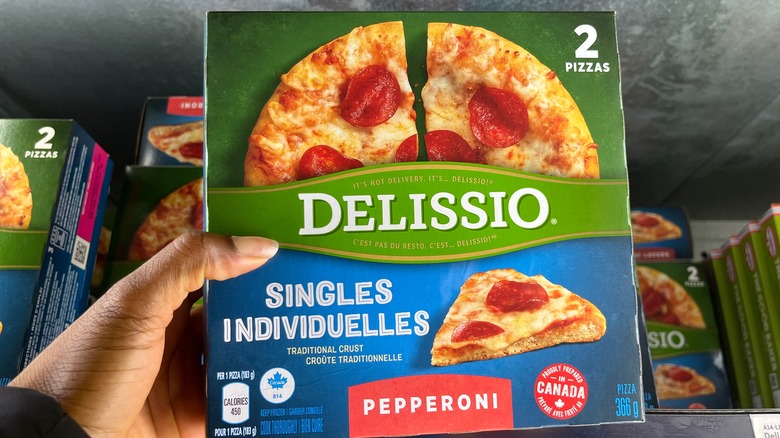 Jenari/Shutterstock
Nestlé Canada has made the decision to cut a large number of its products in Canada, especially an array of frozen foods that include Stouffer's products, Lean Cuisines, and Delissio Pizza. That's in part because Kraft Foods sold both the DiGiorno and Delissio pizza brands to Nestlé in 2010. Had they not, there's a chance you could still get Delissio in Canada.
That's because, as of now, Nestlé Canada is focusing on selling only Canadian-made goods from its brands. Unfortunately, this means that imported Delissio is out. Now that Stouffer's, Lean Cuisine, and Delissio are gone, the only frozen goods the company plans to continue selling is ice cream.
Shipping prices drove the price of products higher than locally-made ones. People just weren't buying it as often at close to $7 when it had once been closer to a $3 pizza. So, someone will be profiting from this decision. It just won't be Canadian Delissio fans.
Bagel Bites (Canada)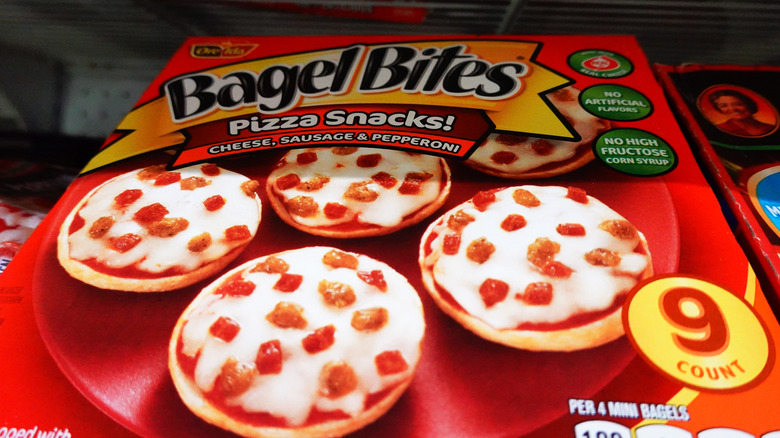 Michael M. Santiago/Getty Images
There are many benefits to living in Canada. Unfortunately, the lack of Bagel Bites pizza snacks is not one of them. Since late 2022, it's been just about impossible to find Bagel Bites pizza snacks there after they were discontinued. Fans begged the company to bring the pizza snacks back, but such efforts seem to have done nothing.
Fans of the product were shocked and demanded to know why the company did this when Bagel Bites were often sold out because of huge demand, but answers weren't forthcoming. Increasing shipping costs may have contributed to the issue, though with little information, it's hard to make conclusions. 
There is a small ray of hope: if you happen to live in one of the few Canadian cities with a Sam's Club, you can buy a bulk box of Member's Mark Mini Pizza Bagels there. They're cheaper per bagel, but some don't think they compare in flavor. And if you're a U.S. Bagel Bites fan, you don't have anything to worry about. Bagel Bites are only gone from Canadian freezer aisles as of now.
Trader Joe's Arugula Pizza
In recent years, peppery arugula has become a popular pizza topping, so it came as little surprise when Trader Joe's capitalized on the trend with its arugula pizza. The pizza was an Italian import and featured cherry tomatoes and, of course, arugula as its main topping. In addition to the standard mozzarella cheese, it also contained pecorino, manchego, and provolone.
Fans had been missing the pizza for a while but hoped it was just a temporary supply chain issue. Unfortunately, it was reportedly discontinued in January 2022. Vegetarians were especially disappointed because the only Trader Joe's pizzas available at the time were either topped with meat or vegan ones with non-dairy cheese. 
There are always new products hitting the shelves at Trader Joe's, but losing the Arugula Pizza represented a significant loss and nothing comparable seems to have taken its place. Since then, TJ's has introduced a roasted garlic and pesto pizza as well as an Italian tomato & red onion focaccia bread. While they're vegetarian or vegan and provide a simple base for adding more ingredients, they're still not quite the same.
Trader Joe's Organic Woodfired Sicilian Style Pizza
Back before Trader Joe's discontinued its arugula pizza, it axed another vegetarian favorite: the Trader Joe's Organic Woodfired Sicilian Style Pizza. The pizza had a rustic look with an imperfect crust and seemingly random placement of its topping. The star toppings were roasted red peppers, as well as dollops of provolone and pearl mozzarella. This pizza also came with a packet of olive oil and red pepper flakes that you could sprinkle over the top after you'd cooked it. This little extra step made it feel more like you were eating a pizza in Sicily rather than merely consuming one at your kitchen table.
Before it left TJ's frozen food aisles, customers had difficulty finding this popular pizza. So, it's not surprising that fans were upset to learn that it was discontinued in April 2020. While many discontinued products make a reappearance eventually, this frozen pizza hasn't managed to make a comeback yet.
Trader Joe's Monteli pizza crusts
If you want to make your pizza from scratch, then buying a pre-made pizza crust can save you time. It may also alleviate the uncertainty of making pizza dough from scratch ad hoping that it rises. Trader Joe's has offered several such pizza dough options over the years, including ready-made pizza dough in the refrigerated section of the store, as well as a few frozen pizza crusts. One such crust was Trader Joe's Monteli pizza crust. Since it was already baked, it often proved easier to use than the dough-only version in the refrigerated section.
Unfortunately, Trader Joe's Monteli pizza crusts were discontinued in 2022. Fans weren't happy, as they'd grown to depend on them. At least there are a few alternatives left in the store, but many are currently gluten-free pizza crusts and non-frozen cauliflower crusts. 
If you're looking for a full-gluten crust at Trader Joe's that you can use as a base for homemade pizzas, all that seems to be available as of 2023 is tandoori naan in the frozen food section. No, it's definitely not the same, and we wish we still had access to the Monteli pizza crusts. The Italian manufacturer reportedly doesn't ship them anywhere else in the U.S. right now, so you're out of luck if you're trying to find them elsewhere — unless TJ's gets them back again.
Tombstone microwave pizza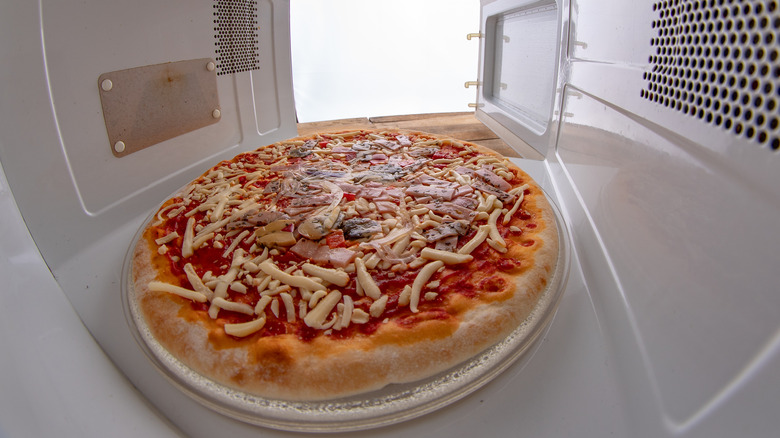 Piotr Wytrazek/Getty Images
The great thing about microwaves is that they allow you to cook foods in record time. After all, on some nights it's difficult to wait 20 minutes or longer for the oven to heat up and then cook a full-sized pizza. And who wants that when the microwave can do it in a fraction of the time? To that end, Tombstone Pizza sold a fairly large microwavable pizza in the 1990s. With crisping tray technology to alleviate some of the sogginess issues, you'd think we'd still have something comparable out there. Yet, that's still not the case. While it seems like a sad waste of technology to us, none of the major companies have taken advantage of microwave pizzas beyond snack-sized pizza products like Bagel Bites.
As of now, Tombstone has more than 10 flavors of pizza, but none of them are microwavable. Sure, you could attempt to microwave any of them, but the results are a rather soggy pizza without a crisp crust (unless you just happen to have a crisping tray lying around somewhere).
There's currently a Change.org petition begging Nestlé to bring back Tombstone microwave pizzas. Fans are hopeful they can eventually get Tombstone to bring back this wonder of the 1990s, but you may not want to hold your breath in the meantime.
Tofutti Pizza Pizzazz
When it comes to vegan pizzas, we must admit that these products can be hit or miss. After all, not every vegan cheese is on the same level as dairy cheese. So, when a vegan or dairy-intolerant person can find a good pizza, they tend to stick with it. Tofutti Pizza Pizzazz was just such a product, at least according to its fans. It was rectangular, bringing to mind pizza slices that fit perfectly in a school cafeteria tray. The cheese alternative was fairly unmelty and may not have tasted like the real thing, but it wasn't all that different than cheap dairy cheese pizzas that had similar melting issues. One of the main draws of this pizza was that it was satisfying. Between the crisp crust and the fatty cheese-type product, it didn't leave you feeling like you were missing an important part of your meal.
Back in the day, you could purchase small packs of this pizza for a relatively affordable price. You could even find it at the regular grocery store rather than at expensive specialty stores like Whole Foods. But, alas, the Tofutti brand now only sells non-dairy cheeses, sour cream, dips, ice cream, and ice cream treats. There's currently a petition on Change.org imploring the Tofutti company to bring back its pizza. While it doesn't have enough signatures to get much attention yet, perhaps it will in the future.
DiGiorno Garlic Bread Pizza
Currently, the DiGiorno brand produces close to 60 types of pizza, so it stands that a product from the lineup has to be extra-special to be missed. Enter the DiGiorno garlic bread pizza. Its claim to fame was its namesake garlic-butter crust, which had that little extra something that brought it up from the level of an ordinary pizza. Yet DiGiorno announced on Twitter that the pizza was officially discontinued in March 2021. Unlike some products that phase in and out of production, DiGiorno said it didn't plan to return its Garlic Bread Pizzas to its product line.
If you buy a DiGiorno pizza today, you can easily find one with a thin crust, crispy pan crust, stuffed crust, croissant crust, hand-tossed crust, rising crust, and even a gluten-free crust. Other than the gluten-free crust, all of the current varieties seem to focus on texture rather than flavor. If you want more from your pizza crust than just a somewhat unique texture, you're out of luck when it comes to the DiGiorno brand.
Fans looking for a frozen pizza with a garlic bread crust may be able to find Tombstone garlic bread pepperoni pizza in their local grocery store, but many argue that the competition simply doesn't have the same taste as DiGiorno. A small number of fans have signed a Change.org petition to get it back. But for now, the DiGiorno Garlic Bread Pizza is gone with no indication that it will return.
DiGiorno Spicy Chicken Supreme
There usually aren't a whole lot of frozen chicken pizzas out there. So, when you finally find a good frozen chicken pizza, it's distressing to see it disappear, like DiGiorno's Spicy Chicken Supreme. It came with traditional red pizza sauce, while the spicy chicken on the pizza was in perfect balance with red and green bell peppers and onions.
During the time that DiGiorno made this pizza, it was apparently pretty popular, as many hopeful shoppers found it was difficult to find. Some even took to ordering it online when they no longer could find it locally. Eventually, it disappeared from DiGiorno's lineup altogether, and DiGiorno confirmed its discontinuation via Twitter in May 2021. 
Fans who are missing this pizza have gone to Change.org to try to convince the company to bring it back, but the petition hasn't done much and the pizza remains gone. DiGiorno still has three chicken pizzas, but few fans of the Spicy Chicken Supreme will find satisfaction here, as none of the three contain spicy chicken and none use red pizza sauce.