The Untold Truth Of Bagel Bites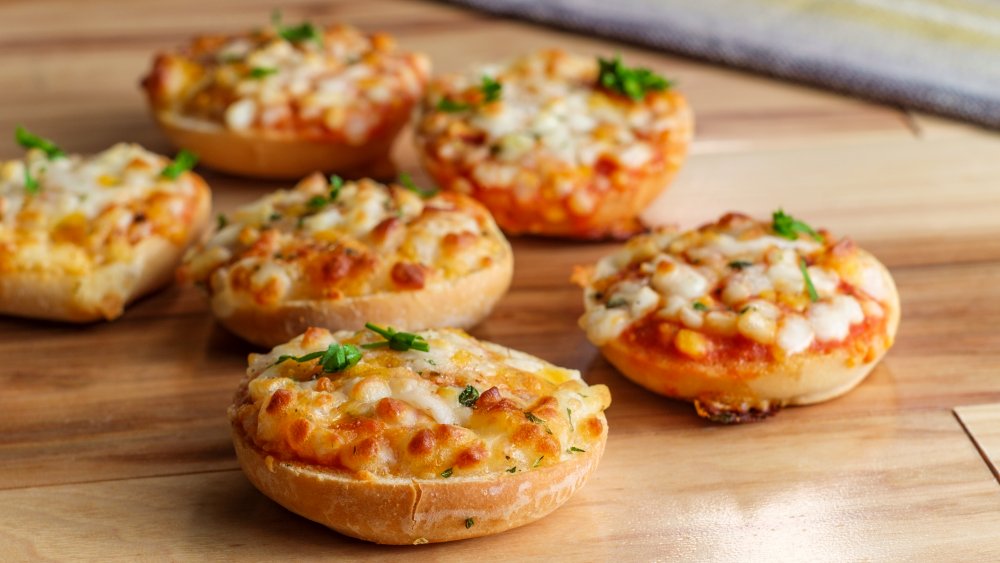 Shutterstock
You practically can't go wrong with pizza — unless, of course, you're allergic to joy. The deceptively simple combination of cheese and sauce on dough is so scrumptious and versatile, that you can practically pizza-fy any food without fear of regret. There are pizza pretzels, pizza rolls, and pizza casseroles. You can even find recipes for pizza donuts. But the most iconic combination of all might just be the pizza bagel.
The pizza bagel has been the yummy in countless tummies for decades, but its origins are a matter of somewhat bitter debate. Back in 2015, Eater described the backstory as "pretty gangster." Two men, Katz Bagel Bakery owner Richard Katz of Massachusetts, and financial advisor Bruce Treitman of California, have traded barbs as they clash over bragging rights. Katz credited his father with inventing the legendary snack in the 1970s, while Treitman insisted that he invented it accidentally while tinkering with recipes in the back of a bagel shop. 
Regardless of which man invented the pizza bagel, it took two men to elevate the food to previously unseen heights. Those men are none other than the dynamic duo of Bob Mosher and Stanley Garczynski: the creators of Bagel Bites. 
An idea borrowed from Lender's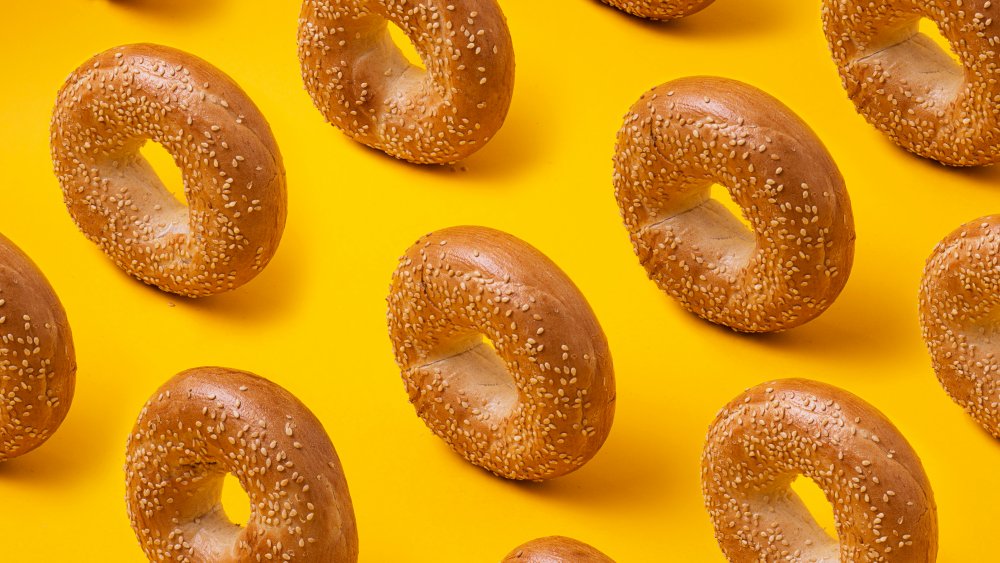 Shutterstock
Mosher and Garczynski's story begins in the 1980s in Southwest Florida, according to Fort Myers Florida Weekly. Mosher ran a catering company with his sister, and Garczynski was a former high school teacher who escaped the frigid winters in New Hampshire to pursue a sales career in sunny Florida. After forging a relationship as recreational tennis partners, they embarked on their Bagel Bites business together in 1985. 
They weren't trying to reinvent the wheel. They weren't even trying to reinvent the Hotwheel by making a toy-sized version of the pizza bagel. Mosher and his sister had already served "three-bite pizza" bagels at events. Rather, the big idea for their small pizza bagels came from a recipe on the back of a bag of Lender's bagels. For some reason, no existing company had seized on the opportunity to sell bagels as miniature pizzas — not even Lender's, who provided the lucrative muse for this project. But the time was ripe, thanks in part to the soaring popularity of bite-sized foods in the '80s.
When pizza's on a bagel, profits come easy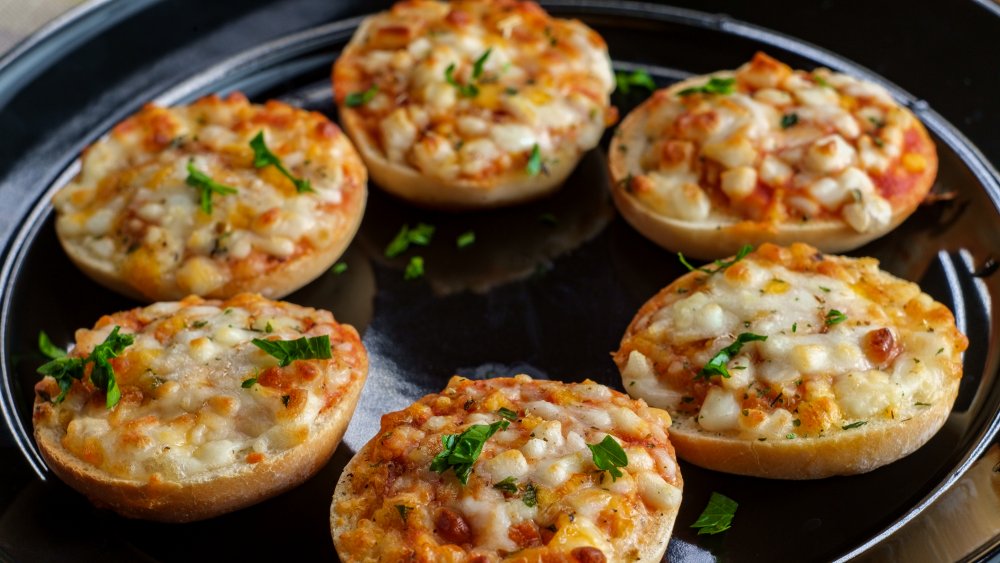 Shutterstock
Garczynski and Mosher put all their eggs in one bite-sized basket, pumping $20,000 and all of their time — which is also money — into Bagel Bites. Without the benefit of hindsight, their financial risk might seem overly optimistic. Mosher put it less diplomatically: "We were young and dumb." But he also emphasized that success requires a leap of faith: "You really need to believe in yourself and your product and give 110 percent; otherwise, it's not going to work."
They certainly put the leg work in, visiting restaurants to pitch their product. In yet another assist from Lender's, the men ordered custom-made mini bagels, which they in turn used as the base for tiny pizzas. Consumers ate it up, and within a year, Garczynski and Mosher sold about $1 million worth of Bagel Bites. The following year, exploding demand put them on track to make six times as much.
A ketchup company plays catchup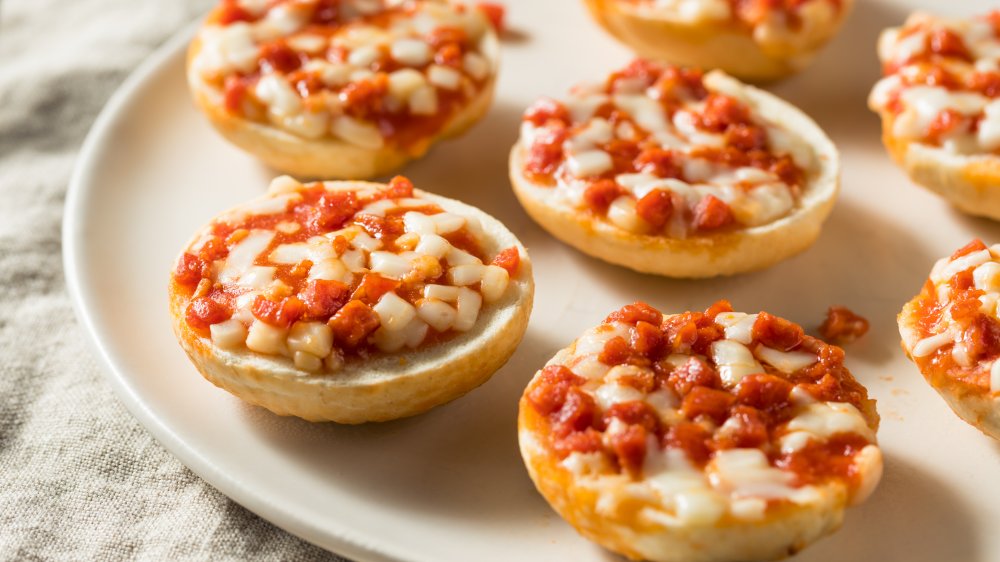 Shutterstock
With Bagel Bites clearly on a roll, heavy hitters in the food biz wanted a taste of the sweet, sweet profits. Heinz, Kraft, and Sarah Lee came knocking. They didn't just want a slice of the bites business: they wanted the whole pie. But those companies would go hungry because in 1987, the Bagel Bites founders sealed the deal with Canadian beer and food conglomerate John Labatt Co. Heinz ultimately won the day, however, purchasing Bagel Bites and a huge chunk of Labatt for a half-billion dollars in 1991.
Despite leaving Bagel Bites behind, Mosher and Garczynski didn't lose their appetite for working together. They launched Sox Development. According to Garczynski, "Over the last six to seven years we've built more than 60 commercial strip centers in the Fort Myers area." Apparently, the secret ingredient to their success had nothing to do with food: it was each other.