Secrets Of A Restaurant Chef: 12 Facts About Anne Burrell's Food Network Show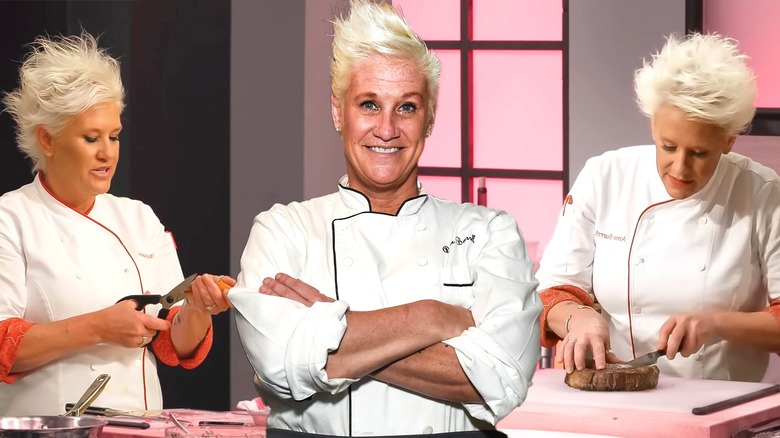 Static Media / Getty
We may receive a commission on purchases made from links.
Anne Burrell. She's Guy Fieri's sister from another mister, a lover of all things food, and a celebrity chef who is an open book -– or shall we say, an open plate –- when it comes to revealing her best restaurant chef's secrets. In an age where restaurants consider their recipes trade secrets and stealing them equals corporate espionage, chefs like Burrell give the self-described worst home cooks in America something to believe in and aspire to.
This is hardly surprising. Since the time of the gourmand, Apicus, in ancient Rome, being a celebrity chef – or just a really famous foodie, in Apicus's case – meant parlaying foodie fame into aspirational dinners with the glittering rich in exchange for some serious clout in the culinary world and in society in general. It has been no different for Anne Burrell. Hosting the show "Secrets of a Restaurant Chef" turned Anne Burrell into a celebrity chef and gave her the requisite street cred required to sit at the Big Chef's table at the Food Network.
1. Working with Mario Batali provided the springboard for her show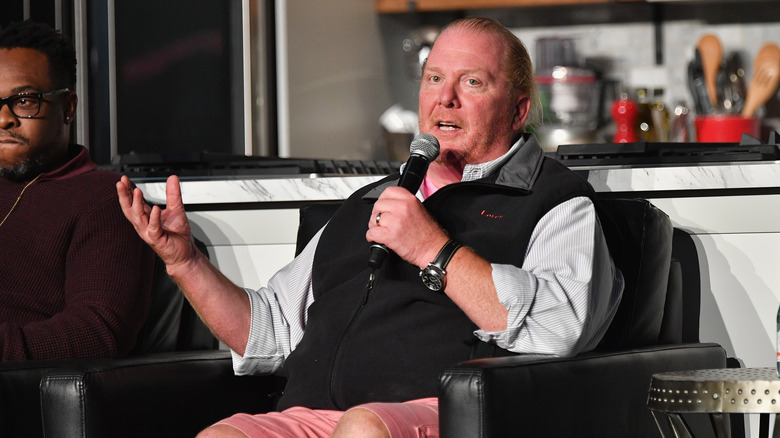 Dia Dipasupil/Getty Images
Like any truly good foodie tale, it was the stir of the archetypal magic spoon that got Anne Burrell noticed. In 2007, Burrell began a stint as sous chef to Mario Batali on the "Iron Chef." While she was mostly the TV chef equivalent of "Star Trek: TNG's" Number One to Captain Picard on the "Iron Chef," it was enough to garner notice from the powers that be on The Food Network. This led to her being given her own show "The Secrets of a Restaurant Chef" following her time on the culinary battles show with Batali.
During the nine seasons of "Secrets of a Restaurant Chef," which ran from 2008 to 2012, home cooks tuned into the Food Network to dish alongside Burrell as she whipped up recipes, like seared bass, steamed mussels, and of course, her many signature pasta dishes, like pasta bolognese. Toward the end of the show's run in 2011, the show earned one Emmy nomination for Outstanding Culinary Program while Burrell herself got a nod for Outstanding Lifestyle/Culinary Host.
2. She published How to Cook Like a Rock Star during her show's run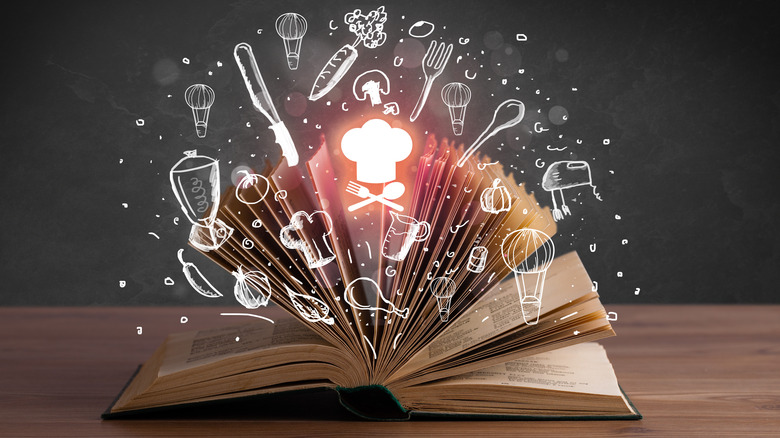 ra2 studio/Shutterstock
A celebrity chef's 15 minutes of fame often gets parlayed into guest appearances on TV shows and celebrity cruises, licensing deals for cookware, and naturally, cookbooks. As perhaps a return of the favor for all her hard work on "Iron Chef," co-star, mentor, and long-time friend, Mario Batali, wrote the foreword for her first cookbook "Cook Like a Rockstar." In the foreword, Batali gave a nod to Burrell's influence as a TV show chef, saying that the recipes and instructions in the book were "presented in her voice, one that you can hear on your mind's TV." 
From the book's appetizers, or piccolini (meaning "teeny, tiny" in Italian), section until its finale, the desserts and the good humor that Burrell is known for bubbles over the edge of the pages, like soft brie in the oven. The book gives all readers, from beginner to pro, and as Burrell herself put it, the "benefit" of her "blood, sweat, and tears" and also her "triumphs" in the kitchen to help them make cooking not only delicious but entertaining, too.
3. She made the 'dump and stir' format interesting on the show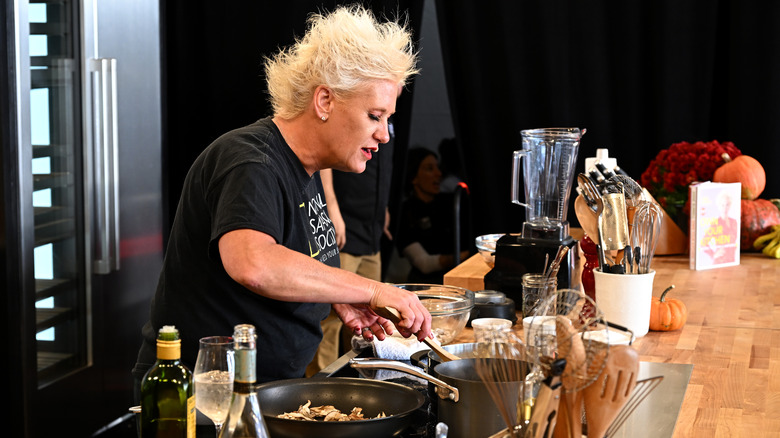 Dave Kotinsky/Getty Images
And speaking of entertaining, it was Burrell's ability to make a rather common cooking show format fun for the average foodie viewer to watch that turned "Secrets of a Restaurant Chef" into starring spots on other shows, like "Worst Cooks in America." In a Build Series interview, Burrell had this to say about the challenges of doing that type of single-host monologue show and what she did to keep viewers enthralled each week.
"That was what we sort of call a 'dump and stir', straight to camera cooking, to try to make it entertaining, and it's 30 minutes of just you," she said. Throughout the show's four-year run, it was no big thang for her to hack into a robust capon carcass, explaining why those neutered roosters got fat after getting snipped, or to create chopping and boiling ASMR sequences that lulled the viewer into epicure nirvana.
When all else failed in the entertainment department, Burrell wasn't above talking to her food on "Secrets of a Restaurant Chef." Conversations with her "little cuties" in the oven often prompted comments from viewers, like "Oh, I love it when you talk to your food" to which she would reply, "Well, it's only a problem when it talks back."
4. The show drew heavily on her Italian cooking background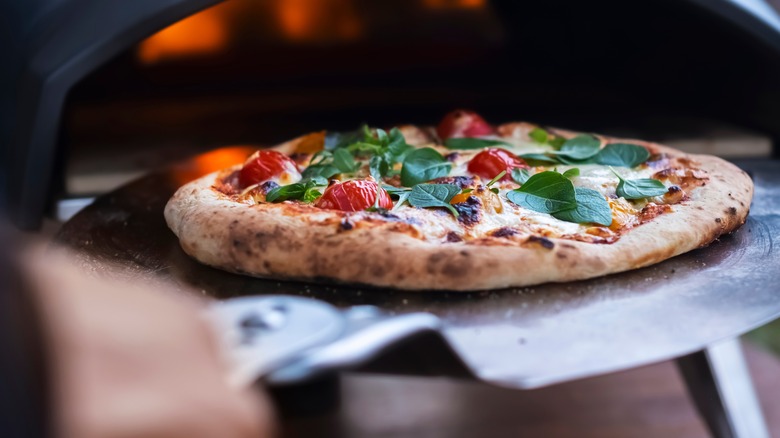 Mr. and mrs. Black/Shutterstock
If you thumb through "How to Cook Like a Rockstar" or take a deep dive into her "Secrets of a Restaurant Chef" episodes, a common theme emerges: Italian cooking. From her beloved piccolinis — like polpettini ("yummy little meatballs") — to hearty, stick-to-the-ribs dishes, like pasta e fagioli, spaghetti and meatballs, chicken Milano, or fontina cake made with prosciutto and potato, her cookbook has as much of a lean toward all things Italian as the Leaning Tower of Pisa does.
It's probably fair to say that her passion for Italian cooking began to flow through Anne Burrell's veins like extra virgin olive oil once she began attending the Italian Culinary Institute for Foreigners. While she was studying in Italy, Burrell had the opportunity to gain some work experience to augment her culinary studies at a Michelin-star eatery in the Tuscany region called La Bottega del' 30. La Taverna del Lupo gave her an additional opportunity to work in another Italian city, Umbria. While some decidedly non-Italian dishes, like chicken soup, did end up as the recipe du jour on "Secrets of a Restaurant Chef," many of her show's recipes are filled with abundant Italian herbs and flare, largely because of Burrell's experiences in Italy. It's no wonder then, that when naming the dishes that she's truly mastered, bucatini all'amatriciana qualified as one of the dishes that she cites as a go-to in the kitchen.
5. She honed her skills by trial and a lot of error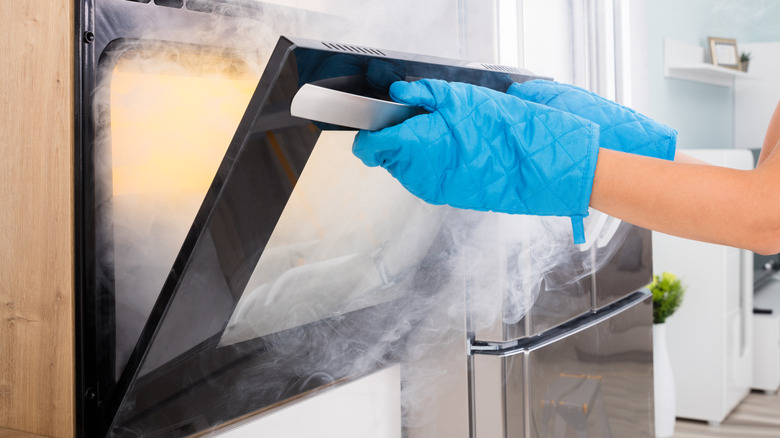 Andreypopov/Getty Images
While her Food Network pal, Alton Brown, probably wins the cooking equivalent of the Nobel Prize for his experiments in food-as-science, Burrell admits that she learned more from her own food experiments and failures than she did from her successes. It's a lesson she encouraged her culinary students to take to heart when she was teaching at the Institute of Culinary Education.
"You actually learn more from your mistakes. You learn what you did wrong. How to avoid it or how to fix it," she said in her BUILD Series interview. While she might come from a family of good cooks, she also admitted in "Cook Like a Rockstar" that culinary school and years and years of practice in the kitchen made her the chef she is today. The skills she developed from those years of trial and error were also the skills that made Mario Batali choose her to be his sous chef on "Iron Chef," and without the sous chef experience, there would have been no "Secrets of a Restaurant Chef."
In spite of where all of this has led her, she also admitted in the BUILD Series interview that she wouldn't have wanted to hear about trial-and-error cooking when she was making her way through cooking school. Everyone wants to take the shortcut, it seems, even famous chefs.
6. Secrets of a Restaurant Chef led to guest appearances on other shows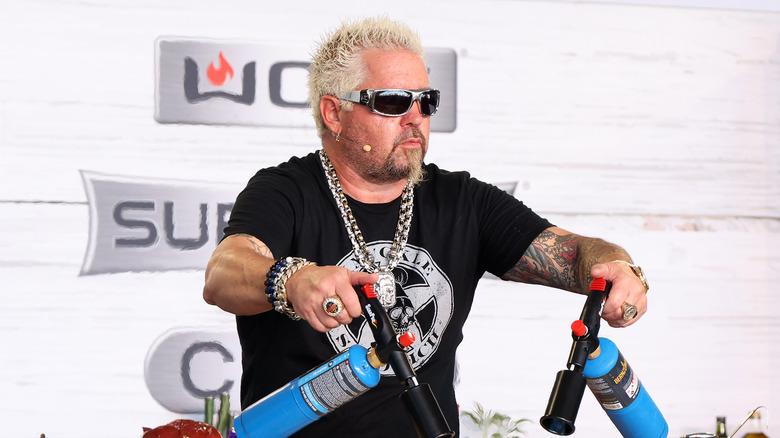 Alexander Tamargo/Getty Images
There is more to the Food Network than the food part. There is also the network part. Case in point: An invite to play sous chef to Mario Batali on "Iron Chef" led to Anne Burrell hosting her own show "Secrets of a Restaurant Chef," and that led to invites to appear on other shows. One of the most notable came from Anne Burrell's hair soulmate, Guy Fieri, who invited her to come on his show "Guy's Big Bite" so that the two of them could conjure up some culinary magic together. When Fieri and Burrell got together in the "Blondes Have More Fun" episode of Fieri's show, all the slapstick madness you'd expect from the Food Network's most flamboyantly blonde celebrity chefs ensued.
But it isn't just on the Food Network set that the blonde banter (and good-natured competition) between these two exists. In an interview for Pebble Beach Food & Wine 2012, Sara O'Donnell asked Anne Burrell who has better hair, her or Guy Fieri? Without missing a beat, Anne Burrell said, "Absolutely me!"
7. She also parlayed her show experience into a celebrity cruise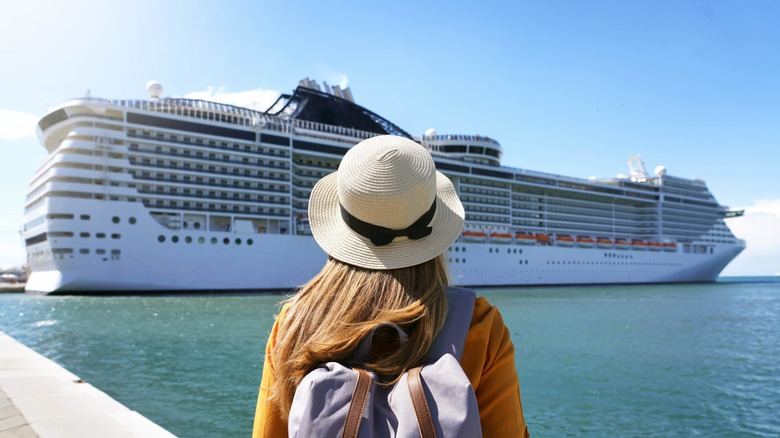 Zigres/Shutterstock
By now, it should be pretty clear that having your own TV cooking show opens the, shall we say, oven door of opportunity. If appearing on another celebrity chef's show is the opportunity equivalent of opening the Easy Bake Oven door, then being invited to star on a celebrity cruise might be equivalent to opening a big, fat Italian brick oven pizza door and enjoying all the pies inside in the process. Anne Burrell certainly got her own slice of that giant brick oven pie when she parlayed her "Secrets of a Restaurant Chef" fame into a celebrity cruise invite three years into her stint as show host of her show.
The cerulean waters of the Mediterranean provided the backdrop for the 2011 11-day cruise on the Celebrity Silhouette cruise ship. It's not difficult to imagine that cruise guests sipped on some frou-frou drinks with little umbrellas while they sat in on personal cooking classes with the famous restaurant chef, consuming all the cooking secrets their foodie brains and tummies could digest.
8. Seasoning is the secret magic in her cooking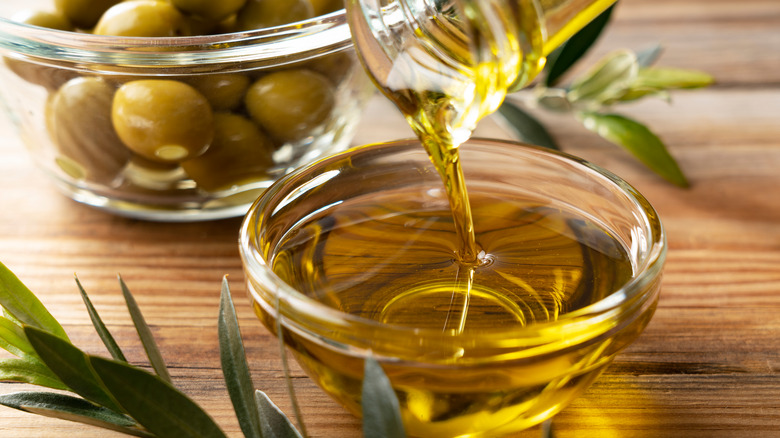 masa44/Shutterstock
So, we've already discovered that Anne Burrell's cooking prowess doesn't come from the stir of a magic spoon, or any magic at all for that matter. As it turns out, the secret to her amazing cooking comes from something that all cooks have at their disposal: the salt shaker. Granted, saying that she salts her food doesn't cover it completely. It's more nuanced than that, though not far off the mark. As Burrell said in an interview with Reuters right after her show aired in 2008, "I think people will be surprised with the level of seasonings I use. I'm committed to seasoning my food well and that's what happens in a restaurant."
That's also not to say that she doesn't have some favorite seasonings, spices, and flavorings. She does. Anne Burrell calls salt, olive oil, and bacon her "Holy Trinity." As an ardent believer in "bacon always makes it better," she would never shy away from adding a bit of pork belly to her dishes. However, she also understands creating magic in the kitchen requires balance. She admitted in the interview with Potluck Video's Ali Rosen that there ain't no recovering from food that's "dreadfully overseasoned."
9. Why her meatballs are stupendous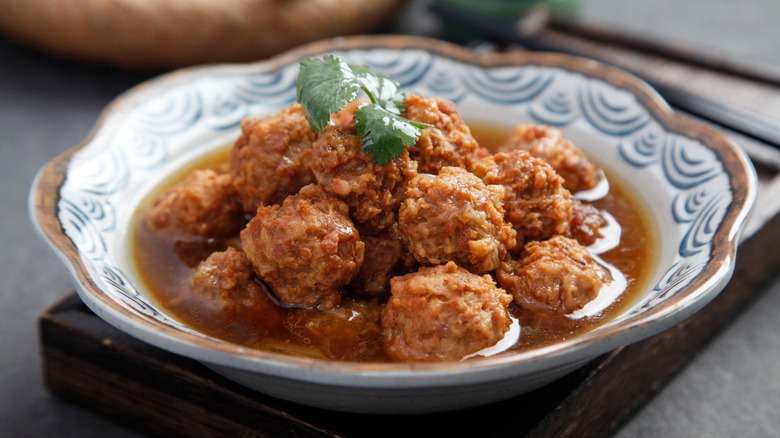 xiaoxiao9119/Shutterstock
When Anne Burrell spoke to Ali Rosen on Potluck Video about the secret to the meatballs would make on her show and in her cookbooks, she admitted that her meatball recipe is an ordinary meatball recipe. Or as she says, "There's not anything that's super out of the box."
So, if the meatball fairies don't infuse her most excellent meatballs with kisses of addictive deliciousness, then what gives? For the answer to this, let's refer back to the don't-over-season-your-food rule. Before Anne Burrell tosses her meatballs into the sauce, she slaps together a test patty from the meatball mix, cooks it, and then, tastes it to ensure that it's seasoned just right. Then and only then, does the meatball get sauced up.
But surely, a famous restaurant chef must put at least one or two unusual ingredients in a famous meatball recipe, especially one she planned to cook on TV. Okay. You got us. Here they are. Ground Boston butt, chopped steak, ground Bob (a type of veal), and some high-quality H20. In plain speak, those Excellent Meatballs featured on her show were a mix of ground pork, beef, and veal. And adding a little water to them makes them "moist and succulent." As it turns out, just knowing what to do with the ingredients and in the proper order is the difference between cooking like a restaurant chef and a mere mortal.
10. Her favorite comfort foods ended up as stars of the show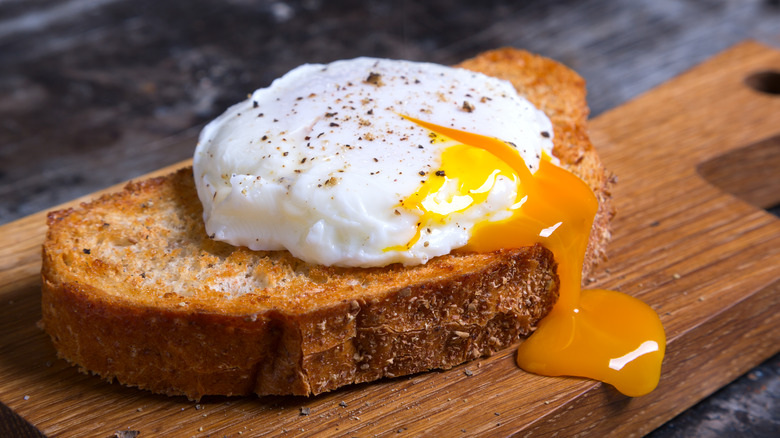 Tatiana_didenko/Getty Images
Back before 21st-century food inflation hit the average neighborhood grocery store and eggs didn't need to be locked up in Fort Knox to prevent people from commandeering them, common eggs were, well, common. They weren't the stuff that Monday night dinner at a famous chef's house was made of, except if that chef were Anne Burrell. A simple meal of poached eggs and toast with a bit of her beloved olive oil satisfies her hunger when it's time to make dinner at home.
However, poached chicken seeds aren't just the stuff that Anne Burrell's home dinners are made of. The line between her home life and her work life gets blurred. Poached eggs with grilled asparagus has been the dish of the day on her show. The TV chef also included a poached egg Parmigiano in "Cook Like a Rockstar." It might be accurate to say, ingredients like eggs are kind of a simple metaphor for how she approaches cooking in general. In her book, she says, "I'm simplifying everything here because I want you to cook!"
11. She touted her show as the only one hosted by a working chef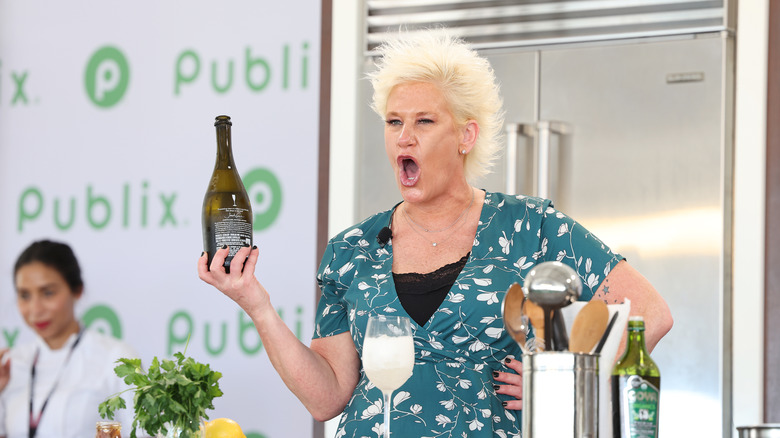 Alexander Tamargo/Getty Images
Nowadays, you can turn on your TV and flip through about a hundred channels and a hundred different cooking shows in the process. That's a lot of choices. But Anne Burrell made the choice easy for fans of "Secrets of a Restaurant Chef." When asked in a 2008 Reuters interview what sets her show apart from other cooking shows on TV, she said, "What makes me different is because I work in a restaurant every day. I'm giving people a sneak peek into my world."
It's worth mentioning that while Anne Burrell played sous chef to Mario Batali on "Iron Chef" she still held down her day job at Centro Vinoteca in New York City as its Executive Chef, a post she began in 2007. When her show began on June 29, 2008, she still held that post and didn't leave it until September of that year.
Truly, the show gave food fans a peek into her world that took away the pretense and the fear around cooking that many novice, and even some experienced, cooks have. Throughout the course of her show and in her book "Cook Like a Rockstar," Anne Burrell consistently reminded her followers that good cooks aren't made by genetics but kinetics –- that is, by spending plenty of time chopping up vegetables and standing in front of steaming pots until all those movements in the kitchen become part of muscle memory.
12. Her show led to another successful Food Network series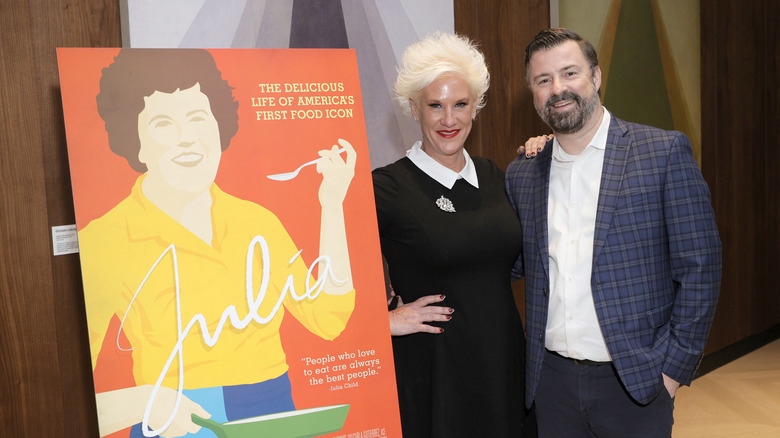 Michael Loccisano/Getty Images
For a woman who counted Julia Child as one of her imaginary friends as a little girl, life after "Secrets of a Restaurant Chef" still tastes yummy. In fact, her time on the show wasn't even over before she began working on another cooking show, "Worst Cooks in America." The title of the show pretty much sums it up. Take the worst cooks in America that you can find, pit them against each other for $25 grand in prize money, and see who comes out on top. Its various iterations have run for 25 seasons and featured guest hosts, like Tyler Florence, Rachel Ray, and Darnell Ferguson. It kicked off in 2010 and has continued on through 2023.
On a more personal note, after a relationship with Koren Grieveson, also a chef, ended, Burrell found that love buzzed around her once again when she met her now-husband Stuart Claxton on the Bumble app in 2018. After dating for several years, the two wed in late 2021, and now share a loft in Brooklyn that the celeb chef affectionately calls her "urban farmhouse." A tour of the home revealed that she lives pretty much as she always has -– with something bubbling on the stove and with plenty of friends around her to share it.