Kylie Jenner's Favorite Fast Food Restaurant Is The Obvious Choice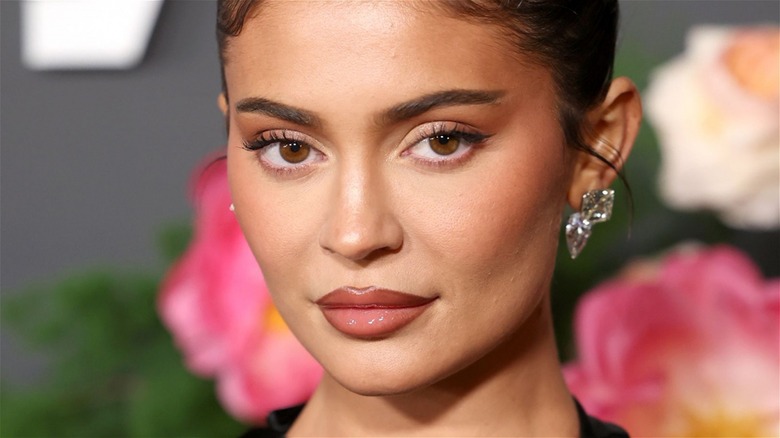 Phillip Faraone/Getty
When she's not busy building a beauty empire or being one of the most famous billionaires on earth, Kylie Jenner is a pretty normal girl. Behind the fame and fortune, Jenner is a mom, Pilates aficionado, and ski slope enthusiast who actually enjoys occasional time away from the media.
When it comes to food, however, Jenner and the rest of the Kardashian clan enjoy high-end dining. The sisters can be spotted at swanky restaurants like Nobu Malibu or Beauty & Essex. When you have a billion dollars, you might as well eat rich. When she's not eating out, Jenner told Harper's BAZAAR that she's committed to a healthy diet featuring morning fruits, mid-day salads, and sushi for dinner.
But it's not always Michelin stars and strict diet habits for the superstar. As it turns out, Jenner does enjoy the occasional cheat day with some fast food. And, like any good fast-food fan, her favorite of them all is McDonald's. See? She's just like us (kind of).
Kylie Jenner likes McDonald's classics
According to Insider, Kylie Jenner doesn't opt for Big Macs or seasonal items like the ever-elusive McRib. She does, however, have a penchant for another McDonald's classic — chicken McNuggets.
Jenner's go-to order is refreshingly relatable — 10 chicken nuggets; a side of fries; and, instead of a fountain soda, she orders a McFlurry to wash it down. Apparently, she ordered this exact meal just before the birth of her daughter Stormi. Per a 2015 Instagram post, it appears Jenner doesn't mind a McDonald's breakfast moment, either. The star shared an image of herself eating one of the chain's famous breakfast hashbrowns with the caption "mornin'."
On a different occasion, Jenner and her sister Kendall rated their McDonald's meal in a string of Instagram stories after a night of drinking. Although it's not blueberries and probiotics, Jenner rated McDonald's cinnamon rolls a solid 9/10 — high praise from a high-end celebrity.
Next time you're strapped for cash and begrudgingly stopping by the McDonald's drive-thru, just remember: You're eating like a billionaire!