How Much It Really Costs To Dine At Nobu, According To TikTok
One of the best Japanese restaurants, Nobu is a very famous and popular high-end eatery that has locations in various cities throughout the world, including Miami, Las Vegas, New York City, Budapest, Hong Kong, Mexico City, and countless other cities. Created by chef Nobu Matsuhisa and actor Robert De Niro in 1994, Nobu is especially popular with celebrities such as Rihanna, Kanye West, George Clooney, the Kardashians and Jenners, and the Biebers. Interestingly, De Niro was the one that encouraged Matsuhisa to open Nobu in New York City, and the duo hasn't looked back since.
For those of us that don't have the luxury of dining at Nobu, it can be hard to fathom just how much a meal would cost at the elusive restaurant. Thankfully, we have social media to aid in our discovery, and TikTok user @humphreytalks shared just how much it really costs for two people to eat lunch at Nobu in Palo Alto, California — the total bill may or may not surprise you.
Lunch at Nobu can set you back a few hundred dollars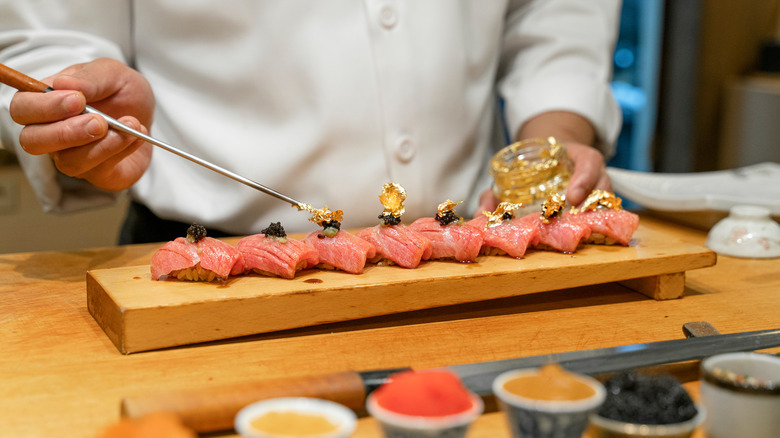 Sugrit Jiranarak/Shutterstock
On his visit to Palo Alto's Nobu restaurant, @humphreytalks, whose real name is Humphrey Yang, says that it was fairly easy to get a table for lunch and showed the inside of the restaurant, which has a sushi bar with seating and tables throughout the dining area. For appetizers, he ordered a yellowtail jalapeño sashimi for $32, a seafood ceviche for $28, shishito peppers for $12, and crispy okra with a garlic ponzu dipping sauce for $14. Moving onto the main dishes, Yang first ordered a king crab tempura entree, which was the most expensive menu item ordered during the meal and set him back $68.
He also ordered the black miso cod for $43, tamago for $12, and the sizzling prime filet for $50. Overall, the total bill came out to a whopping $324.10. Showing the receipt in his TikTok video, Yang also ordered two tuna tacos for $9 each and two drinks for $10 each, which weren't actually shown in his post. A majority of the commenters agreed that it was way too much to pay for lunch, but one person thought it wasn't too crazy considering that Nobu is a known celebrity hot spot. They wrote "Not that bad for a super famous celebrity place[.] I expected more. And everything looks so good." Whether you reserve a trip to Nobu for a special occasion or not, you'll be sure to get some luxurious menu offerings.