Mango Chicken Curry Recipe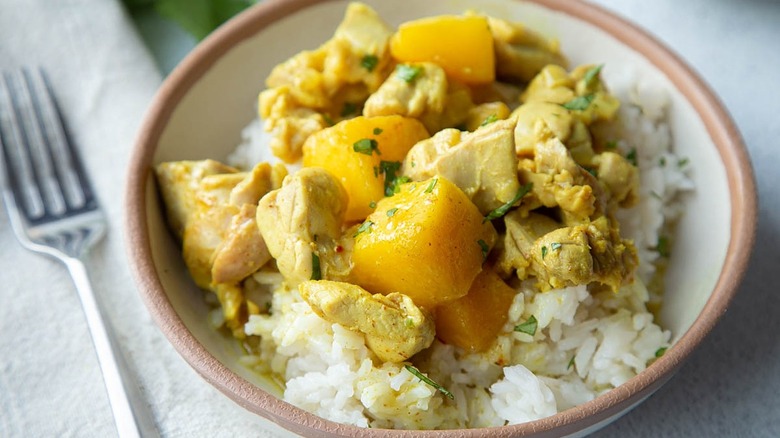 Kate Shungu/Mashed
Although people generally have an idea of what to expect when they think of curry, there are countless types around the world. From creamy coconut styles to sour and tangy versions, this versatile dish can be adapted to your taste. Mashed recipe developer Kate Shungu brings us this delicious mango chicken curry and we guarantee it will become a favorite in no time. With its rich creamy consistency from the coconut milk and sweet and spiced flavors, this dish really sets the stage for a pleasant meal. 
While the layered flavors might trick you into thinking this recipe requires hours to make, you'll have dinner on the table in half an hour. As Shungu notes, "I'm always on the lookout for quick dinners, and this falls under the category of a 30-minute meal. In the amount of time that it takes the rice to cook, I can make this curry." Follow her suggestion and pair it with rice or serve it with naan — either way you'll want to find a starchy side to soak up all of the sauce. "I love how the sweetness of the mango contrasts so nicely with the chicken and savory spices," Shungu raves. If you're looking for a creative way to enjoy a chicken dinner, you can't go wrong with this curry. 
Gather the ingredients for this mango chicken curry recipe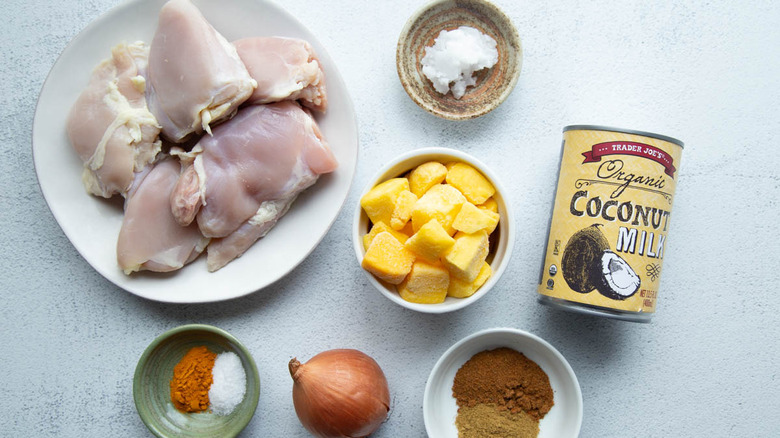 Kate Shungu/Mashed
Shungu chooses to cook this curry using coconut oil but notes that "You can easily swap vegetable oil or olive oil in place of the coconut oil." Next, dice a small yellow onion and cut boneless skinless chicken thighs into pieces approximately 1 inch in size. To season the dish you'll need curry powder, cumin, turmeric, and salt. Next, cut your mango into 1-inch pieces. 
Finally, to add the rich consistency that makes this meal so decadent, you'll need a can of full-fat coconut milk. "The key to a creamy sauce is using full-fat coconut milk. You can use low-fat, but the sauce won't be as thick or as velvety," Shungu explains. Follow Shungu's serving recommendations by pairing it with rice and freshly chopped coriander to garnish.
Start by cooking the onions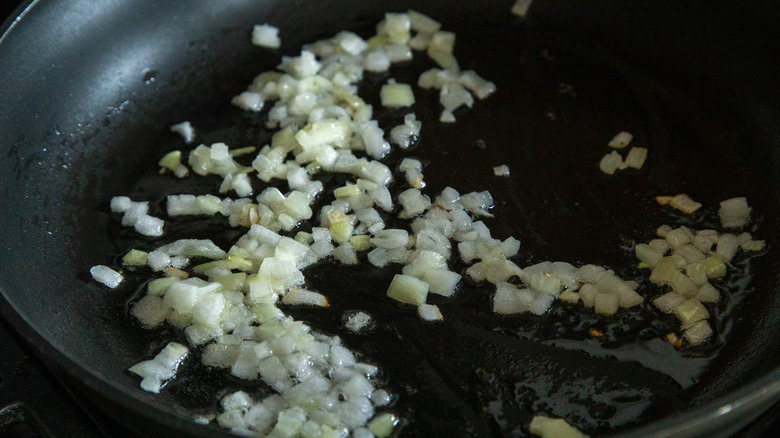 Kate Shungu/Mashed
Place a large skillet over medium heat and melt the coconut oil. Then, toss in the diced onion and cook it for 2 to 3 minutes, until softened.
Brown the chicken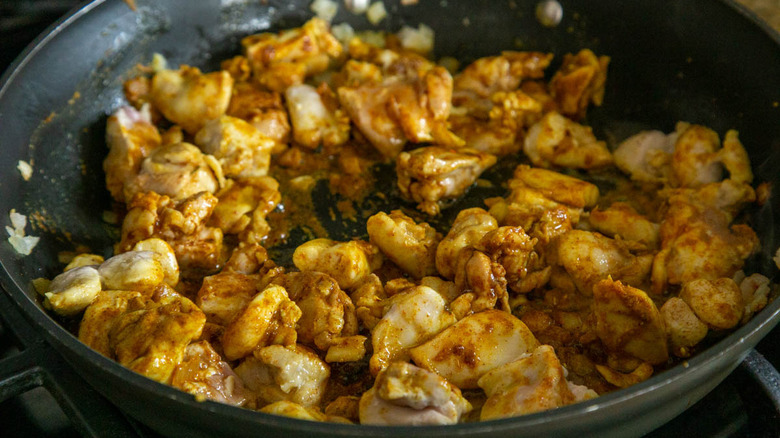 Kate Shungu/Mashed
Throw in the chicken pieces, distributing them evenly in the skillet. Cook the meat for 2 to 3 minutes until it begins to lightly brown. Stir the pieces around and cook them for 2 more minutes. Then, add in the curry powder, cumin, turmeric, and salt and stir to coat the chicken with the spices.
Add the final ingredients and serve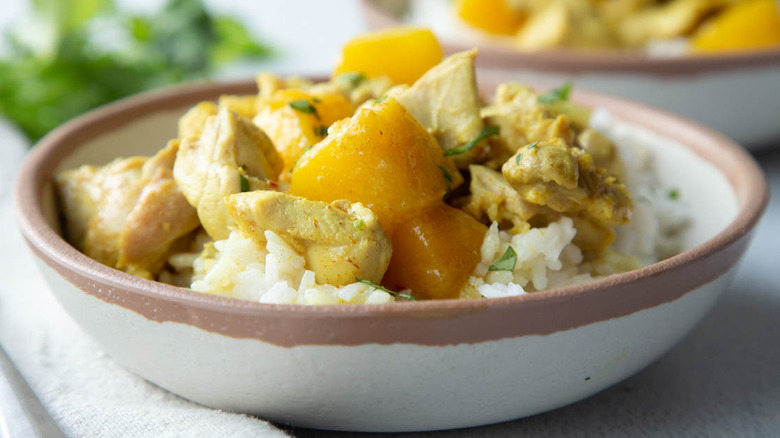 Kate Shungu/Mashed
Add the mango pieces and pour the can of coconut milk into the skillet, stirring properly to combine. Bring the contents to a simmer and cook for 8 to 10 minutes, until the chicken is fully cooked.
Shungu recommends serving this flavorful mango chicken curry with rice and fresh cilantro to garnish. If you end up with extra portions, she notes that "Leftovers will keep for up to 5 days in the refrigerator."
Mango Chicken Curry Recipe
This mango chicken curry recipe will have a tasty dinner on the table in just 30 minutes.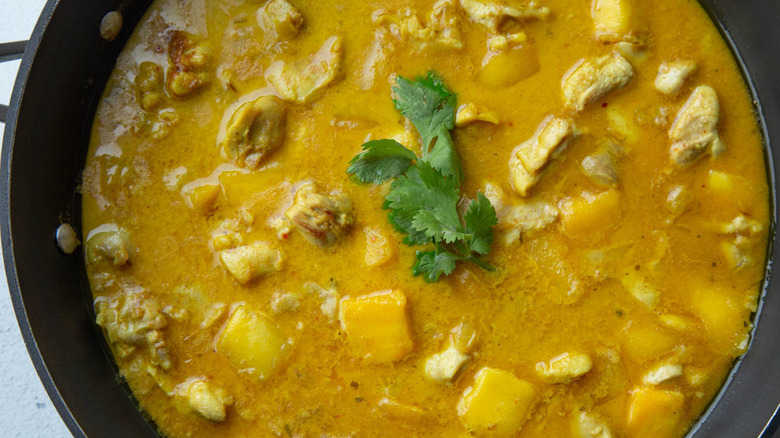 Ingredients
1 tablespoon coconut oil
1 small yellow onion, diced
1 ½ pounds boneless skinless chicken thighs, cut into 1-inch pieces
2 teaspoons curry powder
2 teaspoons cumin
1 teaspoon turmeric
1 teaspoon salt
1 ½ cups mango, diced into 1-inch pieces
1 (13 ½-ounce) can full-fat coconut milk
Optional Ingredients
rice, for serving
chopped cilantro, to garnish
Directions
Add the coconut oil to a large skillet over medium heat.
Add the onion and cook for 2-3 minutes, or until softened.
Add the chicken thighs, spreading them out in an even layer in the skillet. Cook the chicken for 2-3 minutes, until lightly browned. Stir up the pieces then cook for another 2 minutes.
Add the curry powder, cumin, turmeric, and salt to the skillet and stir to combine.
Add the mango and coconut milk and stir again to combine.
Bring the contents to a simmer and cook for 8-10 minutes, or until the chicken thighs are cooked through.
Serve over rice and top with chopped cilantro if desired.
Nutrition
| | |
| --- | --- |
| Calories per Serving | 478 |
| Total Fat | 31.4 g |
| Saturated Fat | 22.9 g |
| Trans Fat | 0.0 g |
| Cholesterol | 159.9 mg |
| | |
| --- | --- |
| Total Carbohydrates | 15.1 g |
| Dietary Fiber | 2.1 g |
| Total Sugars | 9.3 g |
| Sodium | 759.8 mg |
| Protein | 36.5 g |