You Can Easily Order Texas Roadhouse's Rolls And Butter By The Dozen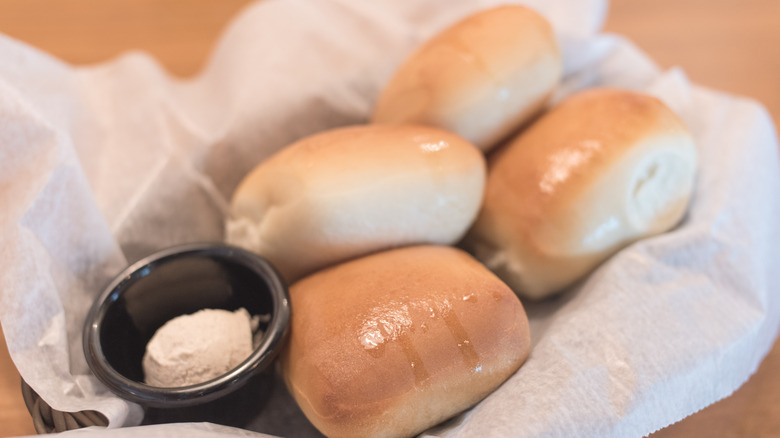 Colin Hui/Shutterstock
Aside from the peanut shell confetti that decorates its floors, what sets Texas Roadhouse apart from other casual steakhouses is its free bread. After all, everyone loves a restaurant that offers a free appetizer. Whether it's chips and salsa at a Mexican joint or free breadsticks at Olive Garden, an hors d'oeuvre you don't have to pay for, is one worth indulging in.
Although other steakhouses like Outback and Saltgrass also offer free bread, Texas Roadhouse says theirs are a major part of why they've become such a famous franchise – maybe it's that crave-worthy cinnamon honey butter. The steakhouse serves 300,000 meals per day, which means they're busting out high volumes of those sweet signature rolls around the clock, and guess what, you can actually get them any time of day without actually dining in at Texas Roadhouse.
That's right, if you've got a craving for Texas Roadhouse rolls but don't feel like eating any of their entrees, you can get them by the dozen for a surprisingly low price.
Texas Roadhouse rolls will fill you up without breaking the bank
Texas Roadhouse only offers unlimited free rolls to customers who are ordering meals. But they're not holding out completely. Fans of the Texas Roadhouse roll can order the famous appetizers by the dozen without purchasing anything else from the menu. Customers can place orders over the phone or online for a refreshingly low price — $4.99 for a dozen and only $2.49 for a half dozen. They even offer customers a heaping, 8 oz to-go cup of their famous cinnamon honey butter for just $1.99.
TikTok food reviewer @WayneDang picked up a dozen Texas Roadhouse rolls and filmed his reaction for his 604,000 followers. The rolls were neatly packed into a freshly-baked platter paired with a massive tub of cinnamon honey butter that's perfect for bagels and baking projects (after you butter up your rolls, of course).
If you were considering trying your hand at a batch of copycat Texas Roadhouse rolls, save yourself the trouble and order a dozen directly from the experts themselves!