Papa John's Takes A Swing At Taco Bell With New Menu Items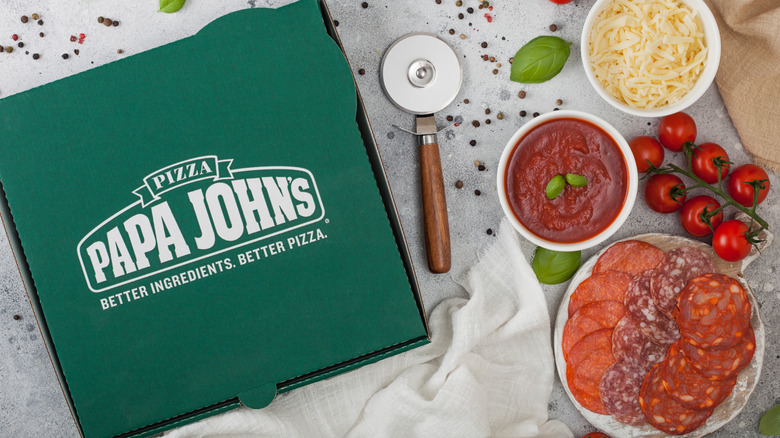 DenisMArt/Shutterstock
This may be a case of ranch-flavored dejà vu: Papa John's has teamed with PepsiCo to bring the cool zest of Dorito dust to its Papadia. The cheesy, toasted flatbread sandwich is getting a major addition in the form of the Doritos Cool Ranch Papadia (via QSR). The $7.99 limited-time offering becomes available to Papa John's "Papa Rewards" loyalty members on May 1 and rolls out nationally on May 4.
While it's Papa John's first foray into this particular flavor-blasted collaboration, the partnership might ring some bells — of the taco variety. Doritos-flavored anything can't help but conjure up Taco Bell's Doritos Locos Tacos (aka the DLT), which changed how we thought about taco shells by replacing them with giant, taco shell-shaped Doritos. Eventually, they came in flavors beyond just Nacho Cheese, including a limited-time Cool Ranch variety that remains a cult classic. While the DLT was an undeniable hit and became one of the franchise's best-selling menu items, it was not without controversy, leaving an intellectual property battle, armies of fans, and online petitions in its wake.
While Doritos and Taco Bell boasted one of the most fruitful fast food and snack partnerships of all time, Papa John's doesn't want to be excluded from the party. Its new Doritos-flavored Papadia won't incorporate the exact texture of a Doritos chip the way the DLT did, instead opting to dust the flatbread with the bold Cool Ranch seasoning, sure to appeal to fans of the beloved ranch-with-pizza flavor combo.
The Papa-what?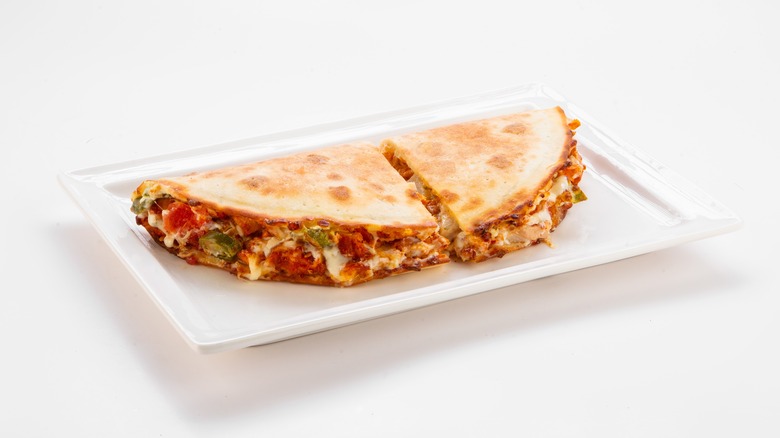 Food Shop/Shutterstock
Papa John's Papadia sounds like it was created by someone who wanted to blur the lines between the quesadilla and the pizza. However, it was based on a real Italian food item, the piadina, an age-old street food made of freshly baked soft flatbread and fresh ingredients like prosciutto, tomato, and cheese.
Since the Papadia's introduction in 2020, Papa John's has added a parmesan-crusted version to the mix, catering to cheese lovers from the get-go. It has since received praise for the delicious (if heavy) breakthrough. Beyond its "Italian" Papadia, which contains Alfredo sauce, salami, sausage, and banana peppers, it also offers a range of American-stuffed takes on the Italian classic. There are Philly Cheesesteak, Meatball Pepperoni, BBQ Chicken & Bacon, and Buffalo Chicken fillings available, as well as the option to create your own. The Doritos Cool Ranch Papadia is just the next natural step on the path of flavor evolution for the franchise's hit item. While it comes made-to-order, the new sandwich spin will likely taste especially delicious with the buffalo chicken filling.
Papa John's VP of Menu Planning said in a statement that the new menu item offers consumers "the ultimate chip and sandwich experience and gives them a bold taste in every bite, so delicious you'll wish you had thought of it first." The Doritos Cool Ranch Papadia will be available this summer, giving those curious until July 23 to try the intriguing mashup.