Alex Guarnaschelli Spilled The Tea On How To Win Supermarket Stakeout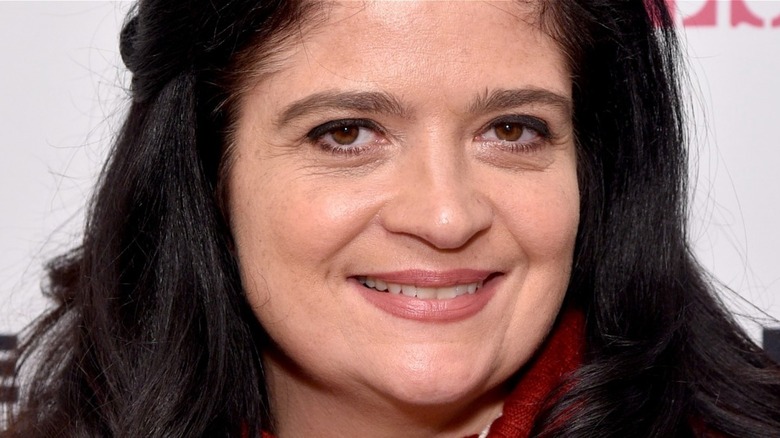 Bryan Bedder/Getty Images
Alex Guarnaschelli, host of Season 5 of "Supermarket Stakeout" on Food Network, shared the deets on how to win the fast-paced cooking competition, which involves sending three other chefs home. While each competitor must impress the judges with their dishes, according to Guarnaschelli, winning this show is equally about your money strategy. 
On Food Network's Twitter account, the Iron Chef spelled out how one chef can squeak out a victory and walk away with a year's worth of supermarket groceries with three pieces of advice. Fans of the show know competitors receive $500 to purchase groceries and must budget their cash to buy ingredients for three themed stakeout challenges. 
First and foremost, Guarnaschelli says competitors should go big (or go home) in round one. The celebrity chef advises contestants to spend between $200-$250 during this round to get the ingredients they want. "Because if you don't make it to the second round, it doesn't matter how much money you have left," said Guarnaschelli. During this round, competitors can shop multiple times, so they have the greatest chance to pick up ingredients they may need later in the show, even if they can't see the products.
Ingredients shrink but the stakes increase by round three
Alex Guarnaschelli advises contestants to adopt a similar strategy for round two, but spend a little less than round one to save enough for the final stakeout. Ideally, the chefs should spend what they need but save about $100 for the last round. Contestants only need to buy five ingredients during the final round, so the final theme requires the smallest budget of the three meals.
Round three is all about bargaining, according to Guarnaschelli. While you only need a handful of groceries, the stakes in the pop-up kitchen are much higher. Guarnaschelli says the last two contestants should be willing to spend, "$30 for that one little quart of cream." Especially if your shopper has an ingredient you need to make the most impressive final dish. Chefs can make a huge mistake on "Supermarket Stakeout" by entering the third round with less than $20, says Guarnaschelli, and are set up for failure.
Aside from hosting "Supermarket Stakeout," fans of the chef can find her on the Food Network cohosting "The Kitchen" with Sunny Anderson, Katie Lee, Jeff Mauro, and Geoffrey Zakarian, the primetime show "Alex Vs America," and as a recurring judge on other cooking competitions like "Chopped" and "Beat Bobby Flay." "Supermarket Stakeout" airs Tuesdays at 9 p.m. on Food Network.