Picnic-Perfect Red Potato Salad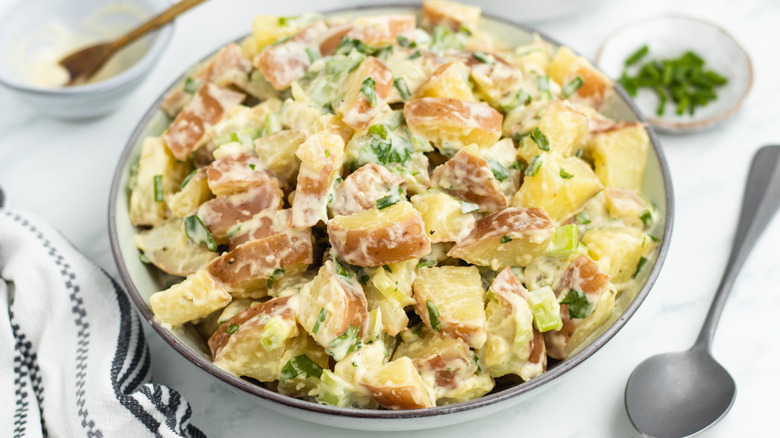 Catherine Brookes/Mashed
Delicious and aesthetically pleasing, potato salad is a classic side dish that belongs on a list of epic picnic recipes. Recipe creator Catherine Brookes has put together this picture-perfect variation on the standard potato salad that is just what you need at your next lunch in the park.
What exactly makes it perfect? "I would say it's the combination of all the ingredients that make the meal delicious rather than just one stand out," explains Brookes. "The celery adds crunch, the apple cider vinegar adds a nice tang that balances the creaminess and the chives add fresh herby flavor."
Combine these ingredients yourself just before serving to avoid the heaviness of some store-bought potato salads and highlight the freshness your friends and family will love.
Gather the ingredients for this picnic-perfect red potato salad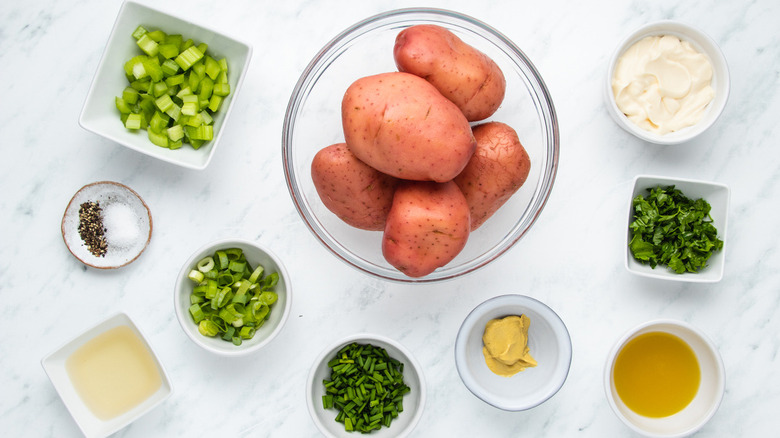 Catherine Brookes/Mashed
For this recipe, you will need 2 pounds of red potatoes. In the vegetable aisle also pick up 2 sticks of celery, a bunch of fresh parsley, a bunch of chives, and a bunch of green onions. Pick up a container of mayonnaise, Dijon mustard, and some apple cider vinegar. You'll also need salt and pepper. 
Slice and dry your potatoes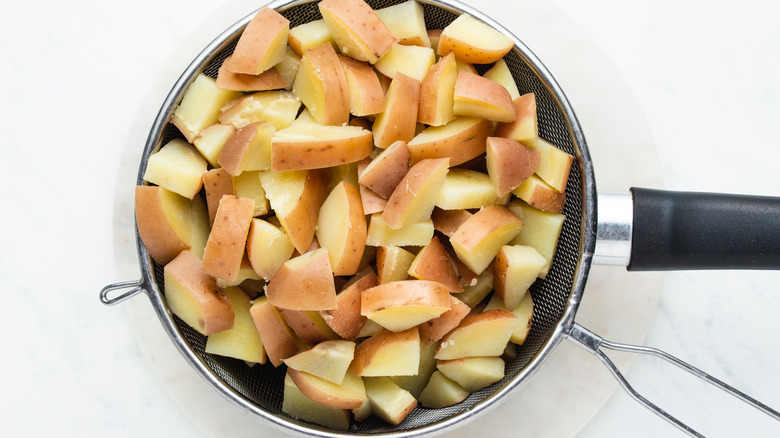 Catherine Brookes/Mashed
Start off by scrubbing your red potatoes clean and dry. Then, cut them into 1-inch chunks. Drop them into a pot full of water and boil until the potatoes are fork-tender, about 12 to 15 minutes. Take the pot off the heat, drain your potatoes using a colander, and set them aside to cool for 10 minutes or so.
Make the potato salad dressing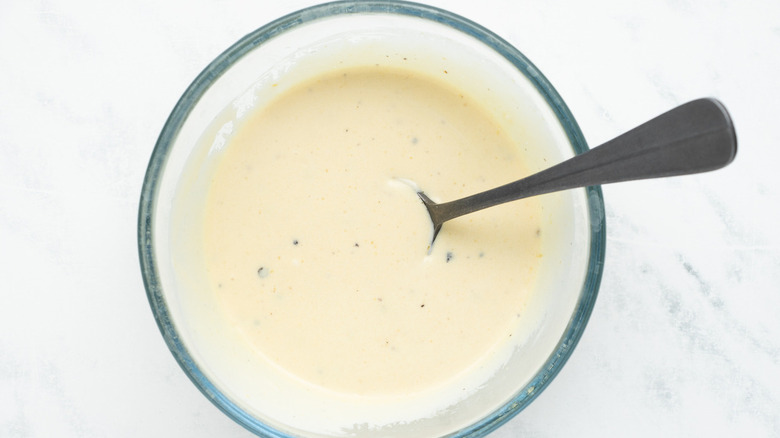 Catherine Brookes/Mashed
Mix the mayonnaise, olive oil, mustard, vinegar, salt, and pepper in a small 6-inch bowl to form the dressing. "A small metal spoon or fork will work well here," suggests Brookes. In a large mixing bowl, combine the parsley, chives, and green onion. Pour the dry ingredients into the dressing and mix well.
Mix and serve your red potato salad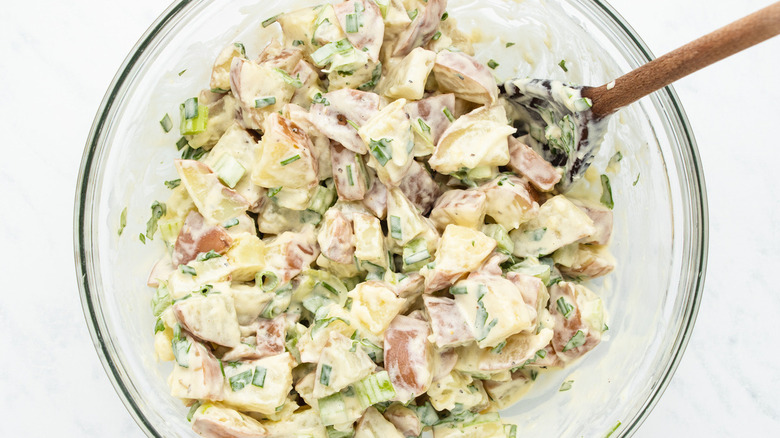 Catherine Brookes/Mashed
Now you can combine the cooled potatoes, the chopped celery, and the dressing using a wooden spoon. "I like to use a large mixing bowl when the potatoes will be added," adds Brookes.
Once the potato salad is properly mixed, chill it in the fridge until it's ready to serve. "The salad can actually be served warm if preferred," explains Brookes, "but if you want to get it down to fridge temp I'd say 2 hours." 
However you do it, once it hits the table don't be surprised if there aren't any leftovers (though if there are, Brookes says it'll hold for up to 4 days). Bonus points if this delicious potato salad is your contribution to an overflowing outdoor picnic table as we kick off summer.
Picnic-Perfect Red Potato Salad
Learn how to make this tangy, creamy, and herby red potato salad that will be a hit at your next picnic in the park.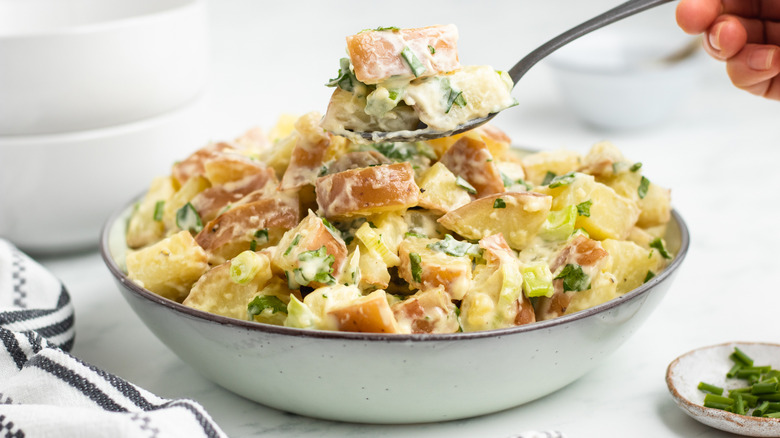 Ingredients
2 lbs red potatoes (scrubbed clean and dried)
2 sticks celery (diced)
½ cup mayonnaise
2 tablespoons extra virgin olive oil
2 teaspoons Dijon mustard
1 tablespoon apple cider vinegar
½ teaspoon salt
¼ teaspoon black pepper
2 tablespoons chopped fresh parsley
3 tablespoons chopped chives
2 tablespoons chopped green onion
Directions
Dice the potatoes into approximately 1-inch chunks.
Boil the potatoes in a large pan of water until fork tender, about 12 to 15 minutes. Drain and set aside to cool for 10 minutes.
Mix together the mayonnaise, olive oil, mustard, vinegar, salt, and pepper in a bowl.
Add the parsley, chives, and green onion to a large mixing bowl and pour over the dressing. Mix well.
Add the potatoes and celery and mix with a wooden spoon to combine.
Chill in the fridge until ready to serve.
Nutrition
| | |
| --- | --- |
| Calories per Serving | 213 |
| Total Fat | 14.7 g |
| Saturated Fat | 2.2 g |
| Trans Fat | 0.0 g |
| Cholesterol | 5.6 mg |
| | |
| --- | --- |
| Total Carbohydrates | 18.7 g |
| Dietary Fiber | 2.3 g |
| Total Sugars | 1.7 g |
| Sodium | 272.0 mg |
| Protein | 2.4 g |