Broccoli Cheddar Quiche Recipe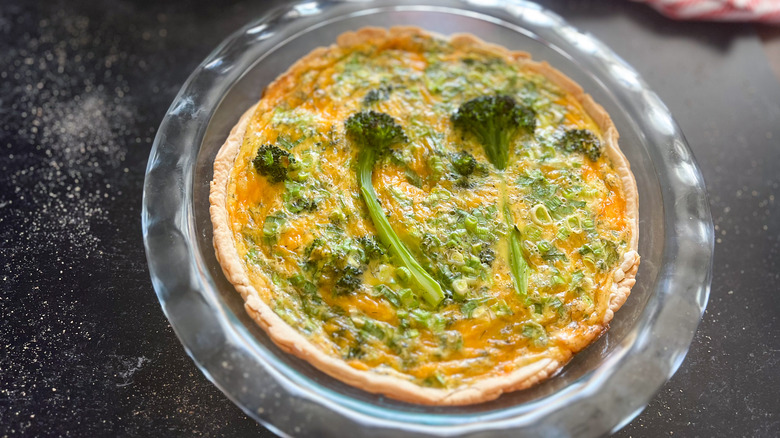 Erin Johnson/Mashed
Sometimes all we want for dinner is an all-in-one dish that satisfies our nutritional and gustatory needs — extra bonus points if it's vegetarian-friendly too. Mashed recipe developer Erin Johnson brings us this broccoli cheddar quiche recipe and it checks all the right boxes. Sharp cheesy goodness paired with healthy green vegetables and a hearty egg filling is definitely what we had in mind. 
"Quiche is a fast, easy, and delicious option for elevating inexpensive ingredients," Johnson points out and adds, "[It] is very flexible, and you can substitute what you have on hand and this will still be delicious." Use leftover vegetables or pick up a head of broccoli specifically for this purpose — it will be gobbled up in no time. While this recipe places broccoli front and center, our recipe developer notes that asparagus is another great fit with cheddar. There really is no limit to experimenting with this tasty recipe, but you'll want to start with the timeless classic pairing of broccoli and cheddar.
Gather the ingredients for this broccoli cheddar quiche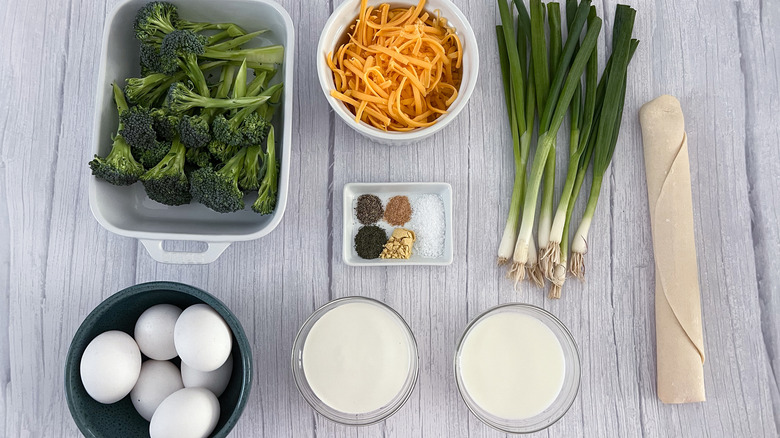 Erin Johnson/Mashed
For this tasty quiche you'll need eggs, Mexican crema, milk, kosher salt, pepper, garlic powder, dill, and ground mustard. Then, chop some green onions and a head of broccoli into florets. Save yourself some time by purchasing a prepared pie crust (or wow everyone with an easy homemade pie crust). Finally, don't forget the shredded cheddar cheese on top for a hearty finish. 
Johnson explains, "Adding the crema is a great way to add a richness to the dish without having to add more cheese or heavy cream." However, if you can't get your hands on the ingredient, she notes, "You can substitute sour cream or buttermilk."
Combine the ingredients for the egg mixture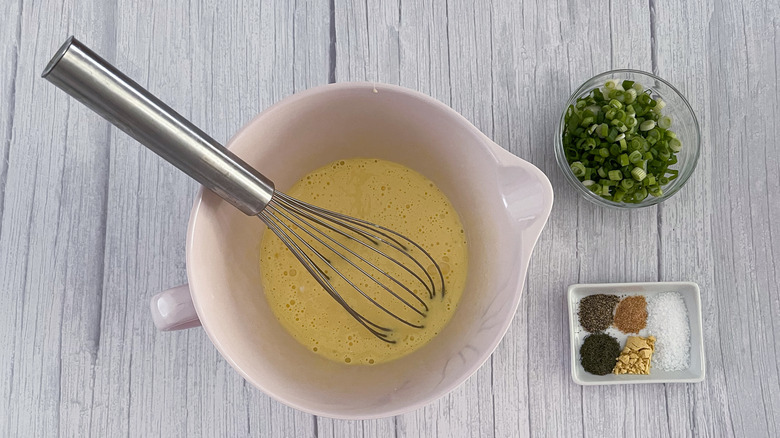 Erin Johnson/Mashed
To begin, preheat your oven to 375 F. In a medium-large bowl, whisk together the eggs, crema, and milk to form a smooth mixture. Then, add the salt, pepper, garlic powder, dill, and ground mustard, whisking until the seasonings are well combined. Next, add in the chopped green onion, give the mixture a final stir, and set it aside.
Blanch the broccoli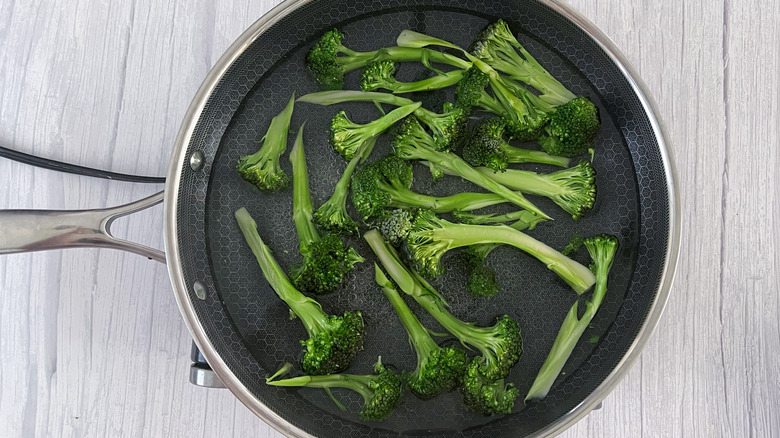 Erin Johnson/Mashed
Boil a pot of water and toss in the broccoli florets to blanch. Once they are fork tender and a vibrant green color, drain the water and place the florets on paper towels to dry off.
Press the crust and assemble the quiche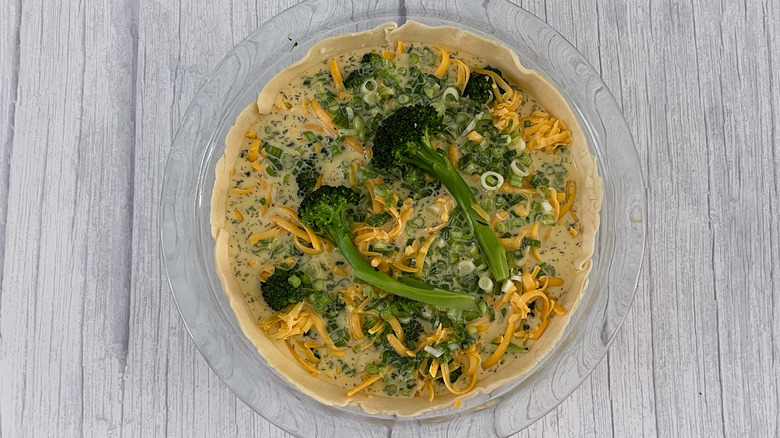 Erin Johnson/Mashed
Transfer the crust to a pie pan and layer the broccoli on the base. Then, sprinkle the shredded cheddar cheese over top and pour the egg mixture evenly into the crust.
Bake until set, then serve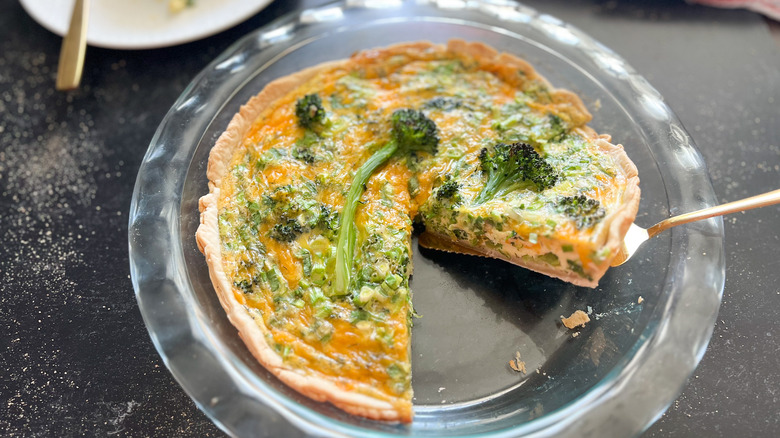 Erin Johnson/Mashed
Once the oven is at temperature, bake the quiche for 35 minutes. Check for doneness by inserting a knife into the center — it's ready when it comes out clean. Dish out this tasty quiche with an extra dollop of crema if desired. It's already loaded with nutritious vegetables but feel free to serve it with a tangy green salad to cut through the creamy dish.
If you have any leftovers, Johnson recommends, "Keep this in the fridge for up to 3 days and reheat [it] in the oven or air fryer to avoid [a soggy] crust."
Broccoli Cheddar Quiche Recipe
This quiche is easy to make and highlights the classic flavor pairing of broccoli and cheddar cheese.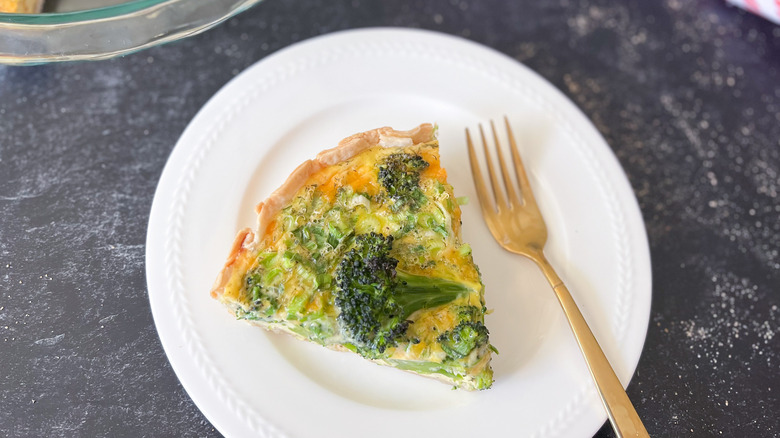 Ingredients
6 eggs
½ cup Mexican crema
¼ cup milk
½ teaspoon kosher salt
¼ teaspoon pepper
¼ teaspoon garlic powder
¼ teaspoon dill
¼ teaspoon ground mustard
½ cup chopped green onion
1 head broccoli, cut into florets
1 (9-inch) prepared pie crust
4 ounces cheddar cheese, shredded
Directions
Preheat the oven to 375 F.
Whisk together the eggs, crema, and milk until well combined.
Add the salt, pepper, garlic, dill, and mustard.
Whisk and add the green onion, then set aside.
Blanch the broccoli in boiling water until fork tender and vibrant green.
Drain and transfer it to paper towels.
Press the pie crust into a pie pan and layer in the broccoli.
Sprinkle the cheese on top and pour in the egg mixture.
Bake for 35 minutes or until a knife inserted in the center comes out clean.
Nutrition
| | |
| --- | --- |
| Calories per Serving | 585 |
| Total Fat | 36.9 g |
| Saturated Fat | 16.2 g |
| Trans Fat | 0.3 g |
| Cholesterol | 286.5 mg |
| | |
| --- | --- |
| Total Carbohydrates | 44.1 g |
| Dietary Fiber | 5.4 g |
| Total Sugars | 5.0 g |
| Sodium | 814.2 mg |
| Protein | 22.1 g |