Kellogg's Just Revamped Some Old Favorite Cereal Brands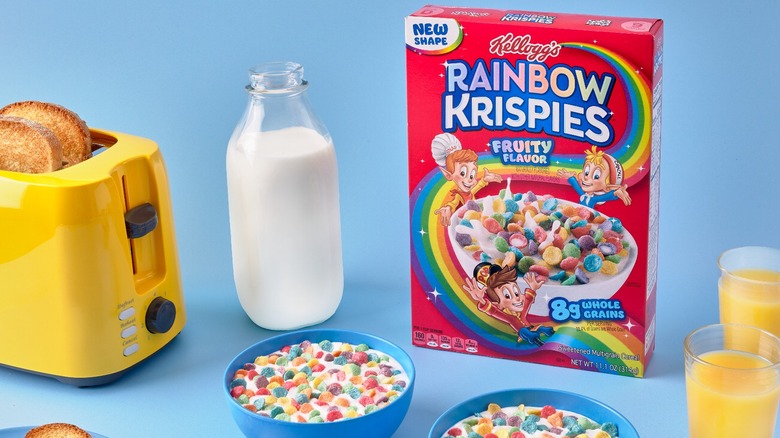 Evan Kalman for Kellogg's
Who's ready for breakfast? What's one of your go-to morning meals? If you said cereal, specifically Kellogg's Frosted Flakes or Rice Krispies, so have a lot of people. Per a survey conducted by Statista, over 8.5 million Americans said they had consumed 10 or more bowls of Frosted Flakes in a seven-day period in 2020. As for Rice Krispies, they've been snapping, crackling, and popping in breakfast bowls for over 80 years. Now, Kellogg's has taken its iconic Frosted Flakes and Rice Krispies flavors and given them a makeover.
Kellogg's new Frosted Flakes flavor, Frosted Flakes Minecraft, inspired by the popular "Minecraft" game, not only contains traditional Frosted Flakes but also Creeper Bit marshmallows designed to emulate the game's pixelated blocks. The new cereal comes after another blocky collab in which Kellogg's debuted Minecraft Creeper Crunch cereal in 2020. The brand has something more in store for "Minecraft" fans than the new cereal. Each box contains a code for 350 Minecoins to use in the game's marketplace.
Additionally, Kellogg's has rolled out a new Rice Krispies flavor: Rainbow Krispies, which are colorful, fruity, and contain 20% of one's daily Vitamin D requirement. Kellogg's notes that they can also be turned into colorful Rice Krispies Treats.
Cereals old and new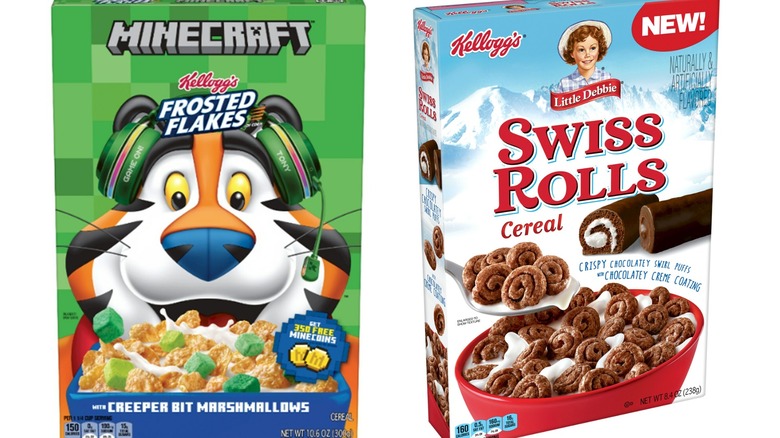 Kellogg's
As if these two new twists on favorite cereals like Frosted Flakes and Rice Krispies weren't enough, Kellogg's has also rolled out two brand new cereals fans can find on store shelves across the country. The first, Miraculous Cereal, is inspired by "Miraculous – Tales of Ladybug and Cat Noir," a popular animated television show for children. The cereal contains strawberry macaron-flavored and purple cereal bites as well as white marshmallows, all a nod to the show's heroes' Parisian background.
The last – but certainly not least – new cereal recently debuted by Kellogg's is Little Debbie Swiss Roll Cereal inspired by the snack roll featuring chocolate cake with a cream filling swirl that you know and love. The new breakfast option combines a chocolate cream-flavored coating with swirly chocolate cereal. Little Debbie Swiss Roll cereal was partly rolled out to mark the upcoming 60th anniversary of the snack cake and joins a line of Little Debbie Kellogg's cereals based on the brand's Oatmeal Creme Pies, Cosmic Brownies, and Nutty Buddies. So instead of putting a new spin on an old favorite, this cereal puts an old spin (and a swirl) on something new.