Store Bought Pizza Dough Ranked Worst To Best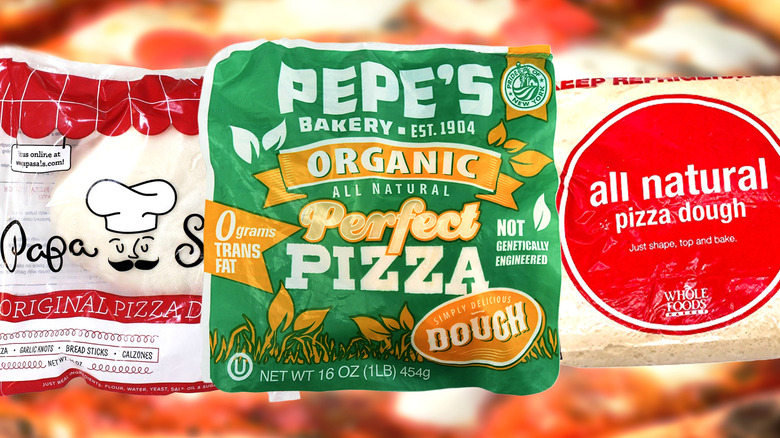 Static Media/Getty
Sure, homemade pizza dough is delicious and rewarding, but it's also time-consuming and can be difficult to master for novice (or overextended) cooks. So what do you do when you're craving pizza and don't have the luxury or patience to mix, knead, and ferment your own ball of dough ahead of time? The local market comes to the rescue.  
Most big-name grocery stores sell refrigerated and frozen pizza doughs that cost just a few bucks and will work fine. Of course, some are way better than others in terms of taste and texture. Not to mention, the way you prep and cook the dough can affect your results. For starters, make sure it comes to room temperature before you begin. The dough will relax as it warms up, becoming more elastic and less likely to tear or shrink back when you try to stretch it. Also, be sure to crank up the heat and preheat your oven to 500 F or as high as it will go. Take it a step further and use the broil function to guarantee that the crust is browned all the way across, not soggy and wet in the middle.
To help you sort through your store-bought dough options, we've listed some of the most widely available brands and ranked them in order from so-so to delicious. Now you can focus on the fun part: choosing the toppings. When you've got a ball of fresh dough to work with, the pizza-bilities are endless.
9. Pillsbury classic pizza crust
Few sounds are more satisfying than the pop of a Pillsbury dough tube busting through its brown paper casing. However, while Pillsbury biscuits are one of our favorite entertaining staples, we found that the brand's canned refrigerated pizza dough (available at most major grocery stores) has an unnatural sweetness and a texture that reminds us of puff pastry, not chewy pizza crust. Turns out, we're not alone. 
According to the most recent reviewers on Pillsbury's website, the convenience of this roll-and-bake dough does not outweigh its "low quality" taste and "very doughy" texture, which are most likely a result of additives, including potassium chloride, mono and diglycerides, natural flavor, and xanthan gum.
That being said, if you're a fan of puff pastry pizza (we're looking at you, Robert Irvine), or if you want a family-friendly pizza night with very little effort, then this might be the premade pizza dough for you.
8. Jus-Rol pre-rolled dough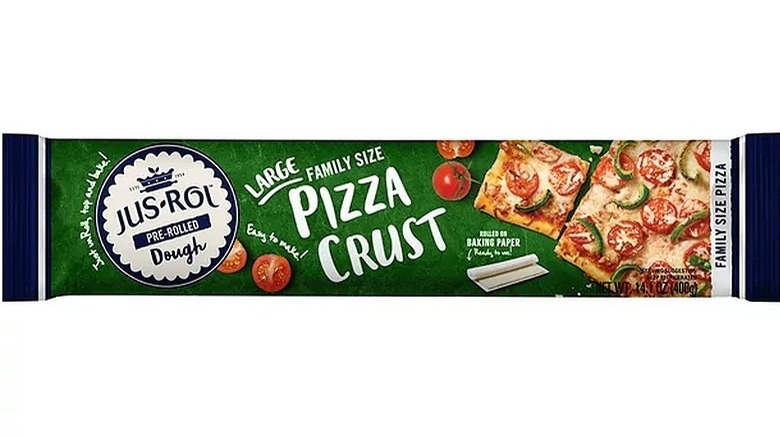 Jus-Rol
Have you been dreaming of thin, cracker-like homemade pizza that requires the least amount of effort? Well, you're in luck. Like Pillsbury, Jus-Rol (previously Wewalka) specializes in ready-to-bake pastry and pizza doughs, but it goes one step further and rolls it out for you. After you buy a package of pizza dough (available in the refrigerated section of most major grocery stores in the U.S.), all you need to do is preheat the oven, unroll the dough onto a pizza pan or baking sheet, then add your garnishes and bake it. Just remember that thin crusts can only hold so many toppings.
There are downsides though; according to reviewers, this crust tastes like pizza dough but it has an oily flavor and doesn't rise at all in the oven. Ultimately, the result is a crust that's too thin even for most thin-crust aficionados. Plus, like Pillsbury's pizza dough, it contains additives. 
7. Aldi Mama Cozzi's ready to bake pizza dough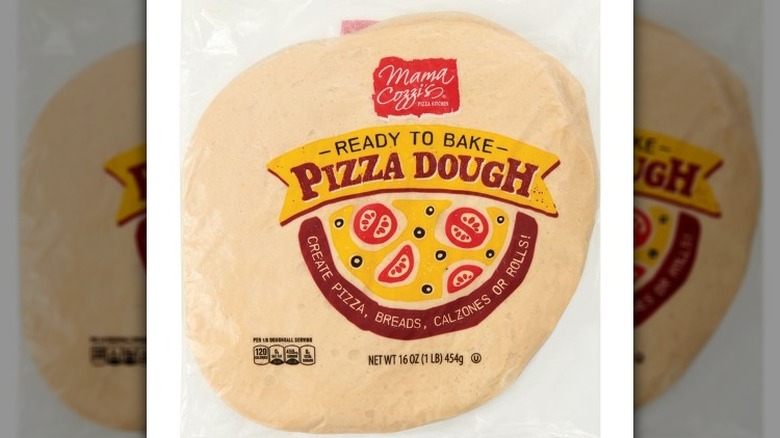 Aldi
Are you all in on Aldi? If so, you might already know about its store-brand pizza dough, Mama Cozzi's, which costs less than $2 per 16-ounce pie as of April 2023. Since its introduction, it has gained quite the following online. When you can get it fresh near the refrigerated take-and-bake pizzas, it's a great excuse for an impromptu pizza night. If you can only find it in your store's frozen section, you'll need to let it defrost in the fridge overnight and let it come to room temperature for 2 to 4 hours before stretching or rolling it out.
Like Pillsbury's and Jus-Rol's refrigerated pizza doughs, Mama Cozzi's contains additives, which could explain the lack of chewiness and overall meh results reported by more experienced pizza-makers. However, it puffs up nicely in a high-temp outdoor pizza oven and gets rave reviews for flavor, so it can't be all that bad. 
6. Pizza Buddy pizza dough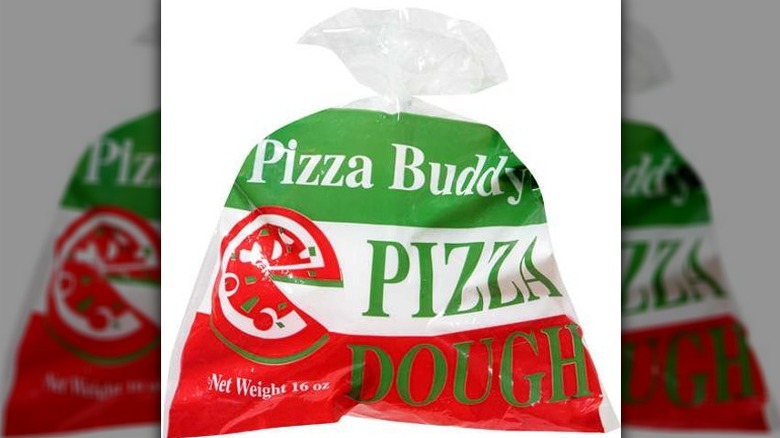 Pizza Buddy
With no preservatives and only flour, water, yeast, salt, oil, and sugar on the ingredients list, Pizza Buddy dough (available in 16-ounce bags in the frozen section of select Walmart locations) is a great choice for any pizza night — as long as you remember to plan ahead.
According to reviewers, it "has the right amount of bite and chew," "stretches well," and "is a world class dough that is far better than the name suggests." The only downfalls are that it's only in stock at some Walmarts and it's sold frozen so you can't buy it and immediately make pizza.
If you're lucky enough to find a ball in the freezer section of your local store, move it to the fridge the day before you want to make pizza. Then, let it rest on your counter for 2 to 4 hours before stretching or rolling it out and adding toppings. 
5. Papa Sal's original pizza dough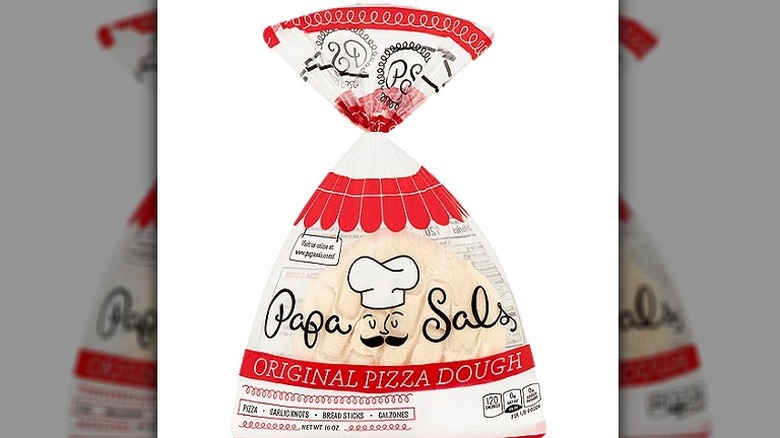 Papa Sal's
This one contains the same ingredients as Pizza Buddy (flour, water, yeast, salt, oil, and sugar), but it's available in most major supermarkets, not just Walmart. Even better, if you're lucky you might be able to find fresh 16-ounce bags of Papa Sal's pizza dough in the refrigerated section. Bring it home and let it come to room temperature on your kitchen counter for 2 to 4 hours, then stretch or roll it out, add whatever toppings you like, and bake it on a pizza pan or preheated stone or steel for best results. 
Papa Sal's flavor and texture are on par with pizzeria quality, and according to one reviewer, its above-average stretchability makes it a great choice for attempting strombolis, calzones, and garlic knots. If you're looking to incorporate more whole grains into your diet, the company also makes a whole wheat pizza dough, which fans seem to enjoy.
4. Pepe's Perfect Pizza Dough
If, in your humble opinion, New York style is the only style of pizza, then Pepe's is the choice for you. The baking company was founded in 1904 by Salvatore Pepe, a Sicilian immigrant who began his pizza journey in Amsterdam, NY. Now, the company focuses solely on producing frozen pizza dough with simple, authentic ingredients. Want proof of its dedication? The all-natural perfect pizza dough contains nothing but enriched flour, water, yeast, and salt.
According to recent reviewers, once it's thawed and comes to room temperature, the dough is easy to stretch and has a great, all-natural taste, producing pizzeria-quality results in your home oven. However, Pepe's is often out of stock at Walmart and other grocery stores, and since it's frozen, it's not a great option for on-the-fly pizza nights. Nevertheless, once you try the classic dough, you'll be eager to try the organic and whole wheat versions too.
3. Trader Joe's ready to bake pizza dough
Trader Joe's is known for its low prices and wide selection of tasty, high-quality food products — so it comes as no surprise that its premade pizza dough has caught the attention of homemade pizza aficionados. It comes refrigerated, and when handled properly it will bake up into a pretty impressive pizza in your home oven. 
The main pitfall some reviewers find with this dough is ensuring optimal freshness. To get the freshest batch, grab a ball from the back of the display or ask an employee when the dough has been mixed. The chain also sells a dough seasoned with herbs and a whole wheat version to satisfy all tastes. If you're looking for a fun recipe idea, use Trader Joe's dough to make garlic knots for your next pasta night or dinner party, or shake up your pizza night game with a calzone recipe.
2. Whole Foods Market natural pizza dough ball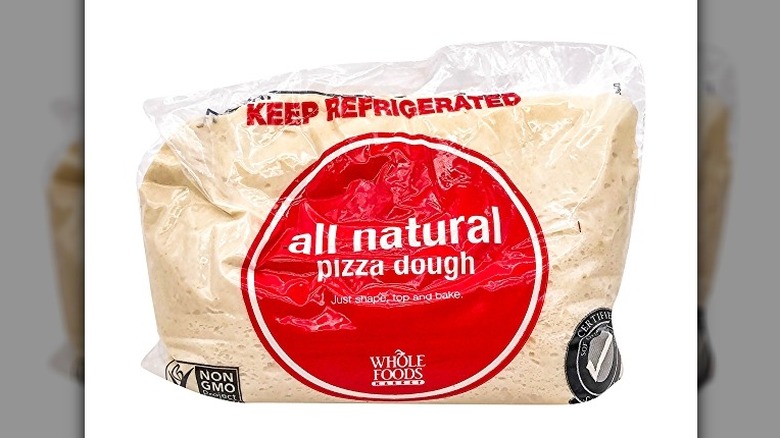 Whole Foods
This store-bought refrigerated pizza dough seems to have the biggest following among serious pizza-makers, who consider it to be a good alternative if you don't want to make your own. While most of the options on our list are sold in 16-ounce balls, Whole Foods' dough comes in a 22-ounce package, enough for two 12- to 14-inch round pizzas or one large rectangular baking sheet pizza. If you only want to make one small or medium pizza, just cut the dough into two pieces, ball them up, and store one in a zip-top bag in the freezer for up to 3 months.
As long as you let the dough fully come to room temperature first (which can take anywhere from 2 to 4 hours), you'll find that it's easy to stretch and puffs up nicely in the oven. According to taste tests, Whole Foods' pizza dough holds up well to sauce and toppings and has a yeasty authentic flavor and the chewy crunchy crust you've been looking for.
1. Fresh pizza dough from a local pizzeria or bakery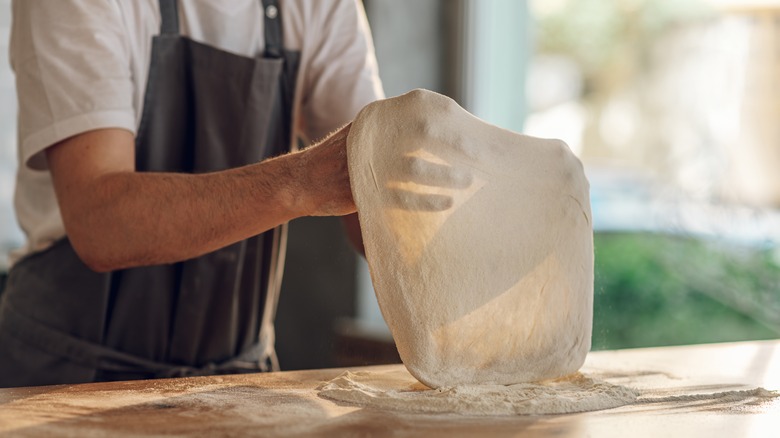 Zamrznuti Tonovi/Shutterstock
When you want restaurant-quality pizza dough, why not get it right from the source? Call your favorite pizzeria, bakery, or grocery store and ask if they sell their own freshly made pizza dough. This will always be the best option because you can often buy the dough at room temperature and ready to stretch. Another bonus is that in-house doughs rarely contain any additives or preservatives — just flour, water, yeast, and maybe a little sugar and oil.
According to expert pizzaiolos, there are two factors to consider when buying dough from a local shop: when it was made and how it should be baked. It's best if you can buy the dough within 24 hours of when it was mixed, kneaded, and fermented since older doughs develop an alcohol-like smell and unpleasant, acidic flavor. This shouldn't be a problem at a pizzeria, since most make new batches of dough every day. However, if the restaurant specializes in wood-fired pizza, make sure to ask for home-oven baking instructions.