Robert Irvine's Quick Pizza Recipe Uses A Slept-On Freezer Staple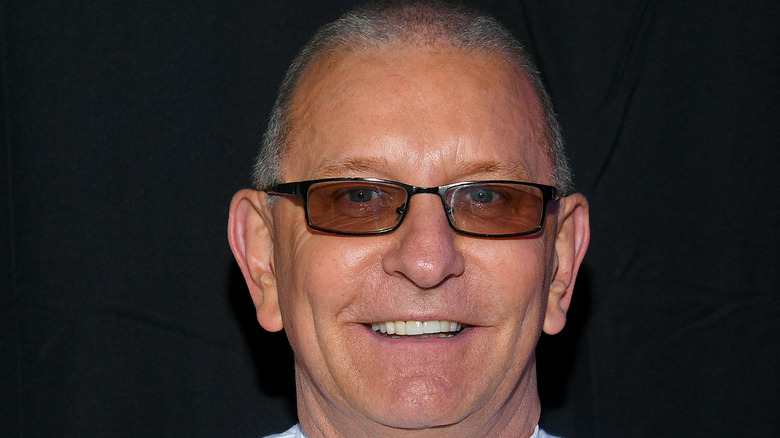 Dave Kotinsky/Getty Images
Homemade pizza can be a great way to use up random ingredients you have lingering in your fridge as well as to spark your culinary creativity. While you can certainly whip up a standard pepperoni pizza, you also have the freedom to think outside the box and create truly unique flavor combinations, bringing in seasonal ingredients and family favorites.
There's just one issue for many home cooks, though. While pizza dough isn't necessarily all that difficult to make, it does require a fair amount of time. First of all, you need to do the hard work of kneading the dough, and then you have to wait for it to rise. 
There are some quick pizza dough recipes that purport to require an abbreviated rise of 30 to 45 minutes (or even this thin-crust recipe, which needs just 15 minutes to rest), but the general rule of thumb is that it takes about an hour to 90 minutes in order for the dough to double in volume and become the perfect consistency for pizza.
Don't think you have to resort to a frozen pizza as your only speedy option, though. If you're pressed for time and looking to get a meal on the table, you may want to consider a secret ingredient that Robert Irvine incorporates in one of his pizza recipes — puff pastry dough. There's a good chance you have this versatile freezer staple on hand; and it can serve as a flaky, delicious base for your toppings of choice.
Irvine's pizza tips — and other speedy alternatives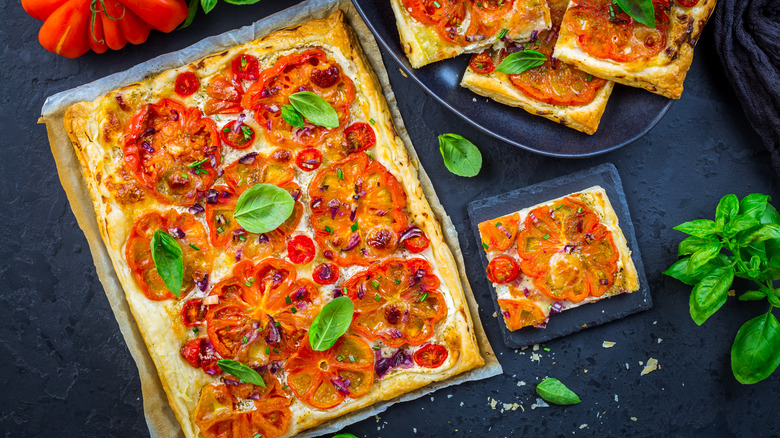 Ingrid Balabanova/Shutterstock
Before you slap your defrosted puff pastry dough on a baking sheet and start piling on toppings, note that Irvine does have a recommended order you should do things for best results. To avoid a soggy puff pastry crust, he suggests baking the egg-washed puff pastry on its own for just under 10 minutes before tossing on your desired toppings and finishing it off with a quick four minutes in the oven.
Your pizza will be ready very quickly due to this short baking time. However, it also means you do want to opt for toppings that are already cooked, as four minutes isn't enough time to fully cook any raw ingredients — you're essentially just heating them through and slightly melting any cheese. If you're incorporating any toppings that need more time, you'll need to roast or sauté them in advance. And, since puff pastry is very easy to cut into smaller sections, you could even create several mini pizzas if you're interested in trying out a few different topping combinations.
If you're looking for a quick solution to your pizza craving and don't happen to have any puff pastry on hand, there are a few other base options to consider. As BBC GoodFood recommends, naan bread, pita bread, wraps, flatbread, or even polenta can be used as bases for your favorite toppings.