The Latest Jimmy John's Menu Item Is The Sweet Treat You Need In Your Life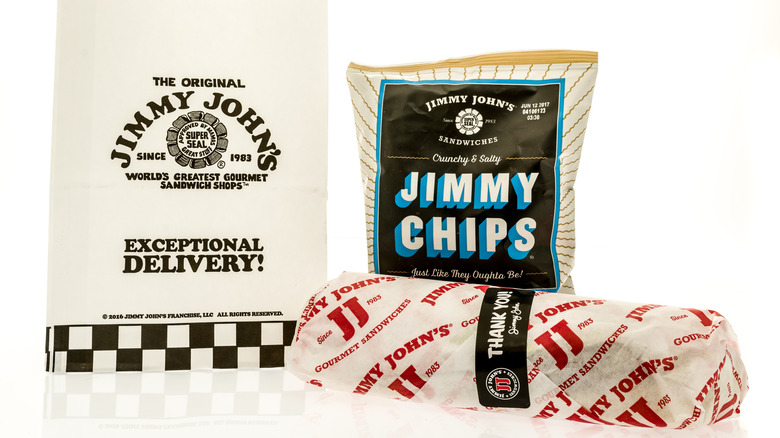 Keith Homan/Shutterstock
Popular sandwich chain Jimmy John's is adding a new choice to its menu, but it doesn't have anything to do with sub rolls or deli meats. Rather, it's an offering that will surely pique the interest of chocolate lovers out there: the Fudge Chocolate Brownie is available now on Jimmy John's dessert menus. The new brownie has chocolate in three different forms, Jimmy John's said in a press release — semi-sweet chocolate, cocoa, and melted chocolate, and it even has more chocolate chunks on top.
The director of culinary innovation at Jimmy John's said that after much dessert testing, the fudgy brownie was the clear standout. Jimmy John's is even offering both edge and center pieces, and customers will be able to choose depending on what is available. Unlike the sandwich chain's red velvet cookies, which were only available for a limited time, the fudge chocolate brownie will hold a permanent place on the menu for the price of $1.99.
What other sweet treats does Jimmy John's offer?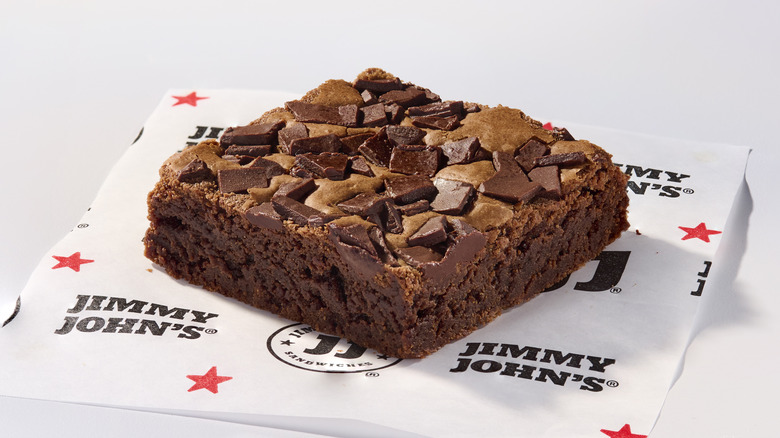 Business Wire/Jimmy John's
The Fudge Chocolate Brownie really does shake things up at Jimmy John's, as other dessert offerings from the chain seem pretty standard. The sandwich shop has two different types of cookies: rich and chocolatey triple chip and old-fashioned oatmeal raisin. The chocolate chip cookie uses Ghirardelli milk, dark, and white chocolate chips, so this cookie does have a little more going on than your average chocolate chunk. One YouTube reviewer described it as "soft, but not too soft, and chewy, but not too chewy."
The oatmeal raisin cookie has more flavor than just raisins, butter, and sugar. "It kind of tastes like a gingersnap," another YouTube reviewer said, "which actually works in its favor." Though the reviewer did unenthusiastically eat the cookie mostly in silence, he did say that it was actually quite good and that it reminded him of the flavors of Christmas. It sounds like ginger and other warm spices make appearances in this oatmeal raisin cookie, though Jimmy John's does not specify exactly which spices are used. Jimmy John's fans can get their hands on all three desserts by ordering online, in the app, or in-store.