TikTok's Latest Meal Prep Hack May Be Even Cheaper Than Chipotle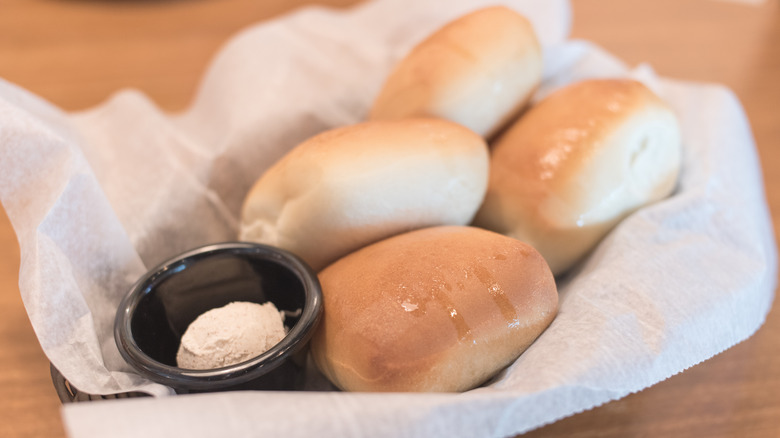 Colin Hui/Shutterstock
TikTokers previously discovered that meal prepping with Chipotle catering is kind of genius, albeit a tad pricey. Now, however, TikTok has moved on to the next meal prep hack — ordering takeout from Texas Roadhouse.
In a recent post, one TikTok user shared how she ordered Texas Roadhouse takeout rather than "spend their Sunday cooking all day." The TikToker said she paid $40 for a large container of grilled chicken, a party tray of salad, a dozen rolls, a tub of mashed potatoes, a tub of string beans, and, of course, butter and gravy.
According to her caption, a family-size meal at Chipotle would cost almost $90, but that's actually at the low end of the spectrum. Another TikTok user claims to have spent around $140 for a triple-protein box from Chipotle. That can be a lot of money for food that's going to spoil within a few days. But we aren't here to talk about Chipotle — we're here to talk about Texas Roadhouse and whether its takeout is a good strategy for meal prepping.
Is Texas Roadhouse's takeout actually a good meal prep hack?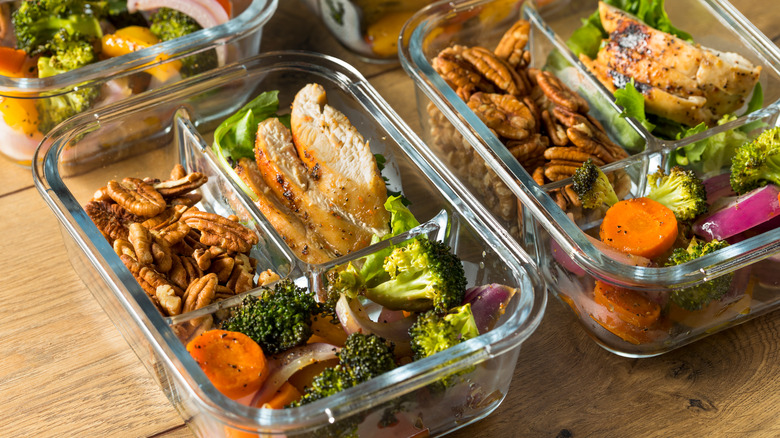 Brent Hofacker/Shutterstock
Although ordering takeout doesn't sound like a hack in and of itself, using takeout as ingredients for meal prep is pretty innovative if you don't have time to cook a week's worth of food in one go. As the TikTok user pointed out, she didn't have time to spend an entire day cooking, so buying food already cooked was a better option for her.
Several viewers accused the TikToker of "being lazy" and said Texas Roadhouse takeout couldn't possibly be cheaper than just buying the ingredients from the grocery store yourself. However, considering how expensive chicken has gotten with inflation (we're talking as much as $15 for a six-pound pack of chicken breasts from Walmart), along with everything you'd need to make a large salad and additional sides, $40 seems reasonable.
What's more, the restaurant offers a few different family-sized options for protein, including BBQ chicken for $50, pulled pork for $50, beef tips for $55, and even ribs for $70. (Prices and availability of these meals vary from location to location). At Walmart, for comparison, a pack of ribs can cost around $25 and can take four to five hours to cook on the grill. Not everyone has that kind of time. You can also add corn, mashed potatoes, green beans, rice, or fries on the side. It may not be meal prep as we're used to seeing it, but that doesn't mean it can't work for some people.