Meal Prepping With Chipotle Catering Is Kind Of Genius - Albeit A Tad Pricey
Even with a routine, fixing balanced meals for your family during a busy week of work, school, and extracurricular activities can be a daunting task. This is precisely why, according to MyProtein, nearly 44% of Americans meal prep regularly to save time throughout the week.
Meal prep may sound easy at first -– chop up some fruits and veggies, cook up some chicken or turkey, toss it all in the fridge for later in the week -– but there are also plenty of mistakes to be made in meal prepping. You might prepare too much or too little. You might not store your food correctly. You might not plan enough variety and end up eating the same thing five days in a row. Another issue with meal prep is how much time it takes to complete the preparation itself. An entire week's worth of meals can take up to four hours to prepare or longer. 
While there are meal prep delivery services like Hello Fresh or Home Chef, some TikTokers are turning to Chipotle catering for their meal prep needs instead. Given the chain's lineup of lean meats like chicken and various vegetables, the idea is genius if a bit pricey.
TikTokers are making Chipotle meal prep for them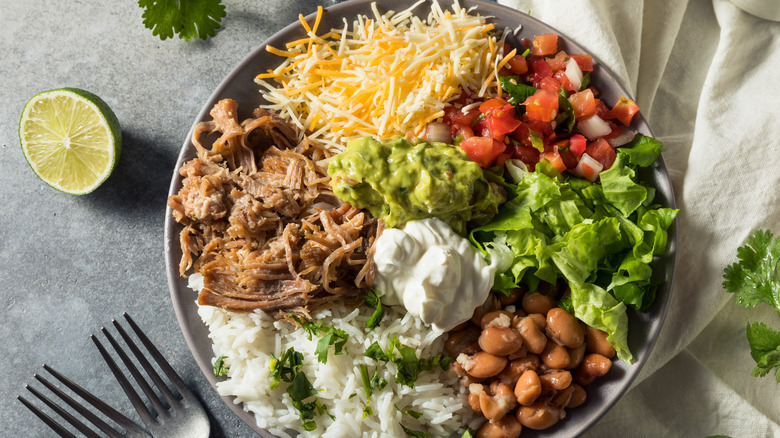 Bhofack2/Getty Images
Fans of Chipotle are likely familiar with the chain's catering, which can be customized to include different meats, sauces, veggies, rice and beans, cheeses, and even tortillas. If you think about it -– and boy, has TikTok thought about it –- Chipotle catering has all the makings for meal prep. TikTok user Alicia Briggs shared her own experience with the hack, saying she had to place her order a day in advance. Despite the wait and a hefty price tag of nearly $140, Briggs said, "I am so excited for meal prep this week. I hacked the system." Others celebrated the hack as well: "That's sooo smart."
Not everyone was thrilled by the TikTok hack though. For instance, one user wrote: "This must be about convenience because it would be cheaper to cook this." Several TikTokers questioned how well the food would hold up after a few days in the fridge and don't even get us started on the very real dangers of eating leftover rice. Others were convinced that Chipotle would increase its prices or otherwise change its catering options if the hack became too popular. For now, if this appeals to you, go for it.