Reese's Cup Shapes Ranked Worst To Best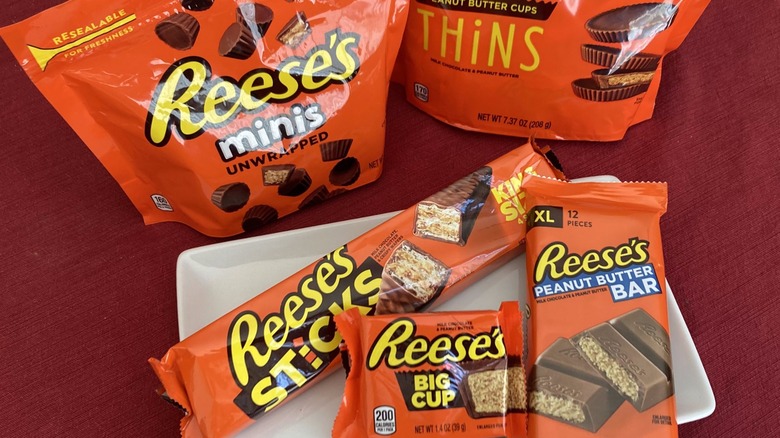 Steven Luna/Mashed
Reese's may have started its rise to fame with the classic peanut butter cup, but decades of clever design development have reimagined the beloved scalloped puck in a variety of whimsical shapes. Cup connoisseurs know that it isn't only the shape that changes when the transformation happens, but the flavor as well. Some feature concentrated peanut butter filling in the middle while neglecting the ends, while others include a thicker chocolate shell that notably shakes up the ratio. Whether the rearrangement works is a matter of preference, and while science knows why a Reese's tastes so good, it's taste that truly dictates how flavor follows form.
To determine which shapes taste best, we gathered up Reese's chocolates in as many forms as we could find. Luckily, every major holiday has its own personalized Reese's representative, from chunky Easter eggs to Christmas nutcrackers. There are even shape-shifting selections available year-round to challenge the confectionary status quo. Without omitting special mash-ups like Reese's animal crackers, the experiment could have gone on forever, so we left those selections on the shelf. The result is a wrap-up of the most delicious Reese's selections by shape, from worst to best, an experiment in flavor that even science didn't see coming.
11. Eggs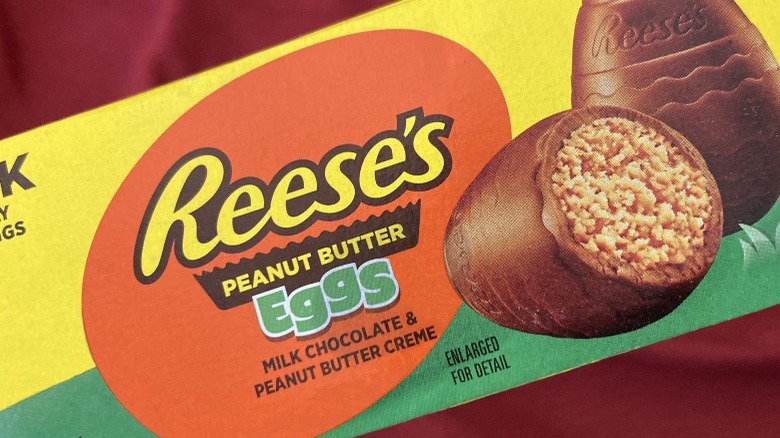 Steven Luna/Mashed
There seems to be a discernable rule in the Hershey world that governs taste as it relates to form: Anytime the peanut butter gets thicker in the center of the shape, the flavor factor is elevated exponentially. But while the idea that more is better may seem to hold true for just about everything else, in the Reese's realm, more can also be too much.
Case in point: Reese's Eggs. To be clear, there is more than one version of egg on the market, each with its own dimensions. The flatter eggs — the ones usually seen floating around in Easter baskets come springtime — are different from the three-dimensional eggs we tried. These generous ovals appear to capture prime confectionary geometry. The problem arises in the quantity of candy included in a voluptuous shape so skewed in the center. The thickness of both the outer chocolate shell needed to hold the shape and the rich peanut butter fluff required to fill it up is sweetness overkill. Nibbling isn't possible; the rounded sides make it impossible to do anything less than dig in. There's just too much candy in every bite, overwhelming tongues with more sugar than desired. Odd for a confection, but true.
10. Holiday Lights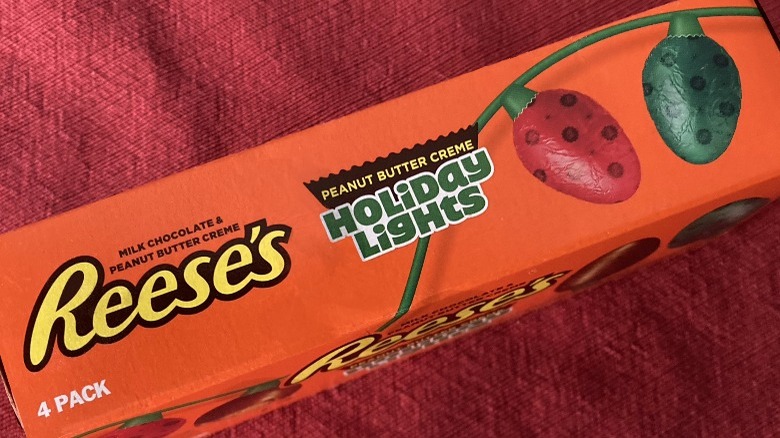 Steven Luna/Mashed
A box of Reese's Holiday Lights is a stocking stuffer with delicious potential. The holiday light shape is rounded, a sphere of what should be sweet satisfaction that every reveler would be elated to sink their teeth into. Hershey's even promotes the interior as being a different consistency than its other creations, touting it as peanut butter creme. This is code for "runny," a marked shift from the otherwise stable middles of cups and other shapes. Even the spelling speaks of elegance, an upscale shift that takes Reese's candy out of the ugly sweater party and places it squarely on the level of a black-tie affair, or at least a Christmas dinner with a business casual dress code.
The smoothness of the creme center would work much better if there weren't so much of it. A single bite brings in more candy than our taste buds can handle, and these pieces are at least a three-bite situation. Sure, you may be able to find others in the room to share your half-eaten candy with. But when the world offers you Reese's in a range of shapes and textures that you can enjoy all on your own, why settle for sharing?
9. Minis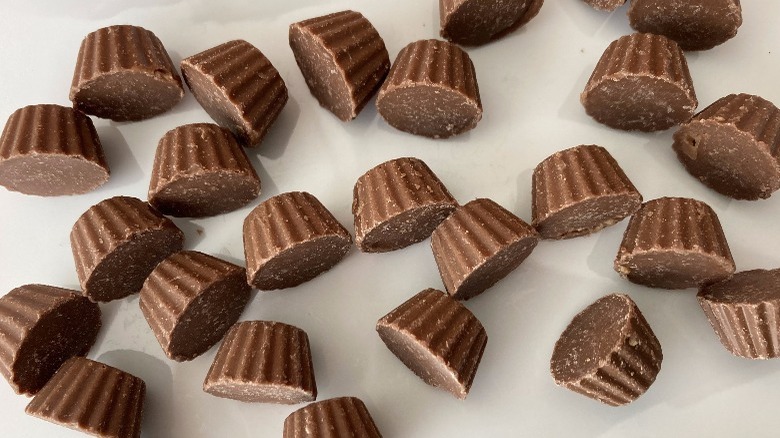 Steven Luna/Mashed
If you've ever opted for Reese's Minis as an ice cream add-in or an ingredient in chocolate chunk cookies, you know what's waiting in the bag. Size is a boon for these petite PB cups, a scalable version that lets hungry snackers grab a handful and pop them one or two at a time. The issue is with the peanut butter filling, which tastes more like sunflower seed butter than traditional peanut butter. The fact that there's only room for a wee dollop inside each piece is all the more heartbreaking. Weird-tasting butter plus too much chocolate equals a minus these mini cups can't overcome.
It's easy to assume that putting a full-sized cup through a candy miniaturizer wouldn't change the taste of the original specimen. But Hershey's defies all expectation by making too much of a switch-up for these itty-bitty beauts. Though it's tons of fun to see the tiny cups clustered in a bowl or scattered on your waffle cone at the scoop shop, you're better off buying the bigger cups than treating yourself to the tiny ones. If you need them to be smaller, throw them in the freezer and smash them into bite-sized bits.
8. Thins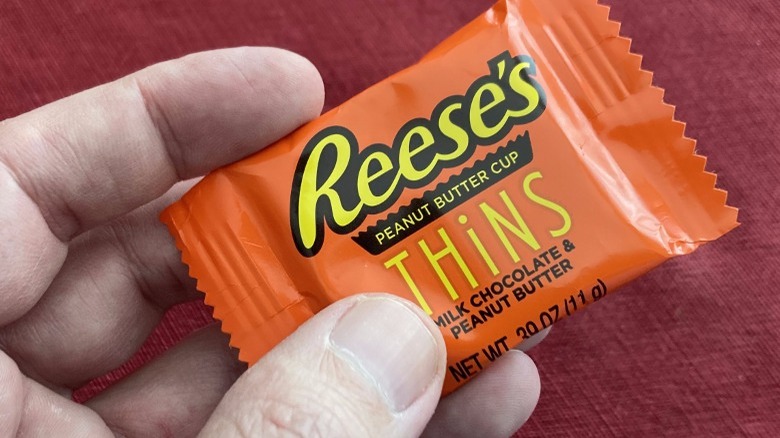 Steven Luna/Mashed
Reese's Thins may seem like a cheat of a treat in a taste-by-shape ranking, but the reduction in candy quantity creates a specialized form that comes with its own qualities. These diminutive wafers are the same circumference as traditional cups, but less than half the thickness. While the chocolate is similar enough, the peanut butter is runny and hides in the chocolate, making more of a mush than a full-figured cup. Maybe enhancing the experience by spreading on a bit of Reese's jarred peanut butter would help save the day. Odds are, it would not.
Snackers searching for a modest manner in which to enjoy their choco-peanut butter tidbits may have dreams of sweet satisfaction when spying bags of slimmed-down cups on store shelves, but the reality of Thins may leave them craving something more substantial. Not even eating these skinny disks two at a time could counteract the strange reformulation of the filling. And yes, we tried that ... it was even messier than a single Thin. If having half a Reese's is the goal, then slicing a regular cup in two in any direction is bound to be better than diving into a bag of Reese's Thins.
7. Bar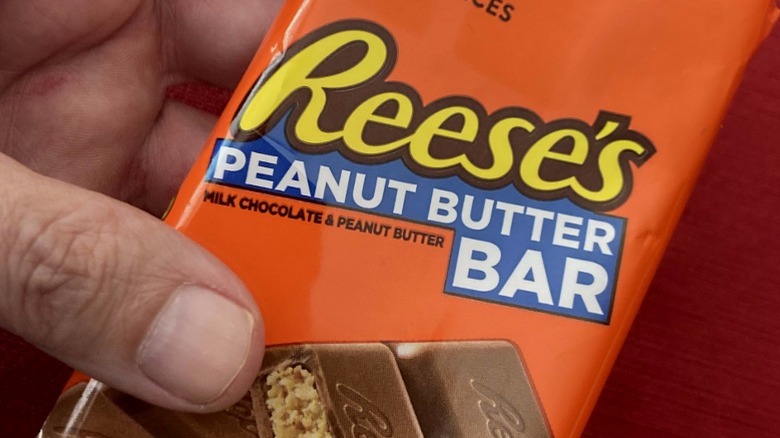 Steven Luna/Mashed
The raveworthy Reese's rounds come full circle with this reimagining of cups into bars, complete with sides, ends, and angles. The Reese's Peanut Butter Bar provides a great balance of chocolate and peanut butter flavor, though the filling is thinner than in the usual cup shape. Think Caramello, that drizzly delight that oozes sugary goodness with every bite, only the caramel is peanut butter. It's this thinning down that adds an element of weirdness not found in the other Reese's offerings. The fluffy PB center we know and love is lost entirely here.
Perhaps filling a rectangular chocolate ingot with Reese's cream requires more liquification, or perhaps it was an intentional decision to change up the expected formula. Whatever brought about this strange alteration, the result is middling, with thicker-than-average chocolate for a Reese's treat holding runny peanut butter captive in every square. It's not what you'd expect from the reigning chocolate and peanut butter monarch, but it's not the worst thing you'll find in the candy aisle, either. If the choice is between this bar and another Reese's shape, think carefully before making your decision. In this case, candy circles certainly beat chocolate bars, fair and square.
6. Hearts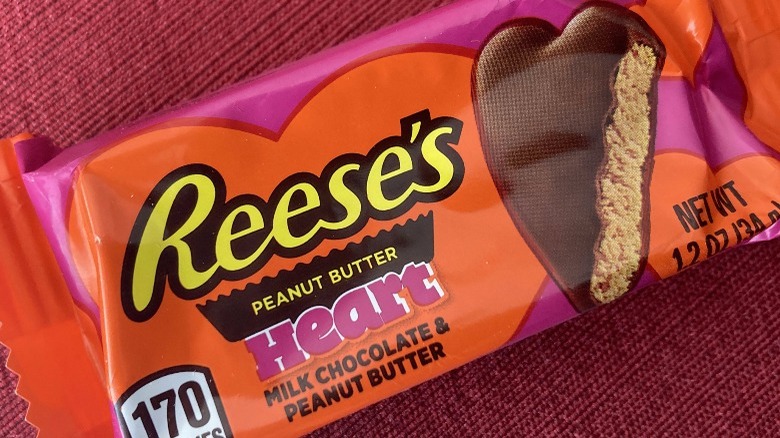 Steven Luna/Mashed
If you're going to express your love to your valentine, better to do it with chocolate-coated peanut butter than with roses. Flowers die in a few days, but the memory of candy can last a lifetime. To cover the full range of Valentine-giving occasions, Reese's hearts come in a variety of forms, from extra-large gift-sized to miniature Dove-like gem-sized hearts wrapped in foil. Squarely between the two is the cup-sized Reese's heart, with its rounded top and flat base equalizing the chocolate-to-peanut butter ratio. The size and shape should be in supreme scale, considering the similarity to an original peanut butter cup.
Alas, a sweet romance is not to be. Though the concentration of elements is comparable to other Reese's candies, it's the flavor that fails to make a love connection. There's chocolate galore, a bit smoother than ideal, but not entirely a dealbreaker. But the lack of sweetness and saltiness in the peanut butter, the two key elements we depend on the chewy, gooey center to bring to the dance, left us thoroughly brokenhearted. If you choose these treats because their cheery wrappers make your own heart sing, just know that this situationship won't last past the holiday.
5. Trees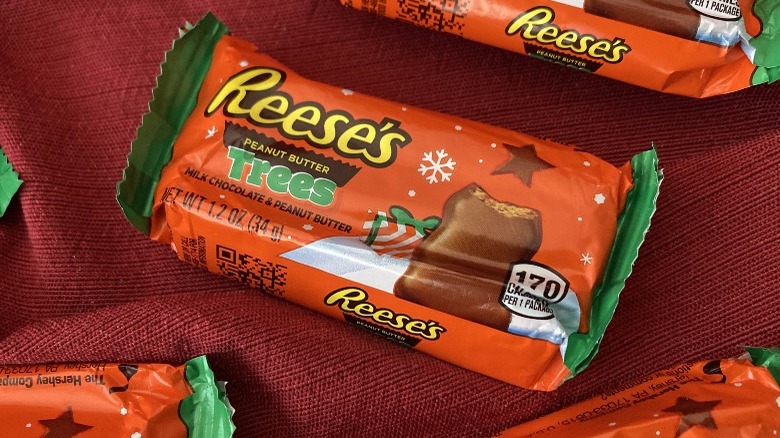 Steven Luna/Mashed
The prospect of digging into Reese's Trees came with the buzzy anticipation of the night before Christmas, as if opening these festive pieces would bring life-changing magic. The idea brings to mind sugar cookie shapes, fabulous firs coated with chocolate frosting and decorated with dazzling sprinkles. While Hershey's forgoes that much fanciness, the company does add angled edges and a perky point to replicate a tree shape as well as can be expected. If the impression of a pine-scented car air freshener is a little off-putting for a candy, this cheerful chocolate will surely redeem itself with its flavor ... won't it?
Sadly, the experience was less like unwrapping a Red Ryder BB gun and more like finding socks and underwear waiting under the tree. Too much chocolate coating makes it challenging to enjoy the peanut butter, which also has a thicker texture and duller flavor than the standard Reese's formula. Though there's plenty of sugar present, the filling gives low-sugar, all-natural PB vibes, not the most exciting treasure to find waiting in your holiday candy cache. Better to find a bag of bite-sized cups and know what you're getting than risk disappointment with a chocolate peanut butter tree.
4. Mystery Shapes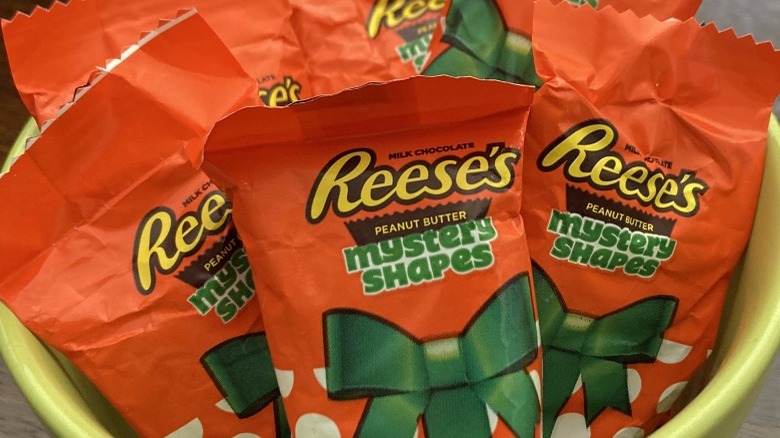 Steven Luna/Mashed
The array of sweet possibilities that await in a bag of Reese's holiday-themed Mystery Shapes is enough to boggle the mind with sugary anticipation. Will it be a mix of familiar symbols like stars and Santas, or will the clever confectioners come up with more original options like sleds and reindeer? The pieces that showed up in this happy holiday grab bag were presents, ornaments, and mittens — not the most inspired shapes ever, but geometrically simple enough to be recognizable. Of the three, the ornaments replicate a regular PB cup, while the present is simply a rectangular version of the ornament, and the mitten is just a curved rectangle with a slice for the thumb. The graphics on the bag even call out the forms with dotted lines, eliminating any mystery to be found other than the name, though the wrappers keep the secret.
As for the taste of these shapes, they're three and the same, all close enough to the familiar cup shape but lacking the crisp fluted edges and the sharp snap of the original. Bonus points for the wrapped package illustrations on the wrappers that make opening every piece feel like a gift exchange.
3. Nutcrackers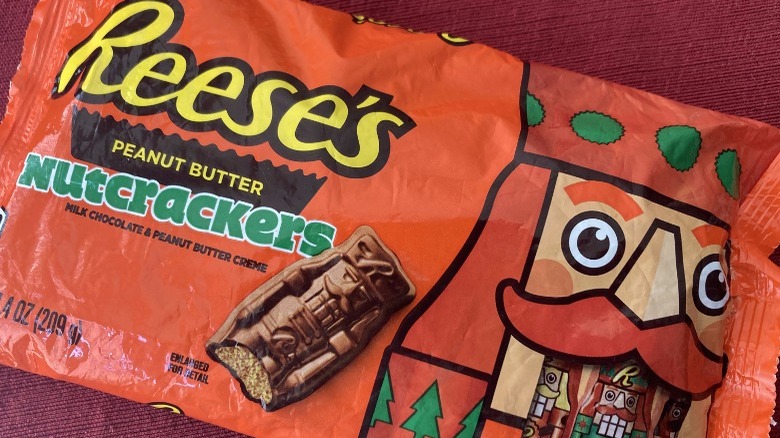 Steven Luna/Mashed
The expectation of Reese's Nutcrackers being more full-sized candies was dashed when the bag revealed nugget-like pieces, closer in shape to mini-cups than eggs. However, after peeling back the foil and giving one of these intriguing ingots a fair shot, the even balance of properly formulated peanut butter and chocolate coating proved to be a flavor festival. Take a nibble from one end or the other, and you'll get your fair share of creamy chocolate and fluffy peanut butter in either bite. Nosh on the whole thing all at once, and the marvelous meltaway enchantment of these tiny soldiers creates a candy-coated parade that reminds you of just how happy the holidays are meant to be. Good luck stopping at just one.
Nutcrackers seem to be a rarity in the Reese's world, available online if not in stores, even during the holiday season. Maybe these mighty minis will make a Christmas comeback someday to give candy lovers cause to celebrate again. Until then, the legend of the sugary soldiers who brought fantastic flavor in a cheerful shape lives on in the hearts of those who believe in the magic of their dreams. And those who have a Prime membership.
2. Sticks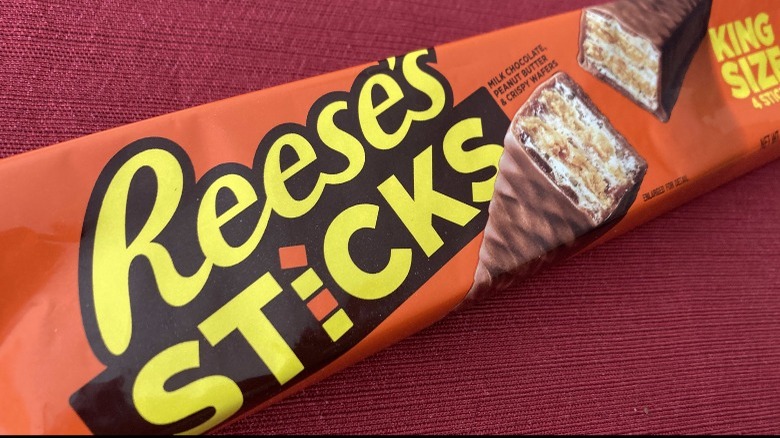 Steven Luna/Mashed
Fans of Little Debbie Nutty Bars are bound to adore Reese's Sticks. Crispy wafers and layers of creamy peanut butter wrapped in chocolate are a Reese's revelation, if not a wholly original idea. Still, the added texture and squared-off edges offer an ideal confectionary evolution: a Reese's shape that actually enhances the flavor these familiar elements. The cookies are thin enough to add structure without impeding flavor, while the multi-layered peanut butter doled out in thinner portions and the chocolate coating sharing star billing with the lumps and bumps underneath create a crunchy adventure worth taking. Those canny candymakers have crafted a new classic.
Another inspired feature: four sticks in the XL pack, which is great for sharing with your best besties, but it wouldn't be surprising if Reese's fiends bogart the whole bunch for themselves. The experience is likely to be something you'll want to repeat. And with such a radical redefinition of its core candy concept, the hope is that these beautiful bars don't end up in the discard pile of discontinued Reese's products with the other experimental formulations that didn't go the distance. It's safest to stock up when you see them, just to be safe.
1. Big Cup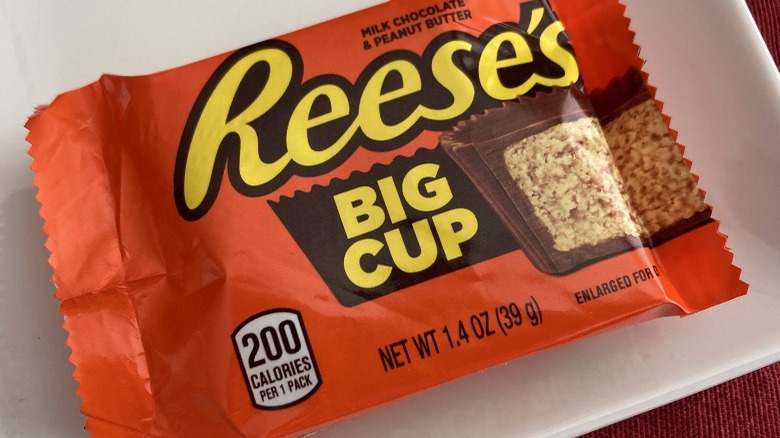 Steven Luna/Mashed
It may be a bit of a cheat considering its traditional design with a twist, but Reese's Big Cup is a winner when it comes to taste. It's a basic peanut butter cup times two, merged into a single shape that feels like radical reinvention and adds a chapter to the story of the original Reese's. Similar to Reese's eggs, this version comes with a thicker peanut butter layer and a denser, thicker chocolate shell than found on a basic cup. In this instance, the dual magnification is magnificent, an ideal solution to stacking two cups for a delicious PB&C (that's peanut butter and chocolate) double-decker sandwich.
A huge advantage to the Big Cup is that, while it may take two regular-sized cups to make up a single Reese's pack in the candy bar aisle, just one of these masterful monsters makes for a full-fledged experience all on its own, which may be why they come one to a package. With no sacrifice to — and maybe even an improvement upon — the original design, the giant of peanut butter sweets serves up a shape and flavor that make sweet harmony, signaling a delicious new era for a familiar favorite.